2012 NBA 'Popeye' Awards: Top 10 NBA Players Whose Teams Are Not in '12 Playoffs
April 30, 2012

Christian Petersen/Getty Images
Sixteen of the NBA's 30 teams are in the midst of the playoffs. For the other 14 teams and their players, the offseason has begun.
But for some of those players on teams that did not make the playoffs, we have a few awards to hand out.
In honor of Popeye Jones, who played in the NBA from 1993-2004, playing in 535 games but never playing in a playoff game, we present the First Annual Popeye Awards, given to the top 10 players in the NBA whose teams did not make the playoffs this season.
Kevin Love, Minnesota (Popeye Awards Player of the Year)
Averaged 26 ppg and 13.3 rpg, finishing in the top five in both categories (fourth in scoring, second in rebounds; the only player this year to finish in the top 10 in both categories).
Began the season with 15 straight double-doubles, had a career-high 51 points, missed final two games of season after suffering a concussion.
LaMarcus Aldridge, Portland
Top 10 scorer with 21.7 ppg, grabbed eight rebounds per game, shot a career-high 51.2 percent from the field, missed final two weeks of the season (will have surgery on hip during the offseason).
DeMarcus Cousins, Sacramento
Averaged 18.1 ppg and 11 rpg, had 36 double-doubles for the season, scored 84 points in last three games of the season, led Kings in points, rebounds, steals and blocked shots.
Monta Ellis, Golden State/Milwaukee
Traded from Golden State to Milwaukee in March deal, averaged 20.4 ppg and six apg for the season, scored a career-high 48 points in a February game, formed a high-scoring backcourt with fellow Popeye Award recipient Brandon Jennings.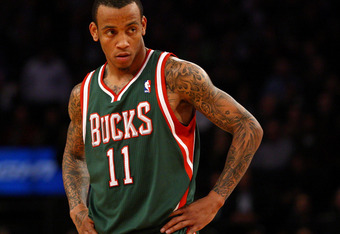 Chris Chambers/Getty Images
Kyrie Irving, Cleveland
Averaged 185 ppg and 5.4 apg in his rookie season, was NBA Rookie of the Month in four months,  led Cavs in assists and was second on team with most points scored, shot 47 percent from the field, likely ROY for 2011-12.
Brandon Jennings, Milwaukee
Other half of current Bucks backcourt with Monta Ellis, averaged 19.1 ppg and 5.5 apg, increased his points, minutes played, assists and shooting percentage for third straight season, led Bucks in most points, steals and assists.
David Lee, Golden State
Season ended early with abdominal injury, averaged 20. 1 ppg and 9.6 rpg, led Warriors in both categories, made over 50 percent of his field goals for the seventh straight season.
Greg Monroe, Detroit
Averaged 15.4 ppg and 9.7 rpg, leading team in both stats, led team in steals, had 30 double-doubles, most for the Pistons since 2003-04, strong candidate for league's Most Improved Player Award.
John Wall, Washington
Averaged 16.3 ppg and eight assists per game, the No. 1 overall pick in 2010 draft, led Wizards in minutes played, points, steals, assists and third in total rebounds.
Deron Williams, New Jersey
One of the top point guards in the league, averaged 21 ppg and 8.7 apg, had a career-high 57 points in March contest, All-Star selection for third straight year, led team in points scored, assists and most three-pointers made.
Honorable Mention
Andre Bargnani, Toronto; Marcin Gortat, Phoenix; Kris Humphries, New Jersey
Follow Jerry on Twitter @StatsonTapp