NBA Playoffs 2012: Who Can Help the New York Knicks Replace Iman Shumpert?
April 30, 2012

Chris Trotman/Getty Images
With a torn ACL knocking Iman Shumpert out of the series, the Knicks will have to rely on a similar player on their roster to fill his void in the starting lineup.
That player is J.R. Smith.
Like Shumpert, Smith is a great athlete capable of playing superb one-on-one defense.  However, Smith doesn't always have the correct mindset to play top-notch defense every minute he is on the court. 
Smith has a tendency to purely concentrate on his offense or to take plays off on defense, allowing whomever he is guarding to have an easier time scoring the ball.
In this series, plays where Smith doesn't try his hardest could be deadly.
Smith will be tasked with guarding Dwyane Wade with Shumpert unavailable.  If Smith allows Wade easy looks at the basket, there will be no stopping him or the powerful Heat.
Smith, who signed with the Knicks as a free agent on February 17th of this year, has the capability to be more of an offensive threat than Shumpert was, as was seen by his team-high 17 points in Game 1 against Miami. 
But Smith and Shumpert share one attribute that could prove as detrimental to the success of the team as their defensive success beneficial.  Both have very poor shot selection and are irrationally confident on offense.  
While Smith may be able to drain three-pointers with deadly accuracy on some nights, he doesn't seem to realize when to stop taking shots on the nights when his shot isn't falling. 
The concern with Smith on the court is that he will be focused on padding his stat sheet over filling the needs of his team—in terms of facilitating and staying in the flow of the offense.  
For Smith to help the Knicks, he'll need to have the modesty to pass on those pull-up three-pointers and allow the ball to work through the offense, which could provide him a better opportunity to score later on (in a possession).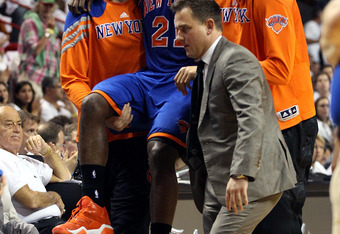 Marc Serota/Getty Images
Another concern that arises with Smith taking Shumpert's minutes is who gets Smith's minutes.  It won't be easy to find another comparable player on the Knicks' roster to fill that sizable hole.  While Smith and Shumpert may be enough alike as players, there isn't a third player anywhere on the roster to fit that bill. 
Landry Fields will probably get more playing time as a result of Shumpert's injury, but he isn't the same type of lockdown defender that Shumpert and Smith can be.  If Fields is charged with guarding Wade for long periods of time, look for Wade's scoring output to increase well above 19 points per game in the rest of the series. 
While Smith is very similar to Shumpert talent-wise, Smith's attitude is something that hinders his natural ability on the court.  If Smith is not fully invested every time he hits the court, the Knicks will not stand a chance of upsetting the Heat in this first round series.