NBA Playoffs Schedule 2012: Must-See Individual Matchups in First Round
April 27, 2012

Mike Ehrmann/Getty Images
Even with games still underway to determine the last few seeding questions, the NBA's TV schedule for the first round of the playoffs is pretty much ready to go. Regardless of which teams the Bulls, Heat or Thunder wind up facing, there will be plenty of outstanding viewing to be had as the postseason gets underway.
These three individual battles will provide can't-miss television to open the playoffs:
Blake Griffin vs. Zach Randolph
There isn't a player in basketball who churns out highlight-reel plays with the regularity of Blake Griffin. Now, he'll get to square off with one of the heroes of last year's postseason, Grizzlies standout Randolph.
Randolph has been banged-up this year, but even coming off the bench, he's playing more minutes than starter Marreese Speights. Look for Z-Bo to hit at least one game-winning basket in a series with a great chance to go the distance, but Griffin will rack up dunks by the bushel and (more than likely) carry his team to the next round.
Rajon Rondo vs. Jeff Teague
As the Celtics' original Big Three have shown more and more of their age (which is up to a combined 105 years), Rajon Rondo has taken on an ever-more-critical role with the team. Now, as Boston faces the younger, faster Hawks, it will be up to Rondo to control the tempo and keep the Celtics offense clicking.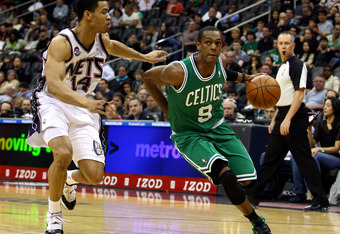 Chris Chambers/Getty Images
Rondo is averaging 11.6 assists per game, the best figure in the league by a substantial margin, but he'll have his hands full with the up-and-coming Teague. In his first year as a starter, Teague has stepped up as the third-leading scorer on Atlanta's roster while still dishing out 4.9 assists a night.
LeBron James vs. Carmelo Anthony
This meeting isn't guaranteed to happen, but even the inconsistent Knicks should be able to take down the lowly Bobcats in the season finale. Assuming they do, the two best small forwards in basketball will square off in what should be an impressive scoring duel.
The Knicks are unlikely to give Miami much of a challenge, so an epic series-deciding shootout (a la Bird and Dominique in 1988) is unlikely. Nonetheless, appreciable chunks of this series are going to consist of these two devastating scorers playing H-O-R-S-E, and that's rarely a bad thing for the fans.