The 50 Most Charismatic Athletes of All Time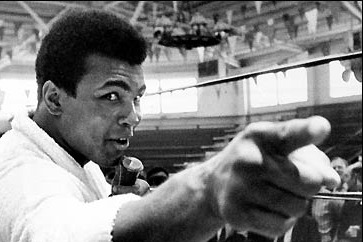 iml.jou.ufl.edu
Sometimes we watch athletes more for their charisma then for their athletic abilities.
These athletes have a special magnetic charm or appeal. Maybe we love to hear them talk. Or perhaps we hate to hear them talk. Either way, we can't stop watching.
Here is a tribute to the 50 most charismatic athletes of all time. These are the athletes with personalities so magnetic that we just can't pull away—whether the attraction is positive or negative.
Begin Slideshow

»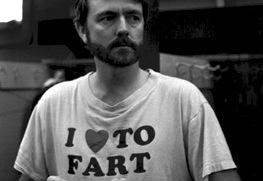 minneapolismichael.tumblr.com
A legendary prankster, Bert Blyleven burned so many of his teammates with the "hot foot" prank that he became known as "The Frying Dutchman."
When asked why he was finally inducted in to the Baseball Hall of Fame after years of falling short, Blyleven had this response:
"I think they finally counted my Little League wins."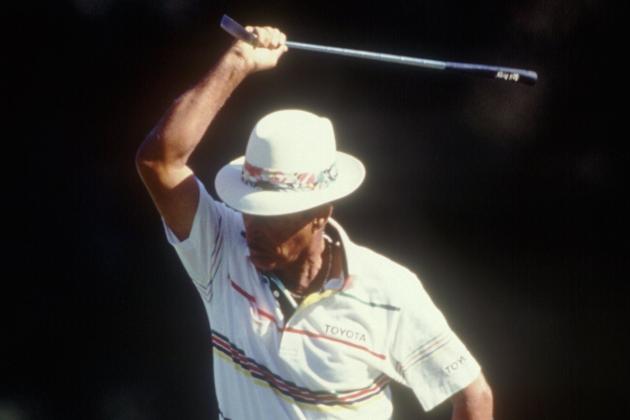 Mike Powell/Getty Images

"Chi Chi" Rodriguez dazzled golf crowds for years with his club, although it was usually after he was done putting.
As a result, the Puerto Rican golfer is better known for his swash-buckling celebrations than his golf game.
And that's OK with Chi Chi.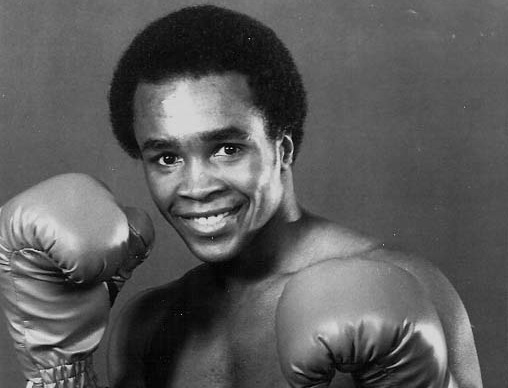 cyberboxingzone.com
"Sugar" Ray Leonard helped make the welterweight division the center of the boxing universe in the early 1980s.
Leonard was never willing to walk away from the spotlight. "I loved retirement so much I did it eight times," he said.
hockeychump.com
The living legend has now become a great ambassador for his sport.
Plus, Gordie Howe is the only member of this list with a statistic named after him, which is odd because Gordie Howe had only one Gordie Howe hat trick in his career.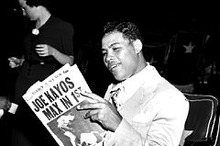 articles.nydailynews.com
Joe Louis rose to the top of the boxing world at a time when this country needed heroes more than it needed star athletes.
And Louis filled that role admirably.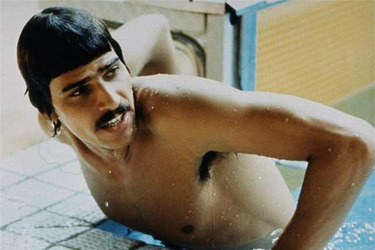 latimesblogs.latimes.com
Going into the 1972 Summer Olympics, Mark Spitz was fast.
And he knew it.
Spitz was so confident that he broke from competitive swimming tradition by not trimming or shaving his body hair.
The seven gold medals he won in Munich made him pretty popular—and so did his hairdo.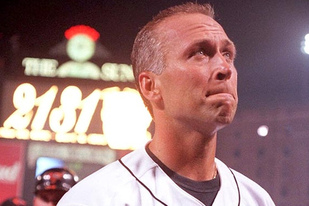 customauthenticjerseys.com
"The Iron Man" may have single-handedly saved baseball in the wake of the strike-shortened season of 1994.
His pursuit of "The Streak" brought fans back to the game they loved.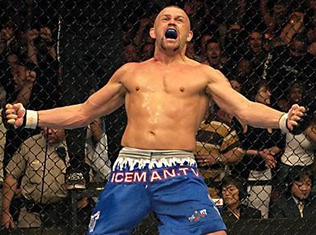 greenobles.com
"The Ice Man" helped popularize the ever-expanding sport of MMA and the Ultimate Fighting Championship.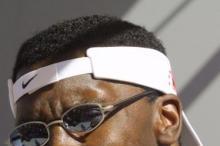 thirdage.com
Shannon Sharpe made Super Bowl Media Day an event—unless you couldn't find a seat around his microphone.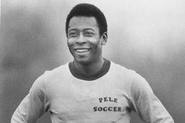 epicfootball.org
Pele is still considered the greatest soccer player of all time.
His opinion is so well-respected that a bid for a future World Cup is not considered legitimate until it receives Pele's blessing.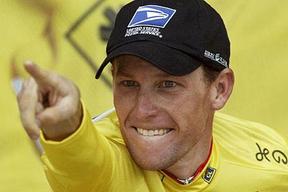 telegraph.co.uk
Lance Armstrong popularized cycling in the United States and increased cancer awareness around the world.
I wonder why he made his "Livestrong" bracelets yellow...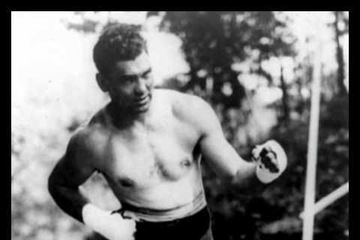 saddoboxing.com
"The Manassa Mauler" regularly drew more than 100,000 spectators to his fights.
Dempsey parlayed his immense popularity into success in the business world, becoming the first athlete to open his own restaurant.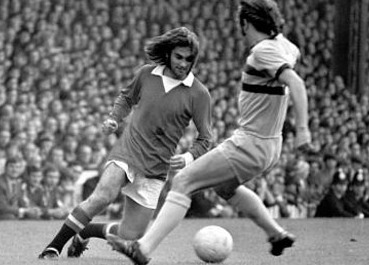 BBC
George Best was the Mickey Mantle of soccer.
This legend of the English Premier League once said of his own career:
"If I hadn't been so in love with wine, women and song, you would've never heard of Pele."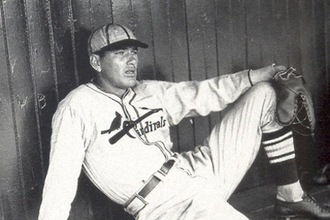 totalprosports.com
The leader of the St. Louis Cardinals teams of the 1930s known as "The Gashouse Gang," Dizzy Dean was beloved as much for his pitching as he was for his back-country upbringing.
When he retired from baseball, he became a color commentator for his beloved Cardinals. However, his position was quickly boycotted by local schoolteachers, who were appalled by how many of their school children were repeating Dizzy Dean's comments, such as:
"The base runner slud into second base."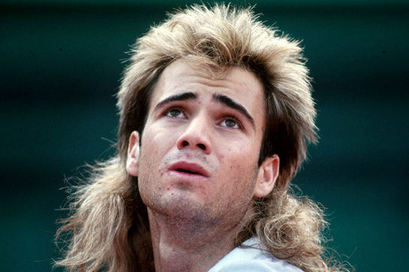 bestplayerintheworld.com
Before Andre Agassi, tennis players didn't wear mullets or year-round five o'clock shadows.
And somehow, Agassi made this look popular.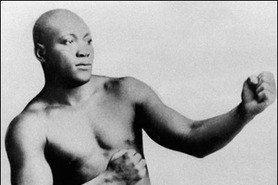 latimesblog.latimes.com
Jack Johnson fought hard and partied harder.
However, his extroverted personality so enraged white boxing fans that race riots erupted when he became the first African-American heavyweight champion in 1910.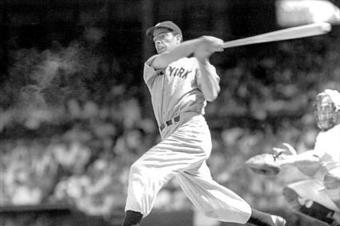 infosport.onsugar.com
"Joltin' Joe" was married to Marilyn Monroe and was referenced in one of the most well-known songs of the 1960s.
Not bad.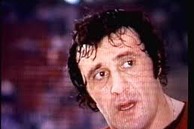 youtube.com
The first NHL player to score 70 goals in a season, Phil Esposito was never afraid to speak his mind.
His postgame comments after Canada lost Game 4 of the 1972 Summit Series against the Soviet Union is considered one of the most important speeches in Canadian history.
And that was after an exhibition game.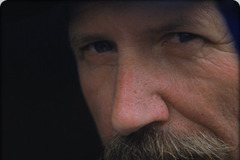 lugnutzz.com
"The Intimidator" built his reputation on giving no quarter to his fellow drivers, and the fans loved him for it.
His death during the 2001 Daytona 500 changed NASCAR forever.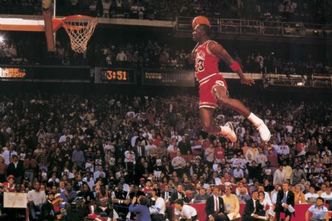 midwestsportsfans.com
Phil Knight and Nike turned Michael Jordan into a brand.
And Michael Jordan made the idea soar.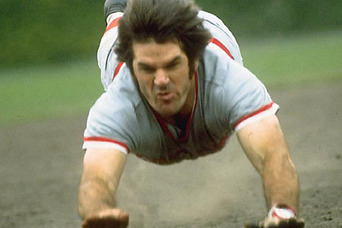 ballparkbiz.wordpress.com
"Charlie Hustle" has pursued the Hall of Fame with the same reckless abandon he played the game of baseball.
He hasn't changed his hair, either.
brooklynbuckeye.wordpress.com
Alex Ovechkin loves to celebrate goals.
He also loves things that go fast.
But are we talking about hockey skates, sports cars or women?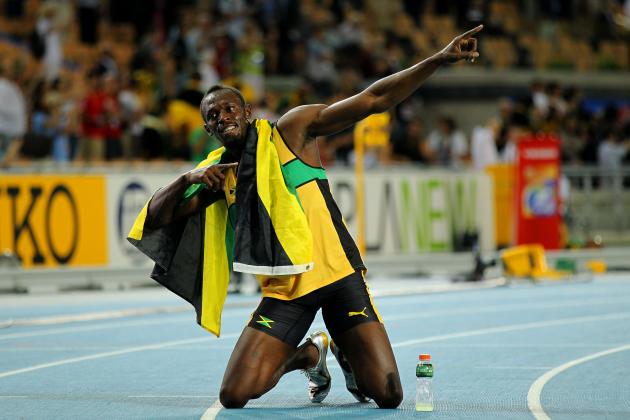 Andy Lyons/Getty Images

I guess you're allowed to think highly of yourself when you're the fastest man on the planet.
By 10 meters.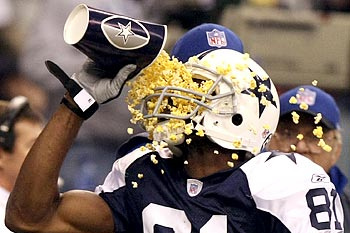 blogs.suntimes.com
Love him or hate him, Terrell Owens always could steal the show.
And the popcorn.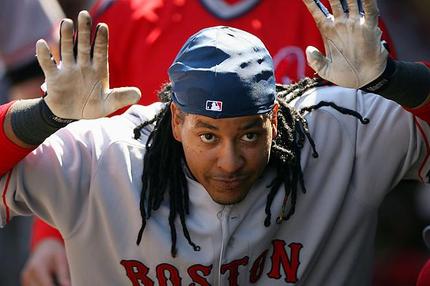 pohdiaries.com
You earn an automatic place on this list if you have a phrase named after you.
Manny Ramirez may not even know what I'm talking about: "That's just Manny being Manny."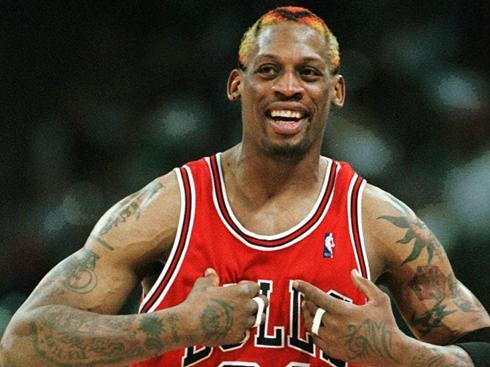 hatnbalotterypick.com
"The Worm" was an interesting character even before he began dying his hair and wearing dresses.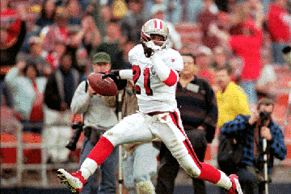 newspaper.li.com
Deion Sanders played so well on the big stage that he was nicknamed "Primetime."
Too bad he gave himself that nickname.
Sanders wore a different suit to match the colors of each new team he joined.
He owns a lot of suits.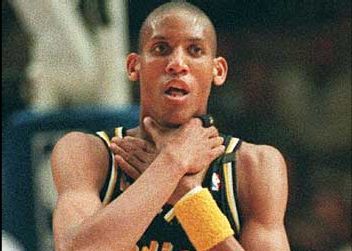 corndogchats.blogspot.com
One of the best trash-talkers the NBA has ever seen—or heard.
Reggie Miller captivated the league with his running "feud" with New York Knicks superfan Spike Lee.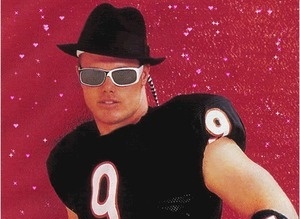 deadspin.com
Jim McMahon was the most colorful character on the '85 Bears, and that's saying a lot.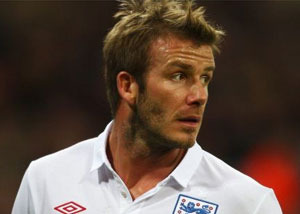 galleryphotos2012.blogspot.com
One of the most popular athletes in the world, David Beckham even has a metaphor named after him.
However, I bet he's only popular because he married a Spice Girl.
aveleyman.com
Terry Bradshaw's enthusiasm, honesty and accessibility have made him a favorite of fans and the media since he began playing football.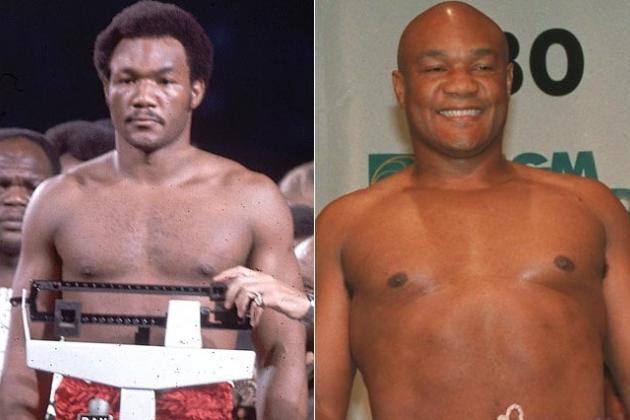 boxingmemories.com
George Foreman became more popular after his heavyweight title as a 50-year-old than for anything he accomplished during the prime of his career.
Of course, his popularity was helped by the fact that Americans love grilled food.
nickengvall.com
"The Kid" had as much fun playing baseball as fans did watching him.
OK, Griffey had a little more fun than we did.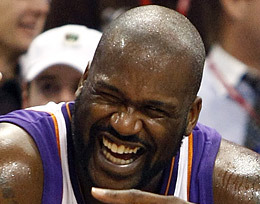 time.com
Shaquille O'Neal has always been a big kid.
A very, very, very big kid.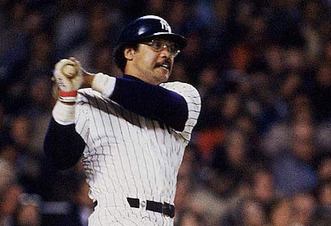 pinstripealley.com
"The Straw that Stirs the Drink" had a pretty high opinion of himself.
Maybe it was from all those fans chanting his name.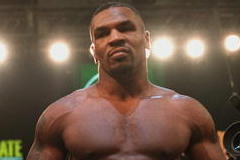 brevheart.tripod.com
At first, fans couldn't stop watching Mike Tyson knock people out cold.
Now, fans can't stop listening to Mike Tyson talk.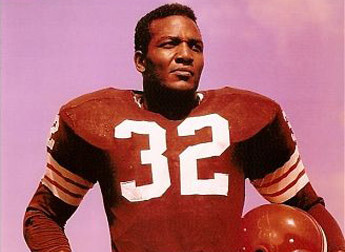 georgiainfo.galileo.usg.edu
Jim Brown was one of the greatest NFL players of all time and is now a well-respected voice in the African-American community.
Brown only played nine seasons in the NFL and retired early to pursue an acting career. His first role was in one of the greatest "guy" movies of all time.
That's a fair trade.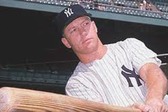 musclesportmag.com
"The Mick" was beloved for his legendary exploits, both on and off the field.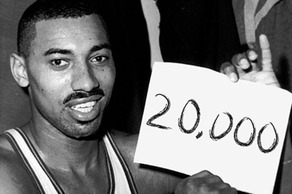 meetthematts.com
"Wilt the Stilt" knew how to score, and fans loved him for it.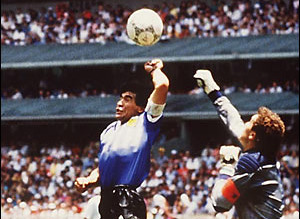 starfootball.info
Only Diego Maradona could turn a blatant example of cheating into an indelible nickname for a controversial goal.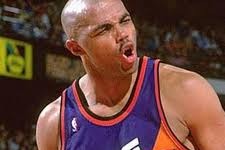 softtags.com
"The Round Mound of Rebound" has toned down—his body, that is, not his personality.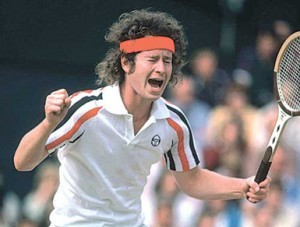 nadalvsfederer.com
John McEnroe is actually a really nice guy.
"YOU CANNOT BE SERIOUS!!!"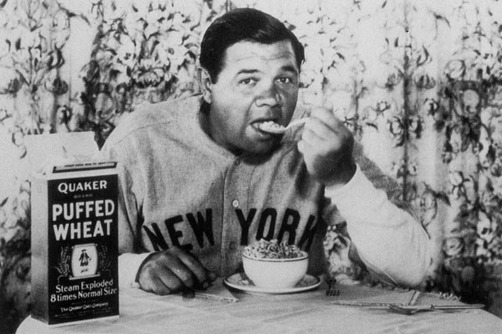 pardontheunemployment.blogspot.com
Babe Ruth was one of the first modern superstar athletes.
A favorite of Madison Avenue, Ruth also became the first baseball player to earn a larger annual salary than the president of the United States. When asked if he deserved to make more money than the president, the Babe replied:
"How many home runs did he hit last year?"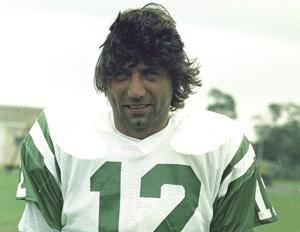 nypost.com
Do I think "Broadway Joe" inspired an entire generation of football fans to wear their hair long instead of in a high top fade?
"I guarantee it."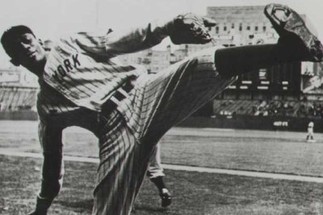 quotecollection.com
Satchel Paige's legendary exploits have been told and retold so many times that they are now accepted as fact.
He is also responsible for providing all of us with words to live by:
"Don't look back. Something might be gaining on you."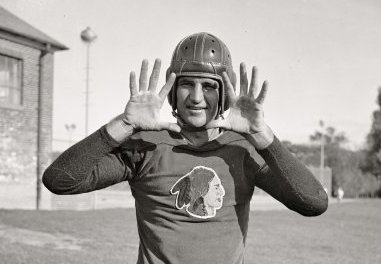 shorpy.com
A member of the inaugural class of the Pro Football Hall of Fame, "Slingin" Sammy Baugh remained a favorite interview long after he retired from the NFL.
However, he was a never a favorite of the FCC.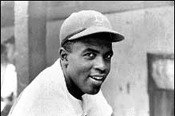 archives.gov
No individual was better suited to break the color barrier than Jackie Robinson.
His personality endeared him to his teammates, and his perpetual smile allowed him to endure the horrible treatment and abuse that comes with being the first.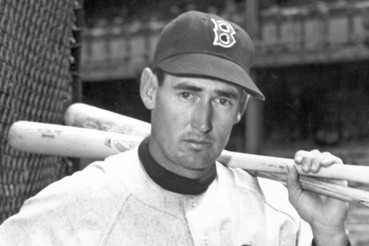 online.wsj.com
"The Splendid Splinter" was always prickly with the press and the fans in Boston, but they loved him anyways. He even refused to take a curtain call when he received a standing ovation after hitting a home run at Fenway Park in the final at-bat of his career.
A real-life hero, Ted Williams used his own Hall of Fame induction speech to call for the inclusion of Negro League legends such as Satchel Paige and Josh Gibson. He was a WWII veteran who also flew 39 combat missions in Korea. "Ted Williams was what John Wayne would have liked us to think he was."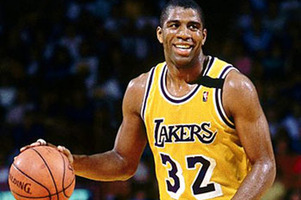 articles.businessinsider.com
"Magic" Johnson's personality and enthusiasm helped revive a struggling team, league and sport.
And he can still light up a room.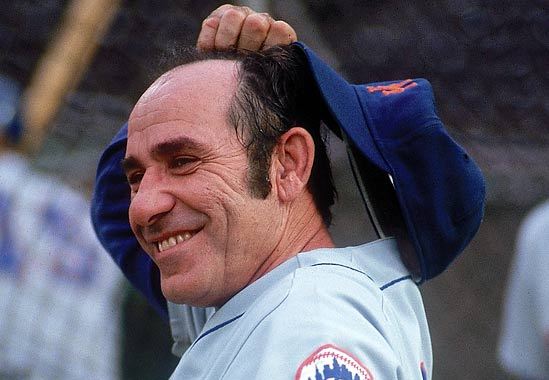 sikids.com
Yogi Berra will be making people scratch their heads until the day he dies.
Because "it ain't over 'til it's over."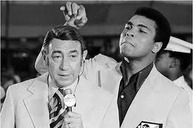 blurppy.com
Still the most recognizable athlete alive, Muhammad Ali easily transcended sports and is actually better known as a pop culture icon, a civil rights hero and an inspirational figure.
Plus, he psyched out his opponents with poetry.