2012 NBA Playoffs: What Do They Mean for Los Angeles Clippers Fans?
April 22, 2012

Michael Underwood/Getty Images
The Los Angeles Clippers are going to the playoffs for the first time in six years, and few can resist weighing in on that fact. It is hard to resist talking about how a team once called "the worst franchise in sports history"—on the cover of Sports Illustrated, no less—has qualified for postseason play and could take first place in the Pacific Division.
Just what does going to the playoffs mean to the fans—especially the long-term fans—who have stuck with the team through losing seasons and bad jokes? Let me put it in perspective for you.
In their 40 years as a franchise, the Clippers have qualified for postseason play eight times, counting this year. Three of those were as the Buffalo Braves in the mid '70s.
Of the seven past playoff appearances, only four included the Clippers getting out of the first round. The Clippers have never gotten out of the semifinals in the playoffs.
Never.
They haven't even won a division title—in 40 years.  
Fans are loving the fact that there is a chance to get that elusive division title. They are thrilled their team gets another try at erasing all of those nevers.
But it is more than that. At the moment, the Clippers are looking at their best finish ever. They have eight previous winning seasons—where their final percentage was .500 or better—but this season tops them all, with a percentage of .619, as it now stands.
Add that to the team's most recent win against the Denver Nuggets—on the road, against a win-hungry team—and fans not only see the chance, but reason to hope that this is the best chance they have ever had to see their team win a trophy.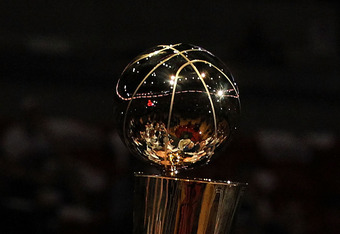 Ronald Martinez/Getty Images
For some of us, The fact that we are in the playoffs and so close to winning our division is thrill enough, at the moment. 
However, it is hard not to dream of higher achievements and rings of gold. Despite all the obstacles that may stand in the way, Clipper fans are eternal optimists when it comes to winning. 
As a fan, I say let everyone underestimate us, guided by past performances. It will only make our victories sweeter when they come—as in 2006 when, against all odds, the Clippers made it to the semi-finals.
Maybe we can even get a few of those bad jokes aimed in a new direction. Can you say Bobcats?