2012 NFL Mock Draft: Projecting 1st-Round Picks with Draft Order
April 19, 2012

Joe Robbins/Getty Images
The first round of the 2012 NFL Draft is barely over a week away, and speculation continues to run rampant as to who will be picked where.
In fact, the only picks that are certain right now are Andrew Luck and Robert Griffin III at No. 1 and No. 2, respectively. Every other pick is fair game, with very few media outlets agreeing on who will go next.
The following are my projections for the first round of the draft. 
1. Indianapolis Colts - Andrew Luck, QB, Stanford
This one is a no-brainer. Luck is the best quarterback prospect since who knows when, and there couldn't be a player more fitted to succeed Peyton Manning in Indianapolis.
It will take him a while to win, but once he does, he will do it for a long, long time.
2. Washington Redskins (from St. Louis Rams) - Robert Griffin III, QB, Baylor
There may not be a more exciting prospect in this year's draft class. Think of Cam Newton, except more polished.
Griffin will likely be one of the top contenders for the NFL Offensive Rookie of the Year, and he could have a better rookie season than Luck.
3. Minnesota Vikings - Matt Kalil, OT, USC
Minnesota could go with a receiver at this pick, but to be honest, neither Justin Blackmon nor Michael Floyd is worth the third overall pick.
Their best bet is to draft a franchise left tackle in Kalil to protect their franchise quarterback, Christian Ponder. While it isn't the sexiest pick, it is the best pick for the Vikings.
4. Cleveland Browns - Trent Richardson, RB, Alabama
There has been quite a bit of talk as to what Cleveland will do with this pick, but if they draft anyone other than Richardson, it will prove that the franchise is in complete disarray.
A running back like Richardson doesn't come around every year. He has the ability to be an offensive juggernaut in Cleveland for years to come. 
5. Tampa Bay Buccaneers - Morris Claiborne, CB, LSU
After bringing in some major free agents on the offensive side of the ball (see: Vincent Jackson, Carl Nicks), the Buccaneers will address their defense with the best cornerback in this class.
Claiborne will be the eventual replacement of Ronde Barber, if he ever decides to retire.
6. St. Louis Rams (from Washington Redskins) - Justin Blackmon, WR, Oklahoma State
The truth is that drafting Blackmon here is overdrafting him. However, no other pick makes sense for the Rams.
They desperately need a top receiver for Sam Bradford, and while Blackmon may not be "elite" in any way, he is good enough to provide a big boost to the Rams offense.
7. Jacksonville Jaguars - Melvin Ingram, DE/OLB, South Carolina
Quinton Coples of UNC is a potential pick here, but I think that as we get closer to the draft, Coples could drop due to the lack of motivation he showed during the 2011 season.
Ingram might not be as pure of a pass-rusher as Coples, but he still fills a major need for the Jaguars with the seventh pick. He also has the upside to turn into one of the top defensive players in this draft.
8. Miami Dolphins - Ryan Tannehill, QB, Texas A&M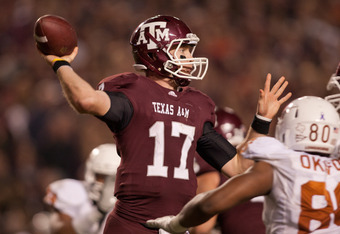 Darren Carroll/Getty Images
I don't really think the Dolphins have a choice with this pick. Trading back is an option, but if they do that, they could miss out on Tannehill and that is not an option. 
While Tannehill isn't as polished as Luck or Griffin, he is an extremely intriguing prospect who has all the tools you could ever want in a franchise quarterback.
9. Carolina Panthers - Fletcher Cox, DE/DT, Mississippi State
Cox is quietly moving up draft boards in recent weeks as people are starting to realize that his game tape matches his impressive workout sessions.
Cox is a more polished prospect than either Michael Brockers or Dontari Poe, and his versatility would be an extremely valuable asset to the improving Panthers.
10. Buffalo Bills - Michael Floyd, WR, Notre Dame
Buffalo fans will be extremely excited to see Floyd drop to them at No. 10. In my opinion, he is the best overall receiver in this draft.
Floyd will pair with Stevie Johnson to give the Bills one of the best one-two punches at receiver in the entire NFL. With Floyd, the Bills greatly improve their chances at contending in the AFC East.
11. Kansas City Chiefs - David DeCastro, OG, Stanford
The Chiefs could address defense with this pick, and Luke Kuechly is still on the board. 
However, with a chance to make a real run at the playoffs this year, I think they draft the best player available, which is DeCastro. He will likely be an All-Pro player early in his career. 
12. Seattle Seahawks - Luke Kuechly, ILB, Boston College
When you combine Kuechly's athleticism with his instincts, you have the makings of a perennial Pro Bowl player.
He will be the favorite to win Defensive Rookie of the Year, and could even end up in the Pro Bowl as a rookie. Kuechly is simply that good. 
13. Arizona Cardinals - Riley Reiff, OT, Iowa
Even after re-signing Levi Brown and bringing in Adam Snyder, the Cardinals still need major help along their offensive line.
Reiff is talented enough to start from day one at right tackle, and will eventually take over on the left side.
14. Dallas Cowboys - Mark Barron, SS, Alabama
Before signing Brandon Carr, the Cowboys would have likely drafted a cornerback with this pick. However, they still have holes in their secondary, and a player like Barron makes the most sense for this team.
Barron may not be a "center field" safety, but he is a huge hitter who will instantly improve the Cowboys' run defense from day one. Barron has the potential to develop into one of the better safeties in the league with time.
15. Philadelphia Eagles - Quinton Coples, DE, UNC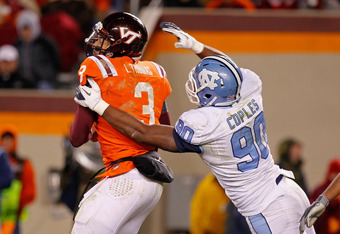 Geoff Burke/Getty Images
Coples' draft-day slide may be surprising, but it will be an answered prayer for the Eagles. There simply isn't a better pure pass-rusher available this year than Coples.
With Coples on the roster, the Eagles will have some interesting options with players like Cullen Jenkins and Jason Babin. The defensive line could eventually turn into the best in the league.
16. New York Jets - Courtney Upshaw, OLB, Alabama
Upshaw is the ideal player for Rex Ryan and the Jets.
He brings 110 percent to every snap, and has enough ability against the run and as a pass-rusher to be an extremely valuable asset to this team moving forward.
17. Cincinnati Bengals (from Oakland Raiders) - Dre Kirkpatrick, CB, Alabama
After losing Johnathan Joseph to the Houston Texans last season, the Bengals absolutely need to find a replacement in this draft.
Even with cornerback being the deepest position available this year, I think the Bengals will use one of their first-round picks on one. Kirkpatrick has the physical tools and abilities to be drafted way before this, and him falling this far is the perfect scenario for Cincinnati.
18. San Diego Chargers - Stephon Gilmore, CB, South Carolina
While the Chargers could definitely address outside linebacker with this pick, I just don't see a player at that position worth taking at this pick.
However, San Diego will still address their defense by taking Gilmore. While Gilmore is still a little raw, he has an extremely high ceiling and is absolutely worth taking in the first round.
19. Chicago Bears - Jonathan Martin, OT, Stanford
By trading for Brandon Marshall, the Bears addressed their biggest need before the draft. While taking a receiver like Kendall Wright or Stephen Hill is still a possibility with this pick, I see the Bears addressing their offensive line instead.
Chicago's line is still one of the worst in the league, and Martin has the potential to become a quality starter in a short amount of time. Teaming him with Gabe Carimi will give the Bears one of the best young tackle duos in the league.
20. Tennessee Titans - Dontari Poe, DT, Memphis
Poe was recently considered a lock for the top 10, but there are just too many questions concerning his production on the field. No player will see a bigger slide on draft day than Poe.
However, the Titans will take a chance on a player who has the potential to turn into a player like Haloti Ngata of the Baltimore Ravens. It may be a year or two before Poe fully develops, but if he reaches his full potential, this will be the steal of the draft.
21. Cincinnati Bengals - Cordy Glenn, OG, Georgia
Cincinnati will take a hard look at Kendall Wright with this pick, but I believe they will ultimately decide that protecting Andy Dalton is more important.
Plus, Cincinnati will still be able to find a solid second option at receiver later in the draft. A player like Glenn who can start from day one is definitely worth this draft pick.
22. Cleveland Browns (from Atlanta Falcons) - Kendall Wright, WR, Baylor
Cleveland's biggest need in this draft is to find a receiver to help in the development of Colt McCoy.
A prospect like Wright has the natural talent to be drafted much higher than this, but no teams ahead of the Browns need to draft a receiver this early. That's just fine with Cleveland, as Wright will enter the 2012 season as the No. 1 receiver on the team's roster.
23. Detroit Lions - Janoris Jenkins, CB, North Alabama
In a division with Jay Cutler and Aaron Rodgers, the Lions need to improve their secondary.
While Jenkins is certainly a risky pick because of his character issues, there are many who believe that heis the best cover cornerback available in the draft. He has the potential to turn into a shutdown cornerback like Darrelle Revis.
24. Pittsburgh Steelers - Dont'a Hightower, ILB, Alabama
Hightower is exactly the type of player that the Steelers love on their roster.
He's a player with a great motor who leaves it all on the field. While he isn't a "plus" prospect in any aspect of the game, he is good enough to start from day one and have a productive NFL career. 
25. Denver Broncos - Michael Brockers, DT, LSU
Brockers is another player who people are becoming less and less fascinated with as we get closer to the draft.
However, his upside will be too good for the Broncos to pass on. Already with a young and talented defense, the Broncos will add a player who can contribute against the run right away.
He will take time to develop, but he could also be one of the better players taken in this draft.
26. Houston Texans - Mike Adams, OT, Ohio State 
Receiver is an option here for the Texans, as they have been trying to find a No. 2 receiver to put next to Andre Johnson for a long time. The problem is that they will be able to find that receiver in the second or third round.
With the loss of Eric Winston in the offseason, the Texans have a major hole at right tackle. While Adams needs to get stronger, he is large and athletic enough to make an impact on the offensive line from day one.
27. New England Patriots (from New Orleans Saints) - Shea McClellin, OLB, Boise State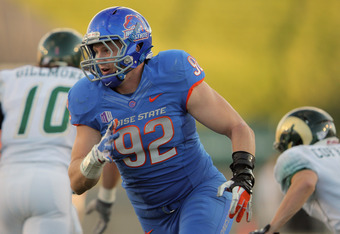 Doug Pensinger/Getty Images
McClellin has been climbing up draft boards as of late, and the Patriots would love to snatch him with this pick. 
He is a good enough pass-rusher right now to make an immediate impact, and should help fill the void left by the departed Mark Anderson. 
28. Green Bay Packers - Nick Perry, OLB, USC
There is no doubt that the Packers' biggest need is at outside linebacker, and having an athletic pass-rusher like Perry fall to them is ideal. 
Perry reminds me of a rawer version of Clay Matthews, and teaming him with Matthews could fix many of the defensive problems that Green Bay had last year.
29. Baltimore Ravens - Mychal Kendricks, ILB, California
Kendricks is a newer name to most first-round mock drafts in recent weeks, but he is the perfect fit for the Ravens at this spot.
With Ray Lewis running out of time in the NFL, Baltimore needs to find his eventual replacement. While there is still room for Kendricks to grow, he already knows how to find the ball and hit with violence.
With his aggressive style of play, Kendricks could draw a lot of comparisons to a young Lewis. 
30. San Francisco 49ers - Amini Silatolu, OG, Midwestern State
As a small-school prospect, getting drafted in the first round should prove just how talented this kid really is.
In fact, Wes Bunting of National Football Post has Silatolu ranked as the third-best offensive guard. Silatolu will be able to come in from day one and replace the departed Adam Snyder on the offensive line.
31. New England Patriots - Harrison Smith, SS, Notre Dame
Secondary was a huge issue for the Patriots during the 2011 season, so if they don't trade back with this pick, picking either a cornerback or safety is the right move. 
Smith is a football player through and through. You watch him on the field and you just know that this kid is going to be a valuable asset to a team in the future.
32. New York Giants - Coby Fleener, TE, Stanford
As one of the best teams in the league heading into the draft, the Giants can go with the "best player available" mentality with the last pick in the first round.
Fleener is by far the most talented tight end in his year's draft class, and is the type of receiver that will make an instant impact on offense. Adding another weapon for Eli Manning will only make the Giants a bigger favorite to get back to the Super Bowl.