NBA: A Champion's Praise to the Fantasy Basketball Gods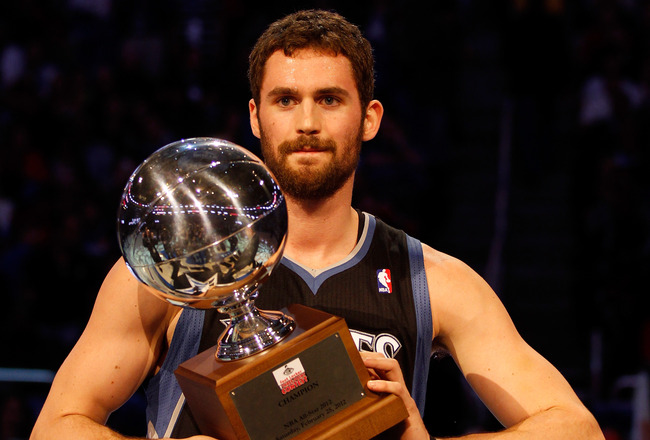 Mike Ehrmann/Getty Images
The basketball gods have spoken. Needless to say, I'm singing their praises.
There was jumping. There was singing. I've never worried about Ty Lawson recording three blocks in a quarter more in my life.
A stressful fantasy basketball season will do that to you.
Sadly for me, the fun is all over. No longer can I bark at the TV during a Timberwolves-Rockets game. Over are the days where I questioned why Andrew Bynum wasn't taking 50 shots a game.
But, my days of glory are over. At least for now. Like Lebron, I'm taking my talents somewhere else. For the next six months or so, the fantasy baseball world it is.
Before I fully entrench myself in the craziness of whether to trade for Jose Altuve or keep Danny Espinosa, let me lend some thanks to some of the guys who made my victory possible.
Because I want to intrigue you and captivate my audience, I will not have a slide for every player that held a spot on roster throughout the season.
Disclaimer: You need at least 30 minutes to read this article.
Honorable Mention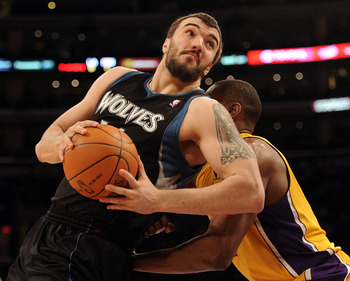 Harry How/Getty Images
How could I not credit the guys who filled in the nooks and crannies of my weekly stat lines. These are the guys who are practically family.
They are the crazy uncles or nosy aunts that every family is embarrassed that they are related to, but secretly love.
I'd liken James Johnson to my cousin who brings over a mishmosh of mediocre dishes for the holidays. His stat lines, although usually light, varied bizarrely from night to night.
Nik Pekovic, I discovered you for the intimidating Russian and tenacious rebounder you are. If I ever need a tag-team WWF partner, you are my guy.
In all seriousness, there were a bunch of guys who held the fort down when the going got tough.
This is the section of the column where goofballs like Kevin Seraphin, Jonas Jerebko and Lester Hudson get their 15 minutes of fame.
In the playoffs, my friends laughed at me that Seraphin was manning my lineup with Amar'e out. Guess who's laughing now, Bicky?
(Yeah, I just gave my friend a shout out. That's what comes with territory of winning a fantasy league.)
Countless times, I played the waiver wire and hit the jackpot. Whether it was tiny Nate Robinson putting up a giant stat line or Danny Green nailing four threes in a blowout, everybody seemed to pick up the slack.
It was almost like the collection of players representing Goran Mountain knew that they were playing for more than themselves. (Perhaps, I'm just delusional.)
But role players can only put the finishing touches on a well-maintained fantasy team. Establishing the core is what makes or breaks you as an owner.
Please enjoy my list of the guys who made this season a pleasure for me to cheer for day in and day out.
10. Lou Williams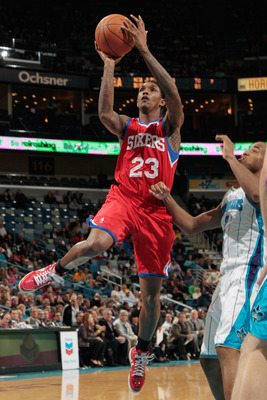 Chris Graythen/Getty Images
I like microwaveable popcorn. But I love microwave offense. Naturally, Lou Williams of the Philadelphia Sixers had to be on Goran Mountain.
Perhaps this year's sixth-man award winner, Williams constantly provided my squad with quality scoring numbers, solid assists, steals and countless trips to the charity stripe.
His contributions were relatively consistent with the potential for a 30-point eruption once in a blue moon.
When I found out Williams bought a Big Mac for a guy who held him at gunpoint, I knew this saint needed to be entrenched on my roster.
Thanks, Lou.
P.S. Your Ring Pop is in the mail.
P.P.S. Can I get a fish filet, small fry and chocolate shake? Don't worry, I don't have a gun.
9 and 8. Danny Granger and Monta Ellis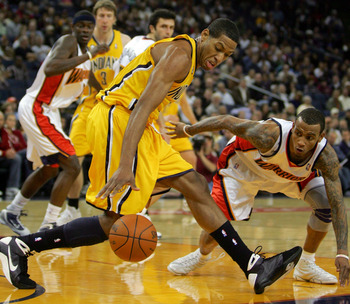 Ezra Shaw/Getty Images
You might be wondering why I decided to couple Granger and Ellis together. Well, it's your lucky day.
I'm going to tell you why I traded LaMarcus Aldridge for a guy who was shooting 34 percent and another who has a full tree tattoo on his chest.
For a schmo like me to transform into a champion, taking risks is an essential part of the game.
When I traded Aldridge for two underperforming "stars," I was counting on cooler heads to prevail.
Could Granger re-learn how to shoot the ball?
Could Monta learn how to co-exist with Stephen Curry? (Luckily, he never had to with Curry's injuries.)
Nonetheless, you get the gist. These were some legitimate concerns.
Short story long, I pulled the trigger and I won a fantasy league.
I'm available for hiring, NBA owners.
7. Tyson Chandler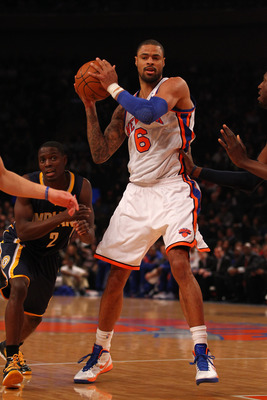 Al Bello/Getty Images
What's the difference between Tyson Chandler and Omer Asik?
While there might be plenty of correct answers to this question, I have a particular response in mind.
Unlike Asik, Tyson Chandler has these two things that attach to his forearms. I think they are called hands in English.
Humor aside, his monster rebounding coupled with his insanely-high field goal percentage made him a force in my lineup.
Night in and night out, I knew that Tyson was going to do what I drafted him to do. Board, get to the line, dunk and play defense for the other four Knick starters.
Next year, your value will skyrocket because the majority of the NBA's centers are: a) not as good as you or b) are babies and prima donnas that might get dealt at any moment.
6. Brandon Jennings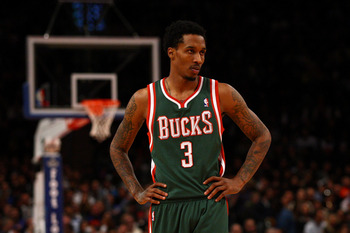 Chris Chambers/Getty Images
Wanna hear a funny story?
Regardless of if you would like to hear how I accidently drafted Brandon Jennings, you're going to hear it. It's too hilarious not to hear.
Halfway through my auction draft, I pressed maximum bid on Jennings and won his talents for the hefty price of $32. Oops. At least, I wasn't the guy to pay $110 for Jason Terry. (I thought technology was supposed to be getting better.)
Thirty-two dollars for a guy who gives the ball away more than a marriage counselor gives therapy during Valentine's Day. Oh yeah, I forgot to mention he can't seem to shoot over 40 percent.
But that's in the past.
Somehow, some way, Jennings put together a sick season. He cut the turnovers a bit and shot 42 percent. Add in his two trey balls a game and solid assist numbers, and you've got an $18 player.
What can you get for $14 dollars anyways these days? Not much.
Thanks, Brando.
Can't wait to see you in a big market next season.
5. Jeremy Lin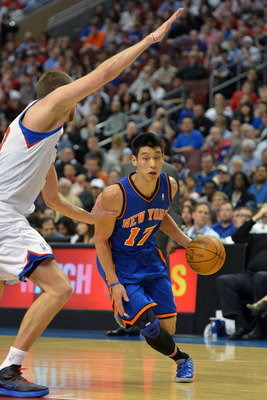 Drew Hallowell/Getty Images
Yeah, I fell into "Linsanity," but to tell you the truth, maybe "Linsanity" was a result of him earning a roster spot on Goran Mountain.
I picked up Lin after his first crazy stat line. Desperate for assists, Lin was my man.
Regardless of his successes, his turnover averages haunted my dreams.
Week after week, this Harvard alum was responsible for me losing that category. Lin would tell you that the marginal benefit he provided outweighed the marginal cost. (Marginal analysis simply put for you. Not everybody can be as smart as you, Jeremy.)
When the trade offers came flooding in, I thought I held out for the right deal. Amar'e for Lin straight up.
Naturally, they both get hurt days after the trade. Both were out for the rest of regular season.
Buzzkill.
"Linsanity" had finally ended. At least until he makes his comeback for the playoffs.
Or next season, when he goes for big $$. I'll be the sucker who takes him.
4. Goran Dragic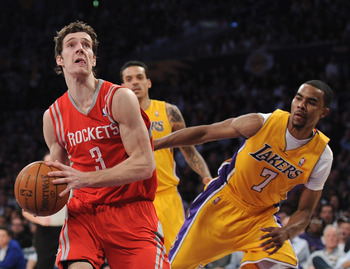 Harry How/Getty Images
Goran Mountain: A team of destiny. If you were wondering, the team name is being trademarked as we speak.
When Kyle Lowry went down, I immediately pounced on the chance to pick up Goran and name my team after him.
Space Jam is a classic in my book, so I had to capitalize on the opportunity to incorporate that goofy basketball flick onto my squad.
I recently found out that Michael Jordan was 22-22 on FG attempts in that game. Pretty remarkable, even for MJ. (Check out the full box score for that game here.)
Do I really need to elaborate on how clutch Dragic was down the stretch?
No.
But, I will.
Houston's "backup" point guard posted ridiculous stat lines stuffed with threes, assists, points and steals on the regular.
Who was more relieved about Dragic's play? Me or head coach Kevin McHale?
The next question is: How will I work Space Jam into my team next year?
I'm open to ideas. Boogie's Goon Squad?
3. Andrew Bynum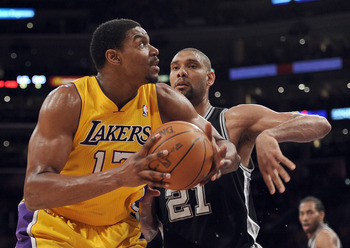 Harry How/Getty Images
If I were to tell you that Andrew Bynum would stay healthy the entire season, you would have called me a looney tune.
While I still might be a looney tune, Bynum did in fact stay healthy.
By healthy, I mean tear the league up with his incredible play on both sides on the court. For the first time in his "young" career, Bynum finally figured out how to handle the rigors of an NBA season.
Go figure he did it in a year that required him to play five games a week sometimes. Yeah, basketball makes total sense.
However the Big Fella did it, he did it.
Boy am I happy...
Thankfully, maturity and humility weren't categories in my league. Or else, I might have had to trade Bynum for like the Pope or something.
How many boards a game do you think the Pope could pull down?
2. Eric Gordon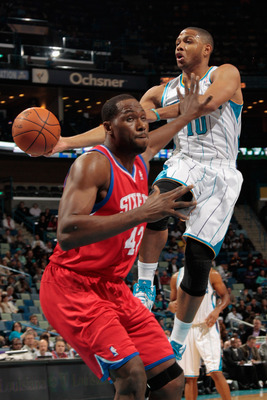 Chris Graythen/Getty Images
Psyche.
Eric Gordon royally screwed me over this fantasy basketball season. I spent $43 on a guy who played two games for me.
I guess that's what happens when you count on an Indiana Hoosier.
I was expecting Eric Gordon to put up a monster season down in New Orleans for a couple of reasons. A couple million reasons.
You see, Gordon's a restricted free agent. A good season would have fostered some team like Indiana or Phoenix to put up a crazy offer for Gordon, and New Orleans would have had to match that to retain his services.
But now, he'll potentially get a lesser deal that the Hornets might be willing to match.
Oh well.
In all seriousness, I'm glad I drafted Eric Gordon. His injury forced me to adjust. Like any good NBA GM, I did adjust and I thrived.
So, thank you, Eric Gordon.
Perhaps I'll draft you and your bum knee next season..
1. Kevin Love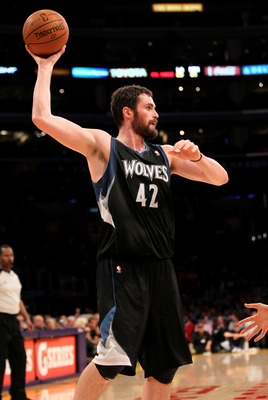 Stephen Dunn/Getty Images
If my league would have stretched through this week, I would be writing about how Kevin Love's concussion ruined my season.
But the basketball gods came through once again.
If they hadn't, I might be hunting down Javale McGee as we speak.
I'm sure former Wizards head coach Flip Saunders and current Wizards head coach Randy Wittman would like to join me. Road trip to Denver, anybody?
How could I ever be mad at Love? At $59, he was an absolute steal.
Night after night, the Oregon native provided copious amounts of points and rebounds. If the T-Wolves could have somehow snuck into the playoffs, he would have garnered more MVP votes.
Kevin, you're the MVP in my book. Too bad, my book is rarely read or actually ever written. But one day, my friends.
Chapter 1: How Kevin Love defied the odds and propelled Steven Kerstein to his first ever fantasy basketball championship. Sounds like a best seller.
Kevin, I love you.
I'm so funny.
Conclusion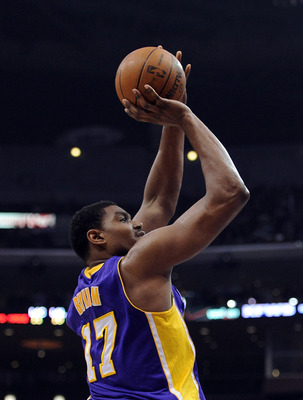 Harry How/Getty Images
It was a crazy season, full of ups and downs. In the end, the basketball gods deemed that I was worthy of a championship.
Yeah, I might have had some luck on my side. Somebody once told me, "that it's better to be lucky than smart."
Call me a genius or lucky. The choice is yours. Regardless of what you decide, I have a title and Goran Mountain will always hold a special place in my heart.
Keep Reading