NBA Teams That Miss the Playoffs with a Regular-Season Winning Record
April 15, 2012

Christian Petersen/Getty Images
If the NBA season ended today, two teams, the Phoenix Suns and Utah Jazz, would miss the playoffs even though they have a winning record (Phoenix is 31-29; Utah is 31-30). In league history, 26 teams with a regular season winning record did not make the playoffs. In the 1970-71 NBA season, three teams (Boston, Detroit and Phoenix) missed the playoffs yet had a regular season winning percentage over .500; in no season before or since did more winning teams miss the postseason.
Six different teams have missed the playoffs two or more times when they finished the regular season with a winning record. Houston tops the list with five; they are followed by Golden State with four, Phoenix with three, and Cleveland, Seattle and Washington with two each.
Following is a list of the times when teams with winning records did not make the playoffs, sorted in descending order of winning percentage.
Winning percentage: team, season
.598: Phoenix, 1971-72
.585: Phoenix, 1970-71; Golden State, 2007-08
.573: Seattle, 1971-72
.561: Phoenix, 2008-09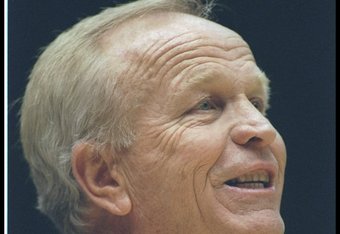 David Taylor/Getty Images
.549: Detroit, 1970-71; Golden State, 1981-82; Kansas City, 1982-83; Houston, 2000-01
.537: Boston, 1970-71; Golden State, 1973-74; Seattle, 2000-01; Minnesota, 2004-05
.524: Golden State, 1977-78; San Diego, 1978-79; Houston, 2002-03; Houston, 2010-11
.520: Charlotte, 1999-2000
.512: Portland, 1981-82; Washington, 1982-83; Houston, 1991-92; Cleveland, 1996-97; Washington, 1997-98; Utah, 2003-04; Cleveland, 2004-05; Houston, 2009-10
Did you know? Of the teams that missed the playoffs with regular season winning records, 48 percent made the playoffs the following year. The Golden State Warriors are the only NBA team to miss the playoffs with a winning record one year and then win the NBA title the following season. They won the NBA title in 1975 after missing the 1974 playoffs with a 44-38 record (.537 winning percentage) the previous year.