Mavericks vs. Lakers: LA Must Send a Message in Western Conference Clash
April 15, 2012
Ronald Martinez/Getty Images
The Lakers must make a statement on national TV Sunday. If ever there was a monkey on their back, it would look just like the Dallas Mavericks.
After all, the Mavericks humiliated the Lakers last year on their quest to their first-ever NBA title.
Dirk Nowitzki and his motley crew ran the Lakers out of the building, showing the Lake Show to be old, out of sync and needing a lot more work than anyone had previously imagined. 
Now, a new regime has entered the fold and the Lakers must exorcise their demons against Dallas before they head into the playoffs. We should remind ourselves that the Lakers are slated for a first-round showdown with Dallas.
On the surface, this should be a much easier matchup for the Lakers. The Mavericks are not the team they were last season. The loss of Tyson Chandler has crippled their ability, in many ways, to control the paint, and should certainly allow for Andrew Bynum and Pau Gasol to roam freely and put up big numbers should the Lakers realize the mismatch inside and continue to feed the ball in the post.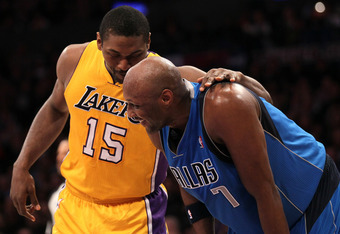 Stephen Dunn/Getty Images
The Mavericks' biggest offseason acquisition was Lamar Odom, and he turned out to be the biggest punchline of a wild NBA season. 
Dallas' best weapon, Nowitzki, might even have a chance to be neutralized, as the resurgent Metta World Peace has found health and renewed energy, representing the only player on the floor—sans Kobe Bryant—who has a shot of leveling out the frequent mismatch that Dirk's size and ability creates. 
The bottom line is the Lakers have all the might in the world to compete and dominate the defending champs, but to say they can and they will are two different things. With the playoffs looming and Kobe missing games for what seems like the first time in years, the Lakers can't afford to show weakness. They can't afford to make the Mavericks believe, even for a second, that this is the same team that got embarrassed by the eventual champs in the 2011 playoffs.
The Lakers want an NBA title this season, and champions know how to dominate and make their presence felt.
If the Lakers are serious players in the title hunt, they'll exhibit that Sunday.