Jeremy Lin's Injury Hurts the New York Knicks More Than Absence of Amar'e
April 11, 2012

Ronald Martinez/Getty Images
Jeremy Lin can run an offense.
Say what you will about his high turnover rate or his defensive liabilities, but the New York Knicks score points when Lin is in the game.
When he's not—and when Baron Davis is not in the game, either—New York's offensive machine sputters and stalls, especially against tough defenses.
Such was the case in tonight's tough loss to the Chicago Bulls, as the Knicks put on a Dr. Jekyll and Mr. Hyde performance on the offensive end of the floor.
After starting off 0-for-6 from the floor, the Knicks then hit 11 of their next 13 shots to close the first quarter with a 25-22 lead over the Derrick Rose-less Bulls.
Then Baron Davis went to the bench.
Over the next eight minutes, the Knicks totaled three points on a JR Smith jumper and a made free throw by Carmelo Anthony.
By the time Davis returned, the Knicks' three-point lead had turned into a 10-point deficit.
When the Knicks had both Davis and Lin at their disposal, the team could rest assured that their floor general would be able to find an open teammate.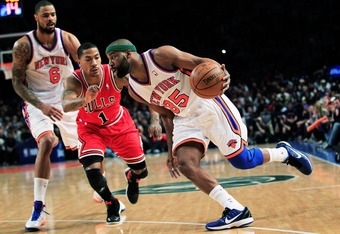 Chris Trotman/Getty Images
With Lin, they could also count on him to put pressure on the defense by drawing fouls.
Two capable point guards means both the first and second units will be productive on offense. What happens when a team must rely on a facilitator who lacks good court vision for extended periods of time? Just look at the second half of the game against the Bulls for evidence.
Davis started the second half, and in eight minutes under his guidance the Knicks scored 21 points. He was then replaced by Jared Jeffries and ball distribution fell firstly to Iman Shumpert, and then to Carmelo Anthony.
In the four remaining minutes of the third quarter under their stewardship, the Knicks managed only six points.
Davis then remained on the bench for the first three minutes of the fourth quarter, a span in which the Knicks scored four more points.
So in the 18 minutes that I have recounted where Davis was not in the game, the Knicks managed a total of 13 points. If they kept that ratio up for a full 48 minutes, the team would not even score 35 points.
Davis' primary backup, Toney Douglas, posted a plus/minus rating of -11.  He did so in merely seven minutes of playing time.
The Knicks lost tonight by 12.
Tonight's game was admittedly a very ugly brand of basketball, but playoff basketball is often quite ugly.  Good teams make the playoffs and good teams defend.
Any good playoff team will expose the Knicks in a seven game series if New York can't find a way to rest Baron Davis without the scoreboard seeming to indicate that the entire offense went to rest with him.
Toney Douglas cannot be coached up to be a true point guard.  Neither can Iman Shumpert (at least, not this year).
Mike Bibby is ineffective, and Carmelo Anthony cannot be expected to bring the ball up, set up the offense and pass it to himself, too.
Anyone who believes this Knicks team is better now without Lin must be power-napping when Davis takes a breather.
While losing Amar'e Stoudemire has allowed Carmelo Anthony to rediscover his game and assert himself as the team's star, there has been no upside to losing Lin.
The best version of this Knicks team probably won't show itself until mid-year next season after Lin, Anthony, Stoudemire and Tyson Chandler all have a preseason and regular practices together to build chemistry.
As for this year? If I could only have one of either Jeremy Lin or Amar'e Stoudemire back for the playoffs, I would without a doubt want Lin.
The Knicks can find their inside scoring elsewhere if Stoudemire does not play, but they do not have an acceptable substitution for Lin's playmaking ability on the current roster.