NBA Mock Draft 2012: Where Michael Kidd-Gilchrist and Elite Studs Will Land
April 8, 2012

Ronald Martinez/Getty Images
Kentucky fans are still celebrating their Wildcats winning a national championship, but doing so comes with a price.  Star forward Michael Kidd-Gilchrist will be one of the players in attendance at this year's NBA draft on June 28 and given how he played this year, he's a definite lottery pick.
He won't be headed to the draft alone as he will surely be joined by teammates Anthony Davis, Marquis Teague and some others as well.  As has been the case with most teams he has coached, John Calipari has fielded an NBA-caliber squad at Kentucky, and now his stars will take their talents to the next level.
Yet, the question still remains.  In the first round of the 2012 NBA Draft, just where will Kidd-Gilchrist end up?  Well, let's do a mock first-round and have a look.
1. Charlotte Bobcats: Anthony Davis, PF, Kentucky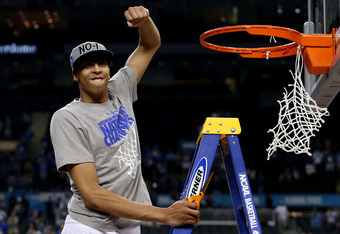 Jeff Gross/Getty Images
In a move that will surprise no one, the Bobcats will select Davis with the first pick and hope that he is the answer to their multiple troubles.  He's got great height at 6'10", and his enormous wingspan gives him great potential as a shot blocker.  On the season, he averaged an astounding 4.7 blocks per game.
Yet, Bobcats fans must remember to be patient with Davis.  While his scoring and defense are their, his low post game needs a lot of work as he weighs just 220 pounds and will need some time in the weight room before he can evenly match up with elite big men like Kendrick Perkins and Chris Bosh.  Once he reaches that level, however, he'll be one of the NBA's best at his position.
2. Washington Wizards: Michael Kidd-Gilchrist, SF, Kentucky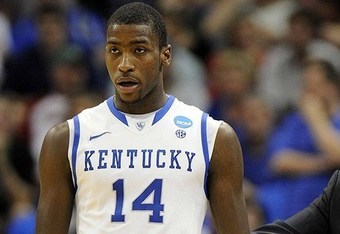 As good as Davis is, he's not as NBA-ready as Kidd-Gilchrist.  The freshman from New Jersey drives to the basket well and has exhibited a great mid-range jumper.  In the NBA, that alone is going to separate him from the rest of the rookies.
Given how the Wizards need a lot of help at small forward, the combination of the right coach plus Kidd-Gilchrist plus all of the other young talent in DC could be the answer to the franchise's woes.  The way I see it, even if Kidd-Gilchrist doesn't fully live up to the hype surrounding him, he's still an improvement over anyone the Wizards have played at the 3-spot this season.  His athleticism is unquestionable and he may very well start contributing for the Wizards right away.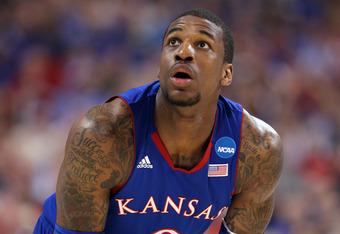 Andy Lyons/Getty Images
3. New Orleans Hornets: Thomas Robinson, PF, Kansas
With an NBA body, superb athleticism and ever-improving jump shot, Robinson is a star in the making.  Given the state of the Hornets, he's going to be just what the doctor ordered in The Big Easy.
4. Cleveland Cavaliers: Bradley Beal, G, Florida

The Cavs need some help at shooting guard, and Beal's natural touch should help immensely.  On top of that, he'll take some of the load off of Kyrie Irving's shoulders.
5. Portland Trail Blazers: Cody Zeller, C, Indiana
The more athletic of the Zeller Brothers, Cody will bring the Blazers their best center since Arvydas Sabonis thanks to his power on the inside and decent jumper.  Even if he flops, he'd still be better than Greg Oden.
6. Sacramento Kings: Jared Sullinger, PF, Ohio State
Simply put, Sullinger + DeMarcus Cousins = most powerful frontcourt production in the NBA...at least a few years down the road.
7. Toronto Raptors: Andre Drummond, C, Connecticut
Toronto needs a lot of help in terms of interior defense, so they'll draft Drummond and his Grade-A defense while wondering why they ever thought it was a good idea to start Aaron Gray at the 5.
8. Detroit Pistons: Perry Jones III, PF, Baylor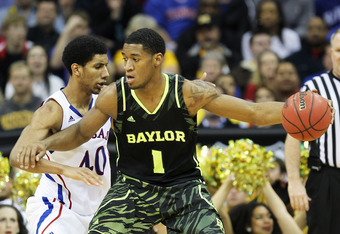 Jamie Squire/Getty Images
Pistons coach Lawrence Frank runs a tight ship and by getting rid of PJ3's lackadaisical approach on defense, he'll turn the big forward into the second coming of Amar'e Stoudemire.  Shortly afterward, the Pistons will be contenders once again.
9. Utah Jazz: Kendall Marshall, PG, North Carolina

In Marshall, the Jazz will receive an NBA-ready guard who is not only a complete player, but a great leader.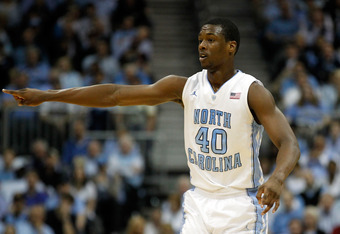 Streeter Lecka/Getty Images
10. New Orleans Hornets: Harrison Barnes, F/G, North Carolina
In a move that nobody saw coming, Barnes and his softness will slip out of the top five.  Still, his scoring ability is good enough to the point where the Hornets will try him out at shooting guard while also having him spell Trevor Ariza at small forward.
11. Portland Trail Blazers: Damian Lillard, PG, Weber State
Don't let the small school fool you.  Lillard will ultimately give Portland the scoring point guard they thought they were getting this year in Raymond Felton.
12. Milwaukee Bucks: Terrence Jones, SF, Kentucky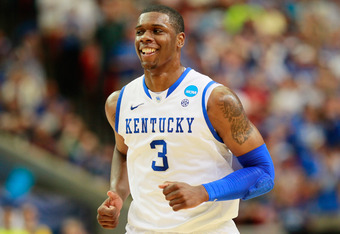 Kevin C. Cox/Getty Images
The Bucks have an electrifying backcourt and if Brandon Jennings needs any incentive to stay, GM John Hammond will draft Terrence Jones.  Simply put, this young man is an NBA stud just waiting to happen.
He has a great NBA body at 6'9", 252 pounds and is an absolute pest on defense.  On top of that, he's a decent contributor on offense as he averaged 12.5 points per game this year.  Oh, and mark my words on this: he WILL win a Slam Dunk Contest at some point.
13. Utah Jazz: Austin Rivers, G, Duke
Joining Kendall Marshall in Utah will be his college rival Rivers, in a forbidden marriage between UNC and Duke.  Then again, with Rivers' shooting abilities, this could be a match made in heaven.
14. Phoenix Suns: Jeremy Lamb, G, Connecticut
In keeping with the Suns' high-scoring philosophy, the team will draft Lamb and the 17.7 points per game he averaged this season.  Seeing as how he can also play some solid defense and do work above the rim, it could turn out to be a solid choice.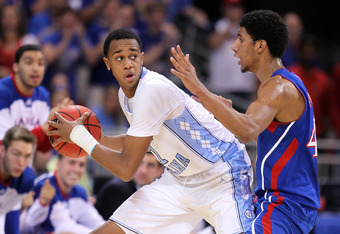 Andy Lyons/Getty Images
15. Houston Rockets: John Henson, PF/C, North Carolina
In keeping with their shot-blocking culture, the Rockets will draft the long-armed John Henson.  As he spells both Luis Scola and Samuel Dalembert, Houston's defense could become one of the peskiest in the league.
16. Philadelphia 76ers: Terrence Ross, F, Washington
As good as the Sixers have looked this year, their mid-to-long range shooting has been hellish.  In drafting Ross and his 37 percent three-point shooting, that department could be improved almost instantly.
17. Denver Nuggets: Moe Harkless, SF, St. John's
As good as the Nuggets are, they could use some help on defense.  The 6'8" Harkless could provide plenty of that off the bench (to start), along with a solid scoring touch.
18. New Jersey Nets: Quincy Miller, F, Baylor
Much like Kentucky's Jones, this young man brings a great deal of versatility to the table, and may win a Slam Dunk Contest at some point.
Mike Ehrmann/Getty Images
19. Boston Celtics: Tyler Zeller, F/C, North Carolina
The seven-footer out of Chapel Hill isn't exactly a pillar of strength, but his attitude and determination make him extremely coachable and a solid candidate to take over for Kevin Garnett at some point.  He isn't a bad shot blocker either.
20. Dallas Mavericks: Meyers Leonard, C, Illinois
Because anyone is better than Brendan Haywood or Ian Mahinmi.
21. Memphis Grizzlies: Dion Waiters, G, Syracuse
Memphis could use some help at the 2, and Waiters' electrifying shooting and ability to drive to the basket should mesh well with point guard Mike Conley.  His pesky defense makes him all the better.
22. Atlanta Hawks: Doron Lamb, SG, Kentucky
Lamb is easily the best three-point shooter in the draft pool, having shot nearly 47 percent from downtown this year.  This will be a great help to Atlanta now that Joe Johnson has moved to small forward
23. Orlando Magic: Tony Wroten, PG, Washington
Wroten is a great improvement over Jameer Nelson and with his pass-first mentality that goes hand in hand with his incredible defense, he could be the key to Orlando retaining Dwight Howard for the long term.  He's big for his position at 6'5", so he could also provide some help on the boards.
24. Boston Celtics: John Jenkins, SG, Vanderbilt
A pure three-point shooter, Jenkins and his natural touch from behind the line could prove to be just what the doctor ordered if Ray Allen should go to another team.
25. Indiana Pacers: Marquis Teague, PG, Kentucky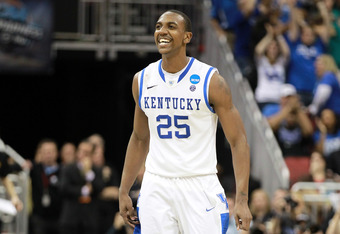 Andy Lyons/Getty Images
As good as Darren Collison has been, Indiana needs a pass-first point guard.  In time, Teague could become a floor general reminiscent of former Pacers great Mark Jackson.
26. Cleveland Cavaliers: Royce White, F, Iowa State
White has great size at 6'8", 270 pounds and has the potential to become a double-double machine.  More importantly, he's about the same size as another player who became a star in Cleveland.  Coincidence?
27. Golden State Warriors: Scott Machado, PG, Iona
In one of the more shocking moves of the draft, the Warriors will roll the dice on the nation's leading passer.  Mark Jackson will hone his offensive game to the point where the Warriors could become contenders with a true point man feeding their shooters the ball.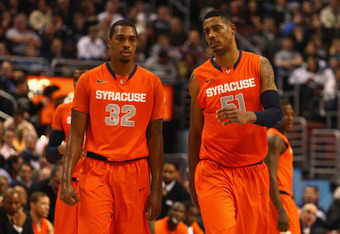 Chris Chambers/Getty Images
28. Miami Heat: Fab Melo, C, Syracuse
At long last, the Heat will have a good option in the middle thanks to the Brazilian seven-footer.
29. Oklahoma City Thunder: Kris Joseph, SF, Syracuse
Joseph and his versatility will be a welcome addition to the ever-improving Thunder team as he will provide some solid minutes off the bench.
30. Chicago Bulls: Arnett Moultrie, PF, Mississippi State
As good as the Bulls are, Carlos Boozer just isn't cutting it at power forward.  In the move that becomes the steal of the draft, Moultrie will bring tremendous athleticism and inside presence to the Windy City as he slowly starts to phase out the ex-Blue Devil.