20 of the Strangest Injuries in Sports History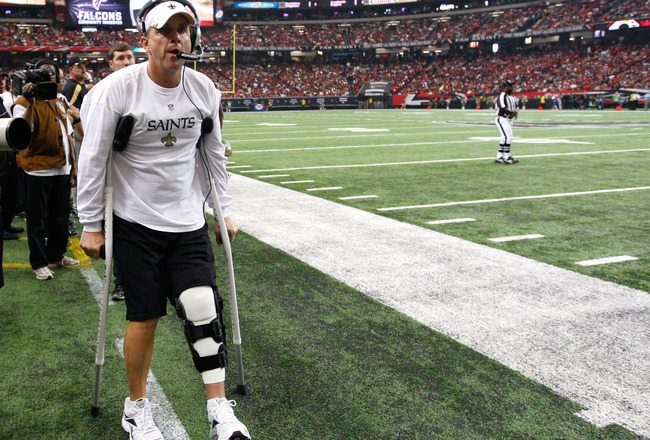 Kevin C. Cox/Getty Images
Remember, athletes are ordinary people like you and me. They are often victims to the same awkward injuries we tend to keep to ourselves.
From self-inflicted injuries while throwing a punch to celebratory failures, the injuries on this fall nothing short of producing a confused look on your face as you chuckle wondering how in the world one could succumb such bad luck.
Joel Zumaya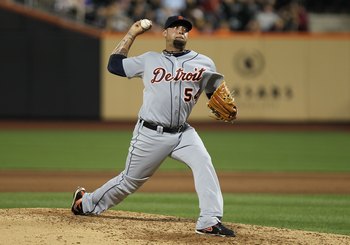 Nick Laham/Getty Images
During the 2006 American League Championship Series, the hard throwing relief pitcher Joel Zumaya was forced to miss three games.
The reason for this injury—Guitar Hero.
It seems Zumaya rocked out just a little too hard, causing inflammation in his wrist.
Being known as an avid Guitar Hero rocker, the training staff immediately discovered the reason behind Joel's injury. Luckily, he stopped playing and was able to pitch during the World Series.
The legacy lives on however, since the XBOX 360's version of Guitar Hero II has an ode to Zumaya during the credits reading "No pitchers were harmed in the making of this game. Except for one."
Gus Frerotte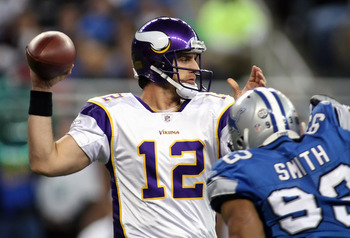 Christian Petersen/Getty Images
On third-and-goal, Gus Frerotte rushed into the end zone.
After splitting the Giant's defenders for his first score of the game, the quarterback spiked the ball and continued to celebrate by slamming his head against a padded wall. Underneath the padding however, was concrete.
Frerotte immediately took his helmet off as he winced in pain, and did not return to the game in the second half. He did however, sprain his neck and earn a trip to the hospital.
Milton Bradley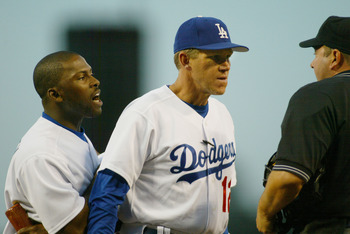 Lisa Blumenfeld/Getty Images
Milton Bradley has become very well known for his temper tantrums as well as his playful name.
In 2007, while playing for San Diego, Bradley got into a heated argument with umpire Mike Winters. Soon, the Padres' manager came out to separate Bradley from the umpire.
As Bradley was being pulled away, he fell to the ground instantly grabbing at his left knee.
An ACL tear would end Milton's 2007 season.
Chris Hanson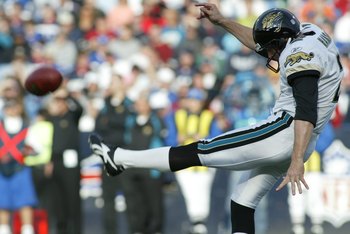 Rick Stewart/Getty Images
In 2003, Jacksonville Jaguars head coach Jack Del Rio, kept an axe and a tree stump in the team's locker room.
Although the axe was meant to serve as a image to the coach's slogan of "keep chopping wood," Chris Hanson decided to literally try chopping the wood—while in the process gashing his leg open and missing six weeks of the season.
Luckily it was not his punting leg and he was able to recover. I blame half of this on Del Rio.
Plaxico Burress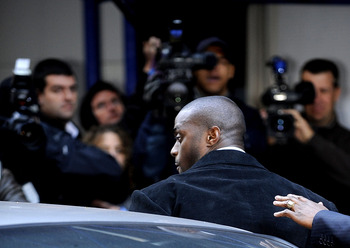 Jeff Zelevansky/Getty Images
Not only did Plaxico Burress fall victim to one of the most bizarre injuries, but he also had to serve jail time for it.
In 2008, at a Latin club, Plaxico plaxidentally shot himself as a gun in his sweat pants fell. As he reached for it, he ironically fumbled it, and it shot him in the already injured right thigh.
Burress later turned himself in to authorities, facing multiple New York State gun law charges.
Even professional athletes like Buffalo Bills WR Stevie Johnson have poked fun at Plaxico for this injury.
Orlando Brown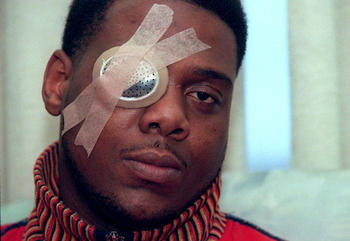 Image Courtesy of BaseballAndThings.wordpress.com
In 1999, an errant penalty flag weighted down by BBs was thrown in the direction of Cleveland Browns' tackle Orlando Brown.
That flag hit Orlando in the right eye, forcing him to miss three seasons and eventually ending his NFL career.
Brown later sued the NFL for $200 million.
Bill Gramatica
Jamie Squire/Getty Images
In 2001, after watching his field goal kick soar through the uprights, Bill Gramatica jumped in celebration.
Then landed very awkwardly.
Turns out, the kick deemed meaningless in a 17-13 loss against the New York Giants. Not worth the ACL tear Gramatica suffered.
Clint Barmes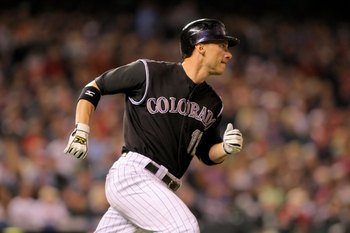 Doug Pensinger/Getty Images
Clint Barmes' teammate Todd Helton gave him a package of deer meat after treating him to dinner. Turns out the deer meat Clint liked so much would be his worst enemy.
While lugging the package of venison, Barmes fell and broke his collar bone.
At the time, Clint was leading all NL rookies in just about every offensive category. He later underwent surgery and is now the proud owner of a titanium plate.
Adam Eaton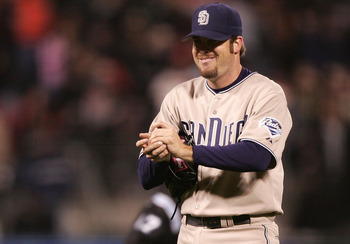 Jed Jacobsohn/Getty Images
In 2001, San Diego pitcher Adam Eaton was tasked with the challenge of opening the wrapper of a newly purchased DVD.
We've all tried it, and we have almost always resorted to using a knife. We just remembered safety first.
Apparently, Eaton never learned to cut away from your body.
When Adam used a pairing knife to open the package, he slipped and accidentally stabbed himself in the stomach. Although he only missed one game, he now forever finds his name on lists like this.
Glenn Healy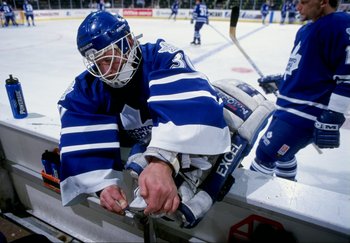 Stephen Dunn/Getty Images
With the stressful job as goaltender, Glenn Healy often found peace in playing his bag pipes.
During the off-season of 2000, he was doing just that.
While in the process of changing the bag, Healy suffered a cut to his hand that needed multiple stitches.
With a name like Healy, playing the bag pipes, this injury only seems fitting.
Sammy Sosa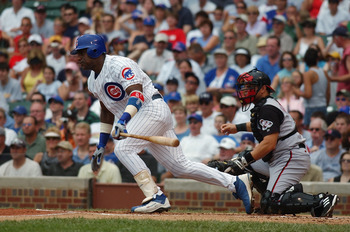 Jonathan Daniel/Getty Images
In 12 seasons, Sammy Sosa rarely visited the disabled list with the Chicago Cubs.
In his final season though, Sammy Sosa endured a very interesting injury.
While talking to reporters in the locker room, Sammy sneezed twice. The sneezes were so strong that they caused back spasms and sprained a ligament.
Sammy Sosa missed a month—from a sneeze.
Santiago Canizares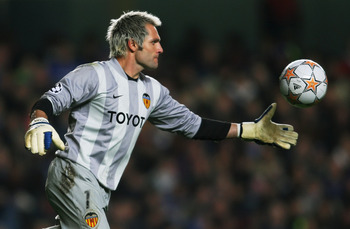 Shaun Botterill/Getty Images
In 2002, at Spain's training center in Jerez, Spain, Santiago Canizares had one of the unluckiest moments of his life.
While in his hotel room bathroom, Santiago accidentally dropped a bottle of aftershave. The bottle shattered, and a shard of glass severed a tendon in his foot.
At the time, Santiago was Spain's first choice at goaltender, and he was playing as well as any goalie in the world.
Lionel Simmons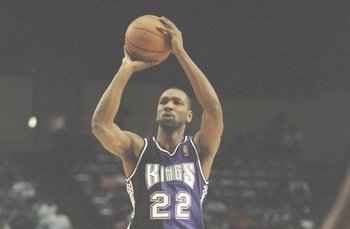 Brian Bahr/Getty Images
During his rookie season, the Sacremento kings' Lionel Simmons missed multiple games due to tendonitis in his left wrist.
At first, this injury seems ordinary—except for the fact that he injured his wrist by playing too many games on his new Nintendo Gameboy. Luckily for Lionel, video games weren't quite as addictive as they are now.
Glenallen Hill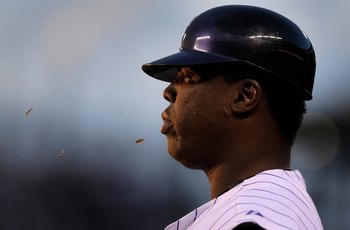 Doug Pensinger/Getty Images
In his second year as a Toronto Blue Jay, Glenallen Hill suffered cuts and lacerations to his feet and arms—landing him on the 15-day disabled list.
The odd part of this injury is how he came about the cuts.
While sleeping, Hill had a nightmare that he was being tortured by spiders. The nightmare caused him to jump out of bed—still asleep—fall down the stairs and tear through his apartment.
He was quickly wakened on the couch by his wife screaming.
Francisco Rogriguez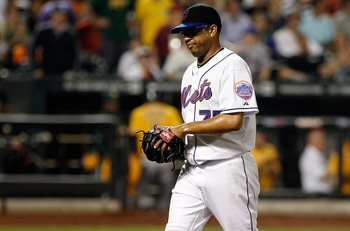 Mike Stobe/Getty Images
In 2010, Mets closer Francisco Rodriguez required surgery to repair a torn thumb ligament in his throwing hand.
The injury was sustained after punching his girlfriend's father in the facilities family room.
On top of the embarrassing injury, Francisco was also arrested on charges of assault and harassment.
Rickey Henderson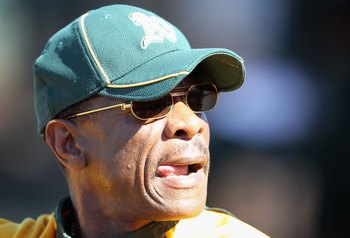 Christian Petersen/Getty Images
Rickey Henderson will forever be known as one of the greatest base runners of all time. He will also be known for his injuries.
Although there are a lot of strange injuries on this list, Rickey may be the only one to have missed games due to frostbite—in August.
While nursing a previous foot injury, Rickey fell asleep with an ice pack on his foot. The result was nerve damage due to frostbite, and Henderson was forced to miss three games.
Marty Cordova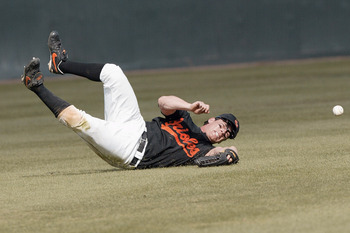 Eliot J. Schechter/Getty Images
The Snooki of baseball.
Baltimore Orioles outfielder Marty Cordova, who apparently enjoyed a nice tan, fell asleep while inside a tanning bed.
The burns to his face were so bad that doctors advised him to stay away from sunlight while healing.
Unfortunately the next game was in California, and he was forced to sit out. A small price to pay for a good tan.
Brian Leetch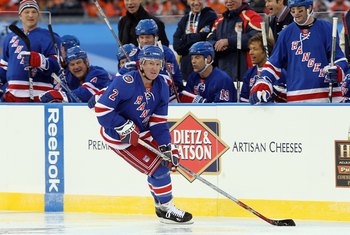 Jim McIsaac/Getty Images
In the hockey rink, Brian Leetch was as graceful on skates as they come.
Outside of the rink however, off his skates, Leetch was human like the rest of us.
On his way to his Manhattan home, Leetch stepped out of a taxi and slipped on a patch of ice. The result of his fall was a broken ankle.
This is as ironic as it gets ladies and gentlemen.
Kendry Morales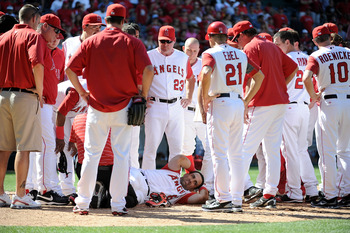 Harry How/Getty Images
Every baseball fan had a moment in their childhood where they fantasized rounding the bases and jumping on home plate, being mobbed by their teammates, after hitting a game-winning grand slam.
Kendry Morales was living this dream—then it ended in a nightmare.
While leaping onto home plate, Kendry landed awkwardly and twisted his ankle. He would soon discover that he broke his leg, ending his campaign as the team's best hitter.
Cal Ripken Jr.
Ezra Shaw/Getty Images
Cal Ripken, Jr. finds himself as the final name on this list because the injury he obtained almost kept him from continuing his streak. The key word is almost.
Before the 1996 All-Star game, the team was posing for photographs when the platform they stood on buckled.
As Roberto Hernandez of the Chicago White Sox regained his balance, he swung his arm accidentally breaking Ripken's nose.
Like you'd expect, Cal simply had his nose reset immediately after and went on to play in the All-Star game.
Keep Reading