2012 NBA Playoffs: 5 Keys to the Utah Jazz Earning a Playoff Berth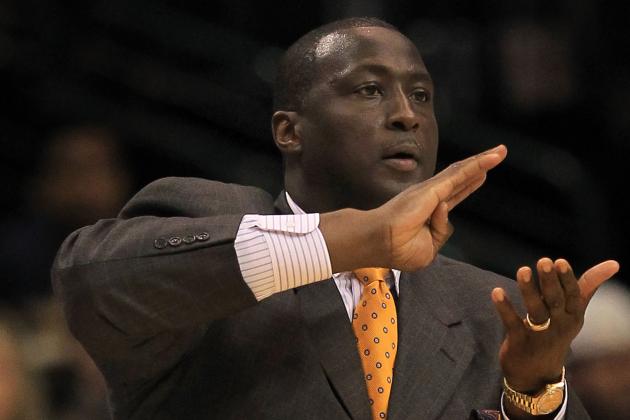 Ronald Martinez/Getty Images

The Utah Jazz are facing an uphill climb to get into the 2012 NBA playoffs.
The majority of Utah's remaining games, 11 of 15, are against teams battling for playoff positions (or spots) in the Western Conference. There is little doubt these games are going to be nail biters, and the Jazz are really going to have to play well consistently in order to extend their season beyond April 26.
With few games left in the regular season, there is very little room for error, but what are the major obstacles to securing a coveted playoff berth?
Begin Slideshow

»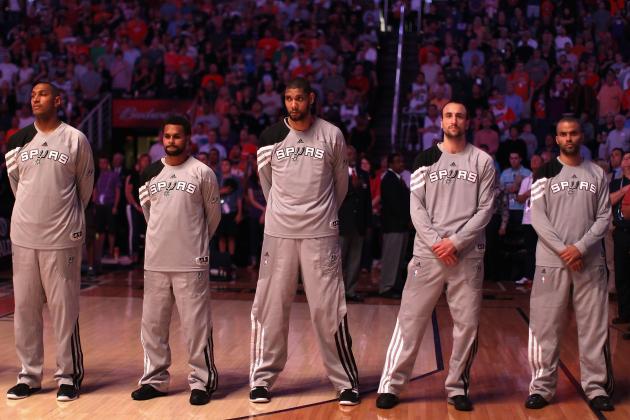 Christian Petersen/Getty Images

Utah will be facing a red hot San Antonio Spurs team on back-to-back nights, April 8 and 9. The first game, which will be played in San Antonio, could be a potential launching point (or crushing blow) for the team.
The Jazz have historically played poorly in San Antonio, and against a Spurs squad that is second in the Western Conference, their odds of walking away with a victory in this matchup are not good. The Jazz are 0-2 against San Antonio this season, though they have not played each other in over a month.
With the way Utah has been playing lately, minus the effort against Boston, they are capable of beating any team in the NBA. This first game of the back-to-back against a currently healthy Tony Parker, Tim Duncan and Manu Ginobili is, I think, the main litmus test of Utah's playoff chances.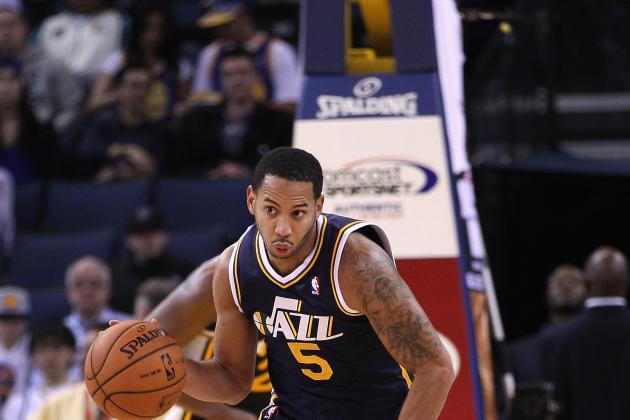 Ezra Shaw/Getty Images

Luckily, the Jazz have a fairly balanced schedule for the remainder of the regular season. While they have excelled at home, going 19-6, their road woes are a concern.
Utah has gone 8-18 away from the EnergySolutions Arena, allowing opponents 102.9 points per game, while only averaging 96.7 points. Further, their three-point shooting percentage has dropped from 33.3 to 28.5 percent (both actually are not good numbers for any team, but the latter is especially painful) on the road.
To compound their inability to stretch the floor, their rebounds have dropped from 44.6 to 42.7 per game outside of Utah. While those differences are not eye-popping, any additional rebounds are potential game-changers since Utah is the only team in the NBA to have a +0.0 average point differential (combined points scored minus points allowed).
Basically, Utah has scored the exact amount their opponents have over the course of the season, and any additional points could help add to their win column.
With eight games at home and seven on the road, Utah is well situated to finish the season strong. If they can somehow win a majority of their road games they could potentially earn home-court advantage in the playoffs.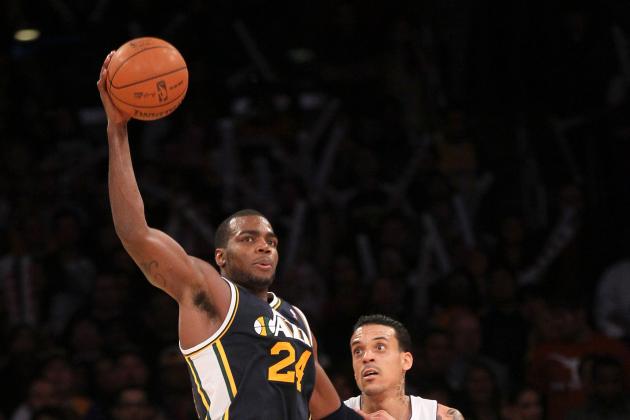 Stephen Dunn/Getty Images

Of the 15 remaining games of the season, six of them will be part of back-to-back contests. That means that 40 percent of the remaining games are part of back-to-back stretches, and the Jazz need to weather these storms in order to make it into postseason.
Out of three back-to-back stretches that remain in the Jazz's schedule, one of those consists entirely of road games (New Orleans Hornets on April 13, Memphis Grizzlies on April 14). Utah is 2-0 versus Memphis this year and 1-1 against the Hornets.
If they can win these two games, part of a three-game road trip that starts in Houston against the Rockets, they should have some confidence when they come back home to play the Dallas Mavericks on April 16.
Their first back-to-back, against the Sacramento Kings in Salt Lake City on Friday, March 30 and the Los Angeles Clippers in L.A., starts this Friday. They are 2-1 against the Kings and 1-1 against the Clippers. Both are winnable games, it just depends on how much the bench can contribute to the cause.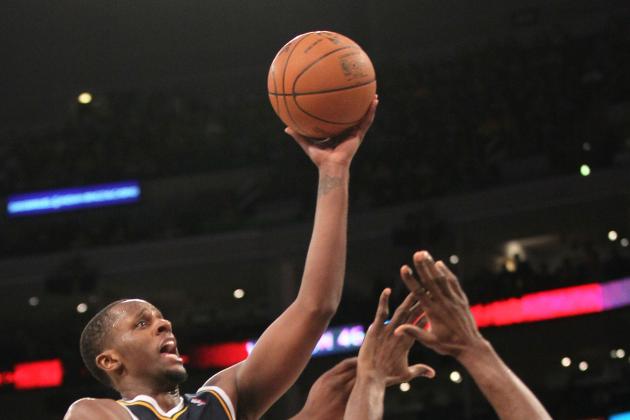 Stephen Dunn/Getty Images

Only twice during the remainder of the regular season will the Jazz have at least two days of rest between games. This means they need to spread out the minutes as much as possible.
In a sense, that is good news for Utah, since they have such a deep bench.
The Jazz's bench is currently ranked fifth in scoring in the NBA at 36.1 points per game. In addition, Utah's bench currently ranks third in rebounds per game at 17.6, while ranking first in offensive rebounds (6.0 per game).
Unfortunately, their bench does not contribute much in terms of three-point shooting (ranking 28th at 28.2 percent).
Those additional (interior) points and rebounds will be huge during the final stretch of the season.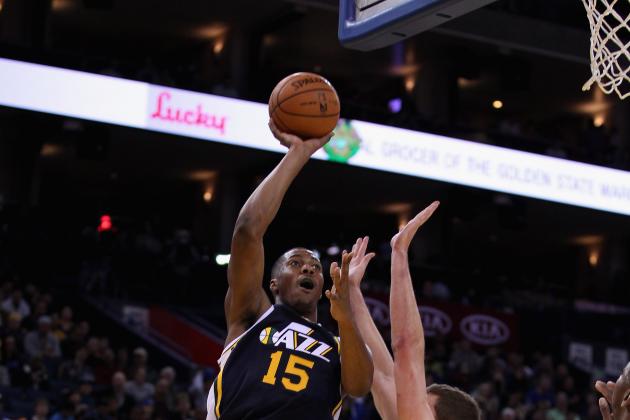 Ezra Shaw/Getty Images

Two of the biggest contributors off the bench are Alec Burks and Derrick Favors.
Burks is averaging seven points, 2.1 rebounds and 0.8 assists per game over the entire season, while playing 15.1 minutes per game. His numbers during the last 10 games are much more impressive though.
During Utah's recent 7-3 stretch, Burks is averaging 11.1 points, 3.4 rebounds, 1.1 assists and 0.7 steals per game. His production has increased primarily because he is getting more time on the floor (he has averaged 24 minutes per game during that stretch).
Favors, who has also seen his minutes increase recently, is taking advantage of that additional game time as well.
His points per game have jumped from 8.6 to 10.8, while his rebounds (7.1 to 9.1), assists (0.7 to 1.1) and blocks (0.9 to 1.3) have also increased.
Favors has put together three double-doubles over the last 10 games, including an absolute beast night against the Golden State Warriors. In that game he scored 23 points and grabbed 17 rebounds, while capitalizing each time he earned a trip to the charity stripe (9-9).
If the Jazz are going to make it into the playoffs, these two young studs are going to have to contribute each and every night.