Ranking Kenneth Faried with the NBA's Best Rookies of 2012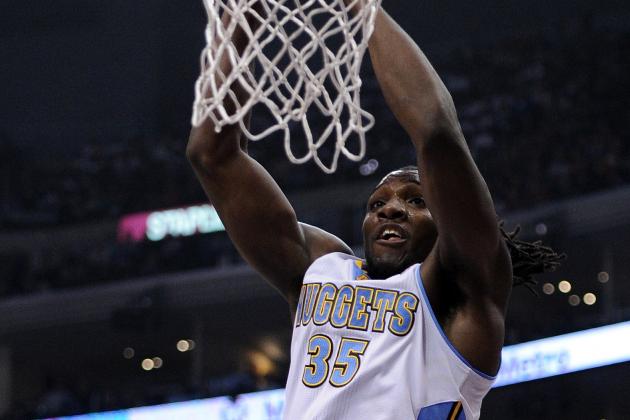 Harry How/Getty Images

A manimal has been loose in Denver, and no one's been able to cage him.
Kenneth Faried, aka "The Manimal," has run wild on the hardwood, as his animalistic aggressiveness propels him to hunt after his favored prize—the basketball.
Faried rebounds with reckless abandon, partly out-muscling opponents after putting himself in perfect position, partly soaring sky-high to grab loose basketballs over others.
His 7.1 rebounds per game lead all rookies by a wide margin, and Faried's proven not only that he can play at the NBA level, but his astounding abilities allowed the Nuggets to trade away Nene.
But Faried isn't the only NBA rookie doing damage currently; there are many others impressing the entire league already.
Who are those other players and where does Faried rank among them?
Let's find out.
Begin Slideshow

»
Ronald Martinez/Getty Images

Walker led Connecticut to the NCAA Championship last year, and he's only continuing to grow as a player.
His 12 points per game put him in fourth among rookies, and his career-high 23 points on January 14 helped lead the Bobcats to victory over the Warriors.
Walker's not only about putting the ball in the basket, though; he's good at sharing the ball and even gives effort in rebounding despite his small 6'1" size.
He averages 4.1 assists and 3.8 rebounds per game and even recorded a triple-double of 20 points, 11 assists and 10 rebounds this year, although Charlotte lost by three to Washington that night.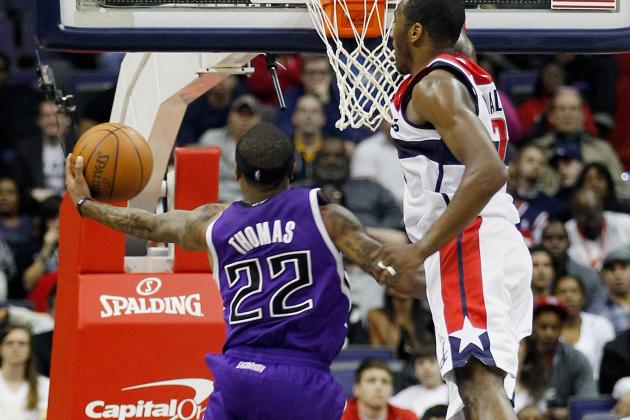 Rob Carr/Getty Images

Thomas comes in ahead of Walker because he's already more important to his team.
After playing from the bench for the first 28 games of the season, Thomas has played himself into the starting point guard position, starting the last 20 straight games for the Kings.
While his 10.1 PPG put him in seventh among rookies, Thomas has averaged 14.7 per since becoming the starter, and his assist (3.5-5 APG) and rebounding numbers (2.5-3.4 RPG) have improved as well.
Isaiah Thomas was the co-Rookie of the Month in February, sharing the honor with Kyrie Irving, who also finds himself on this list.
Jonathan Daniel/Getty Images

As was discussed in the intro, Faried is an absolute beast when it comes to grabbing boards with authority.
But that's not all he can do.
The rookie out of Morehead State is a full of energy, and he uses it run past opponents down the court—beating other bigs nearly every time—which sets him up for easy buckets under the rim. He also uses that nonstop motor to move to set screens, run to the rim to catch alley-oops and run down others for emphatic blocks.
While he leads all rookies in rebounding at 7.1 per, Faried's 9.5 points per are eighth among first-year professionals. And he's so efficient in scoring the rock—getting most of his opportunities right around the rim—that the Manimal's 58.6 field goal percentage is 16th best among all NBA players this year.
He's already close to averaging a double-double, and Faried's racked up six of them this season, with the Nuggets going 5-1 in those games.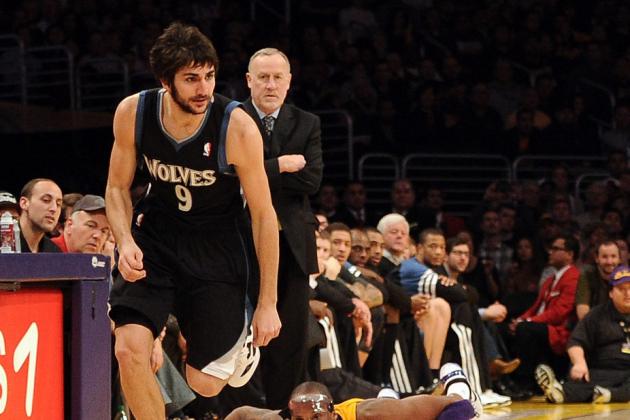 Harry How/Getty Images

While Rubio was selected by the Timberwolves in 2009, he didn't begin his NBA career until this year.
Rubio's far from a rookie basketball-wise, though; he started playing professionally at the age of 15 with DKV Joventut Badalona of Spain in 2005. He played the last six years as a pro in Spain and has brought all his talents and knowledge to the NBA.
He's flourished; at 8.2 assists per game, Rubio is the rookie leader and tied with Derron Williams at No. 6 in the NBA.
Rubio plays the game in a special way, looking like he's having great fun at all times, creating special and spectacular passes for his teammates to grab and score with.
And the kid can score the ball himself as well. At 10.6 PPG, he's fifth among rookies this year, while his quick hands allow him to steal the ball 2.2 times per contest, third-best in the NBA.
Interestingly, Minnesota is only 6-6 when he records a double-double this year.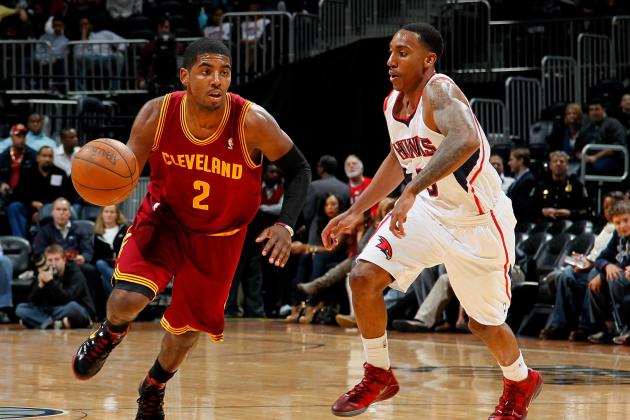 Kevin C. Cox/Getty Images

Kyrie Irving is the undoubted leader for NBA Rookie of the Year, and it's due to his all-around dominance.
Irving's 18.8 points per make him No. 1 in rookie scoring while he's also second in assists (5.6), seventh in steals (1.06), 14th in rebounds (3.9) and 19th in field goal percentage (47.2).
The guy can create off the dribble to attack the rim for a ferocious dunk, or he can pull-up and pop a shot from the mid-range or from downtown.
Irving's superb shooting skills were put on display in the Rookie–Sophomore game, where he went a perfect 8-8 from behind the arc and led the game in scoring with 34. Yes, it's just a glorified pickup game, but he still out-performed all his peers on the court that night, and he's been doing so the entire season.
He's a sharpshooter and an athletic talent. Irving is a star in the making, and he has the potential to become one of the greatest basketball players in the world.
Rich Kurtzman is a freelance journalist actively seeking a career in journalism. Along with being your Denver Nuggets Featured Columnist, Rich is the Denver Broncos and CSU Rams Examiner and Kurtzman also writes for Blake Street Bulletin, Stadium Journey and Mile High Hoops.
Follow Rich on Twitter for breaking news, need-to-know retweets and interesting insight on the Rams and everything Colorado sports related.
Follow Rich on Facebook for links to all his pieces and breaking news.