NBA Power Rankings: L.A. Lakers and Teams Trending Up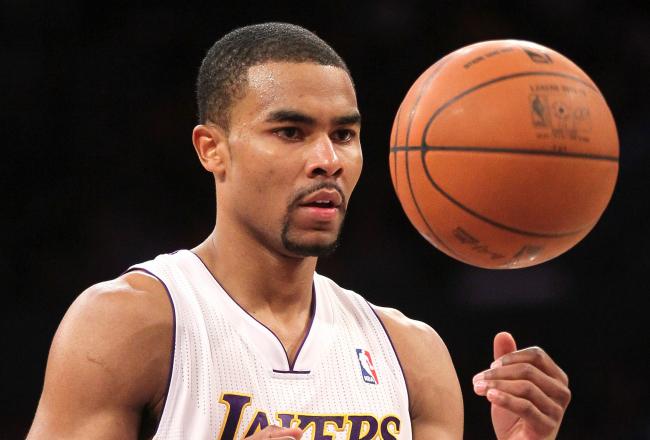 Stephen Dunn/Getty Images
The NBA season is on the cusp of the final month of the regular season, and the contenders are beginning to distance themselves from the pretenders.
Rotations are starting to tighten up and players aren't getting as much rest as earlier in the season (with the exception of the "old" Tim Duncan). We are now entering the gut-check portion of the season.
If they were a stock, you'd want to buy plenty of shares from the following three teams.
5. LA Lakers (30-19)
They have the third best point differential in the West right now (+2.5) but are a bit slow to adjust to new point guard Ramon Sessions. The team has gone 3-3 since acquiring him from the Cavs.
But there is no doubt this team is better with the speedy Sessions, and it's taking some of the pressure off the NBA's leading scorer Kobe Bryant.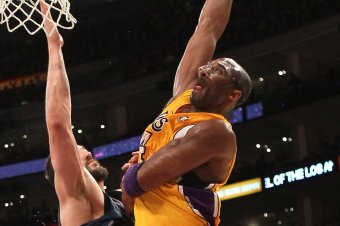 Stephen Dunn/Getty Images
Bryant is one of the league leaders in minutes played and Mike Brown is going to run Kobe into the ground if that keeps up.
As long as Bryant's minutes are minimized to keep him fresh for the playoffs, this team is a serious title contender. Thanks to Andrew Bynum and Pau Gasol, they rank second in the league in rebounds (45.5 per game) and sport the eighth best defense (93.4).
Now that the dust has settled and Sessions and Jordan Hill are getting more comfortable in their new surroundings, this Laker team is going to take off. No doubt about it, they are the most dangerous team in the West outside of Oklahoma City.
13. Atlanta Hawks (30-20)
The four OT win over the Jazz was the fourth straight for the Hawks, who are suddenly a very dangerous team in a mediocre Eastern Conference.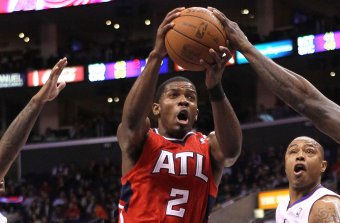 Stephen Dunn/Getty Images
They are quietly the fifth best defense in the league, allowing 92.7 ppg, and are finally adjusting to life without Al Horford.
Joe Johnson is playing his best ball of the season and is fresh off winning Eastern Conference player of the week.
As long as Josh Smith continues to play at a high-level and Johnson keeps up his hot-shooting (47 percent last five games), they are more than capable of winning a series in the playoffs yet again.
16. Phoenix Suns (25-24)
The Suns are quite possibly the hottest team in the entire league right now.
Fresh off a 25-point win against Cleveland (tied for their biggest of the season), the Suns have now won 11 of 15 games and are right in the mix for the eighth playoff spot in the Western Conference.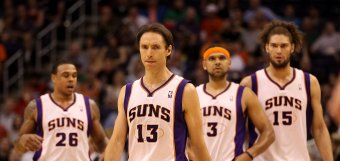 Christian Petersen/Getty Images
Steve Nash has dropped 30 assists in the last two games and is averaging a league-best 11.2 per game. Now that he knows Phoenix is where he'll end the season, the 38-year-old seems more comfortable.
He is turning a mediocre big man in Marcin Gortat, to a 16-point a game scorer that shoots a blistering 56 percent from the floor.
With Michael Redd and Shannon Brown exceeding expectations off the bench, the Suns are looking like one of the most improved teams from when the season started back in December.
Eric Ball's Power Rankings Week of March 27
1. Chicago Bulls (40-11)
2. Oklahoma City Thunder (37-12)
3. Miami Heat (35-13)
4. San Antonio Spurs (33-14)
5. LA Lakers (30-19)
6. Orlando Magic (32-18)
7. Indiana Pacers (29-19)
8. Dallas Mavericks (28-22)
9. LA Clippers (28-21)
10. Memphis Grizzlies (26-21)
11. Philadelphia 76ers (27-22)
12. Denver Nuggets (27-23)
13. Atlanta Hawks (30-20)
14. Houston Rockets (27-23)
15. Utah Jazz (27-23)
16. Phoenix Suns (25-24)
17. Boston Celtics (27-22)
18. New York Knicks (25-25)
19. Minnesota Timberwolves (24-26)
20. Milwaukee Bucks (22-27)
21. Portland Trail Blazers (23-26)
22. Golden State Warriors (20-27)
23. Detroit Pistons (17-32)
24. Cleveland Cavs (17-29)
25. Toronto Raptors (16-34)
26. Sacramento Kings (17-32)
27. New Jersey Nets (16-35)
28. Washington Wizards (11-38)
29. New Orleans Hornets (12-37)
30. Charlotte Bobcats (7-40)
This article is
What is the duplicate article?
Why is this article offensive?
Where is this article plagiarized from?
Why is this article poorly edited?