Why NBA Coaches and Fans Tolerate Lazy Superstars
March 21, 2012

Chris Chambers/Getty Images
A little over a decade ago, one of the most entertaining players in the NBA was guard Allen Iverson, then of the Philadelphia 76ers.
At just 6'0", 165 pounds, he was one of the best scorers in the NBA, and on top of that, he could also play incredible defense. Over his first five years in the league, the one-time Georgetown Hoya won two scoring titles and even won the 2001 NBA MVP award.
Yet, as good as Iverson was, all was not rosy in his and the Sixers' world. Iverson's problem was that he was good, and he knew it. Thus, he often skipped practice without remorse and repeatedly clashed with his coach, Larry Brown.
The Sixers eventually grew tired of Iverson's me-first attitude and traded him to the Denver Nuggets, and he was out of the league a few years later after refusing to—gasp!—come off the bench for the Memphis Grizzlies!
The whole saga makes one think just why both fans and coaches continue to cheer for head cases like Iverson, Stephen Jackson or Brandon Jennings. Well, the answer is quite simple, really. Despite their lazy attitudes and incorrigible behavior, fans and coaches alike put up with these players because when push comes to shove, they can still play ridiculously good basketball.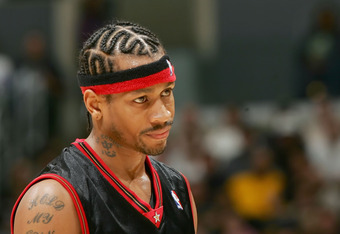 Lisa Blumenfeld/Getty Images
To illustrate my point, allow me elaborate more on Iverson. The 11-time All-Star's attitude problems in the NBA surfaced in 2002, when the aforementioned practice issue turned up, and continued with clashes with coaches and team management alike for years.
When was he ultimately traded? Not until December 19, 2006!
Yet, can one blame the Sixers for hanging onto their volatile superstar for so long? Over his tenure with the team, he averaged 28.1 points per game, highest in team history. That's a big contribution to take away, no matter how you look at it.
Also, he led the Sixers to the 2001 NBA Finals and essentially brought the franchise back into prominence.
That being said, it's fairly obvious as to why we all put up with mouthy and lazy star players in the NBA. No matter how bad they may treat their coach, teammates or front office, they still play great ball and win games for our favorite teams (most of the time).
That isn't to say that things haven't changed in the handling of lazy headcases. Stephen Jackson has an awful attitude and has played for seven teams in 12 years, while Rashard Lewis put up bad shot after bad shot before finally being traded to the awful Washington Wizards.
Still, over the course of history, the lazy superstars have won out over what is right. Carmelo Anthony is, for the most part, a hot dog, yet the Knicks chose keeping him instead of dealing him and retaining head coach Mike D'Antoni. Not that I disagree with the front office's course of action, but you see what I mean. Most owners and/or GMs refuse to view lazy stars as employees and instead deify them into godly figures when, in reality, they're just big babies.
That approach had better change soon, otherwise the standard for what makes an NBA player could reach a horrible low.