NBA Trade Rumors: Los Angeles Lakers Better off Hanging onto Pau Gasol
March 14, 2012

Lisa Blumenfeld/Getty Images
Pau Gasol's value on the open market isn't ever likely to approach that of his importance to the Los Angeles Lakers. This point is driven home by the latest round of rumors swirling around the big Spaniard with the NBA's trade deadline right around the corner.
Case in point: according to ESPN's Marc Stein, the Chicago Bulls are interested in acquiring Gasol, with Carlos Boozer the biggest piece to be relinquished in the deal.
That's right, folks. Carlos Boozer. The same Carlos Boozer whose numbers are down significantly from his days with the Utah Jazz and whose salary will peak at $16.8 million in 2014-15 at the age of 33.
That's about the best the Lakers are going to get at this point for Gasol, a four-time All-Star who still happens to be the most skilled big man in basketball.
In other words, the Lakers won't likely move Gasol by Thursday's deadline, nor should they. To the Lakers, Gasol's a key cog in a machine that brought two more titles to the Staples Center. To everyone else, he's a 31-year-old with a bloated contract. Hence, the Lakers are never going to get fair value of any sort for him.
Swapping a legitimate seven-footer like Gasol for a slightly undersized power forward like Boozer would also rob the Purple and Gold of their clearest advantage on the court (aside from having Kobe Bryant in the lineup). That is, the presence of two skilled pivotmen up front.
In essence, the Lakers have two of what most teams would kill for one of, which gives them an edge they'll be able to exploit ad nauseum when the pace of play slows down in the postseason.
Then there's the matter of "fit"—both on and off the court. Gasol's ability to distribute the ball and operate in both the high and the low post has been crucial to the Lakers' return to title contention in recent years. As great as Kobe is, it's Gasol who truly ties the team together.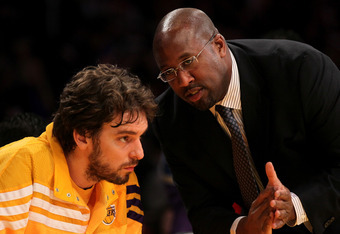 Stephen Dunn/Getty Images
Should GM Mitch Kupchak move Gasol at this point, he would would risk leaving the team in disarray and head coach Mike Brown with mere weeks to pull it all back together before the playoffs. Getting this team on track has been difficult enough with Gasol, what with Brown's attempt to install a new system with limited practice time.
Tossing Gasol aside would only serve to disrupt what progress the Lakers have made to this point while forcing the team as a whole to recalibrate down the stretch of the season.
The Lakers may not be title favorites as currently constituted, but at this point, swapping Gasol for other pieces can only hurt their prospects for success.