NBA Preview: New York Knicks Look to End Losing Streak as They Travel to Chicago
March 12, 2012

Jonathan Daniel/Getty Images
New York is in dire need of quality basketball.
Unfortunately for Knicks fans, their beloved (and talented) team is on a five game skid headed into a big match-up Monday night.
The Knicks will face Derrick Rose and the first-place Chicago Bulls as they look to return to their winning ways. For New York, a loss could put them in a tie with Milwaukee for the eighth-spot in the Eastern Conference.
With so much talent, it is tough to believe that New York is fighting for their playoff lives. With a shortened season, the Knicks must win now to ensure they are included in post-season play.
Chicago, 34-9 overall, has taken the number one spot in the East from the Miami Heat. By doing this, Rose and company are putting themselves in a position to win their first championship since the Jordan era.
Coming off of a 14 point victory against Utah, Chicago will welcome Joakim Noah back to the lineup. At forward, Noah is an essential piece in Chicago's ability to win games. His 9.9 points per game average will be necessary with a shortened bench.
The Bulls will be without the services of Luol Deng and Rip Hamilton, both sitting out with injuries tonight.
The Knicks have the opportunity to catch Chicago sleeping as they play tonight. The Knicks have been lethargic on offense, showing little continuity and confidence on their losing streak. Many point to head coach Mike D'Antoni for mis-managing a talented and deep roster in New York.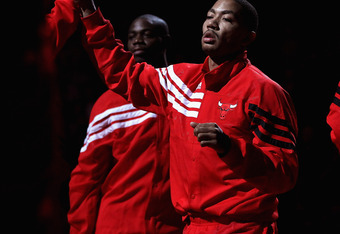 Jonathan Daniel/Getty Images
If Jeremy Lin and the Knicks can get into gear tonight, they can prove to themselves that they can compete with the best in the East. After a poor showing in Miami prior to All-Star Weekend, a confidence boost is exactly what this team needs against a quality opponent.
Without Deng (15.3 ppg) and Hamilton (11.3 ppg) in the fray for the Bulls, the Knicks could find an opportunity to steal a win away from home.
Chicago will look to preserve their number-one ranking tonight before they face the dangerous Miami Heat on Wednesday night.
Derrick Rose, the Bulls do-it-all point guard, leads the teams in both points (22.5) and assists (8) per game. He will look to make an impact against a shaky and inconsistent Knicks defense. Iman Shumpert will be a challenge for Rose, as he emerges as a shut down defender in the NBA.
Although the Knicks have hope against an injury-ridden Bulls roster, it is doubtful that New York will get over the hump.
The Knicks are constantly losing to teams with less talent, and Chicago is not in that category.
The Bulls versatility on both ends of the floor makes them a threat to win every game, something they will almost surely do this evening.