Lakers Trade Rumors: Josh Smith and Kobe Bryant Would Be Toxic Combo
March 8, 2012

Kevin C. Cox/Getty Images
Michael Cunningham of the Atlanta Journal-Constitution has reported that Josh Smith has informed the Atlanta Hawks that he would like to be traded before the March 15 trade deadline.
It seems like the Los Angeles Lakers are involved in every trade rumor that pops up these days.
So naturally, the Lakers are suggested as a potential trade partner. With Pau Gasol dangling on a string over a shark tank, LA certainly has a piece Atlanta would find attractive. The ibtimes.com believes that while you haven't heard a Smith-Laker report yet, it's only a matter of time:
Though there are no reports of the Lakers showing interest in a deal for Smith, it's likely that general manager Mitch Kupchak gives a call to the Hawks, who should take Smith's request seriously.
This is not going to fly with Kobe Bryant.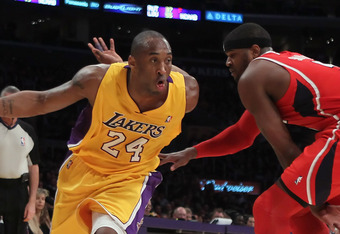 Jeff Gross/Getty Images
Smith is an extremely emotional player and has ruffled the feathers of multiple teammates in the past. His volatile personality takes time to get used to and the Lakers don't have it. They need a guy that can come in, do his job and keep his mouth shut. No complaints about minutes or shot volume.
That's not going to happen with Smith.
Look no further than his last second trade demand as proof that the straight-out-of-high-school forward still puts himself in front of the team. The Hawks are 23-16 and right in the thick of things in the Eastern Conference and he's willing to give up on his teammates now?
It's a weak move and makes you wonder if the 26-year-old will ever get it. Kobe doesn't have time to deal with drama. He has enough of it in his personal life. His only concern is improving on the No. 5 seed they certainly find themselves in.  
Sure, Smith is a very unique player.
Few, if anybody in today's NBA can match the numbers he is currently putting up (17.1 points, 9.8 rebounds, 3.5 assists, 2.0 blocks and 1.5 steals). His defense is superb and would certainly be a difference-maker for the Lakers. He even has a favorable contract, with one-year and $13.2M remaining after this season.
But chemistry matters in basketball more than any other sport and bringing in Smith would be a ticking-time bomb.
Kobe's ego needs to be factored in any potential trade, and the alarm goes off with this proposal. Sure other players would have to be involved to make sure the financial aspect works out, but the Lakers shouldn't even get to that point.
Don't fall for the stat line; Smith is not the remedy for what ails the Lakers.