Manny Pacquiao: Meeting with Jeremy Lin Befitting of Both Superstars
February 16, 2012

Ethan Miller/Getty Images
It was only a matter of time before the sports universe conspired to connect Manny Pacquiao and New York Knicks sensation Jeremy Lin, two of the most famous Asian athletes in the world today.
According to BoxingScene.com, Pac-Man is scheduled to meet Linsanity at Madison Square Garden next Wednesday for what's likely to be the most sought-after photo opp in sports this year, one that even David Letterman couldn't land.
The joining of forces between these two global phenoms makes a ton of sense, and not simply because their ancestry traces back to East Asia and the South Pacific, albeit notably different parts of that vast region.
For one, both have risen from humble beginnings to inspire millions with their stories of persistence, perseverance and faith. Like just about every famous boxer who ever lived, Pacquiao was raised amongst modest means, as one of four siblings in a broken home in the Philippines. Lin, meanwhile, is a first-generation American whose parents immigrated from Taiwan to the West Coast in the 1970s.
Of course, Pacquiao never went to Harvard, though Manny busting his chops in Manila before hitting it big is certainly comparable to Lin failing to garner an athletic scholarship before battling his way through 10-day contracts, roster cuts and D-League stints on the path to stardom.
Both Pacquiao and Lin also possess considerable talent that, nonetheless, has been called into question amidst the emergence of flaws in their respective repertoires.
Pac-Man may well have the fastest hands in the world, but, as his bouts against Juan Manuel Marquez revealed, he's still rather susceptible to cagey, defensive fighters who prefer to box rather than brawl.
For Lin, his skills and smarts in running the pick-and-roll and overall fearlessness have been tempered somewhat by his presumed inability to operate with his left hand, his middling defense and his streaky shooting.
What's more, both have established sterling reputations without facing truly elite competition. That's not to say that Pacquiao hasn't faced and defeated worthy combatants, but rather to point out (like everyone else) that he's yet to go toe-to-toe with Floyd Mayweather Jr. in the ring. Whether that's Pacquiao's fault depends on with whom you consult and when.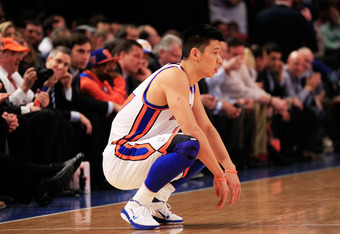 Chris Trotman/Getty Images
Lin, on the other hand, has done well to play the hand he and the Knicks have been dealt, as weak a hand as that may be. Few would mistake Devin Harris, John Wall, Derek Fisher and Jose Calderon for top-tier point guards like Derrick Rose, Rajon Rondo and Tony Parker, each of whom he'll face in March.
All told, Lin still has a long way to go to reach the pinnacle of his sport that Pacquiao has long occupied in his, assuming Linsanity will ever so much as sniff that sort of rarefied air.
But, for one day at least, Lin will be on even footing with Pacquiao and may even overshadow the boxing legend for reasons beyond his eight-and-a-half-inch height advantage.