Jeremy Lin, Knickerbockers Phenom, Is Why We Love Sports
February 16, 2012

Chris Trotman/Getty Images
Linsanity.
Lincredible.
Linstant Offense.
By now, you've probably heard every Jeremy Lin play on words that you can stomach. From SportsCenter's snappy anchors to every mix tape on YouTube, they've been exhausted over and over. The question remains: why are we all so fascinated with this guy? What makes Jeremy Lin so much different from any other story? 
The easy answer is that we as a society love to root for the underdog. We loved it when George Mason dazzled its way into the Final Four, we loved it when an unorthodox quarterback from Florida teetered his way into the NFL Playoffs and we loved it when an autistic boy named J-Mac stole our hearts in upstate New York. 
Jeremy Lin is not one of these stories. Jeremy grew up playing basketball in the Bay area, Palo Alto to be exact, so he is used to highly competitive basketball. He has two brothers who drove him to be better. Jeremy played Division I basketball and was cut from two other NBA franchises before landing in New York. From there we know the rest, crashing on a couch to NBA icon status overnight. Why, then, is this not a feel good, underdog story? Jeremy had all the tools necessary to succeed in the NBA. The problem was that no one was looking. 
This raises the real question of how could no one see this coming? In the social media age we are living in, with all the cameras, eyes, coaches and scouts watching, how did this guy slip through the cracks? How could both the Warriors and the Rockets have cut him? How could the Knicks have been within hours we're told of cutting him, as well?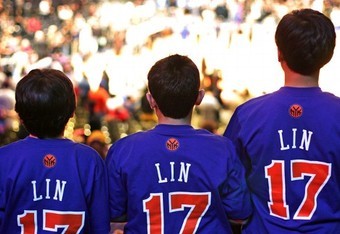 The fact is that the NBA is full of super-talented basketball players, and at any given time they can go all Jeremy Lin on us. Basketball, like most sports, is all about opportunity and confidence. Confidence in yourself, and confidence in your game. But neither of those can happen without the opportunity. No one is more confident right now than Jeremy. He is, by the way, doing it in the world's largest media market at a time when his team and town were desperate for a savior.
Since starting for the Knicks, Lin has them undefeated. He is winning basketball games, something neither Carmelo nor Amar'e could seem to do before injuries sidelined them. Lin is on top of the world right now, and deservedly so. It does raise the question: would this be such a big story if he played in Portland or New Orleans? Possibly.
The reason we are gravitating to this story, besides the obvious, is that we all want to feel that the impossible is possible. We want to think that everything can change for the better overnight. We want to collectively believe that with hard work, perseverance and whatever other cliche you want to throw in, we can do big things. While this is not usually the reality, it is stories like these that make us believe. It, among other things, is why we love sports. Thank you Jeremy, however long this ride may last.