Kings vs. Knicks: Video Highlights, Twitter Reaction and Grades
February 16, 2012

Chris Trotman/Getty Images
Linsanity is alive and well for the New York Knicks, who returned to Madison Square Garden Wednesday night to treat their fervent faithful to a 100-85 blowout of the Sacramento Kings.
The Knicks dominated the lowly Kings from start to finish, with seven players scoring in double figures on offense and New York's five fingers combining for a devastating defensive fist, against which Sactown hit just 37.9 percent of its shots.
The win extends the Knicks' winning streak to seven games, all achieved since Mike D'Antoni so fatefully called Jeremy Lin off the bench against the Utah Jazz.
Tweets of the Night: 
Bleacher Report's Gabe Zaldivar wasn't afraid to say what every Knicks fan was thinking on Wednesday night: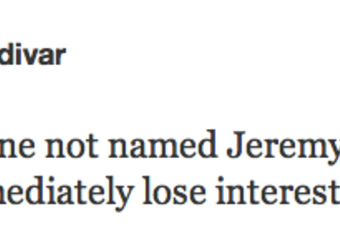 Same goes for Frank Isola of the New York Daily News, who astutely noted just how bad the Kings were on this particular evening: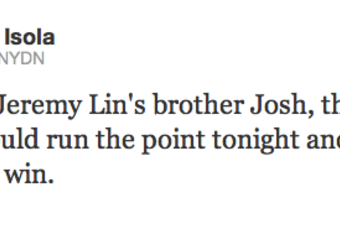 Must-See Highlight:
The Knicks' brainy backcourt connected on this awesome alley-oop late in the second quarter:
Grades for Knicks' Key Players
Jeremy Lin: B
Sure, it was impressive to see Lin rack up a career-high 13 assists without so much as setting foot on the court at the Garden in the fourth quarter.
But those numbers, as nice as they look on paper, came against a Kings team that tried to contain Linsanity with defensively deficient guards (i.e. John Salmons, Jimmer Fredette, Marcus Thornton).
And Lin is still turning the ball over with far too much frequency, as his six giveaways on the night would suggest.
Amar'e Stoudemire: C-
If Linsanity is, indeed, the cure to STAT's struggles this season, then it's proving to be a time-released one. Stoudemire looked lost on the court for much of the 27 minutes in which he played, scoring just 11 points on 5-of-11 shooting (including two errant three-point attempts) along with four turnovers, five fouls and just five rebounds.
The Knicks will need Amar'e to pick up the pace considerably if they're going to sustain this magical run against quality competition.
Grades for Kings' Key Players
Tyreke Evans: B-
Only time will tell if 'Reke is ever able to return to the glory days of his rookie campaign. For now, 19 points, four rebounds and five assists ain't bad, though given his inherent gifts, he could still do much more to help his team win.
DeMarcus Cousins: D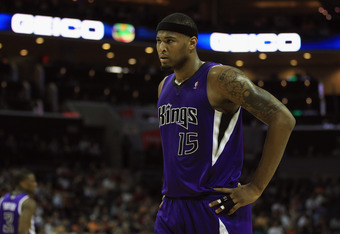 Streeter Lecka/Getty Images
Forget about Cousins' 15 points (on 18 shots) for just a moment. The dude is 6'11" and pulled down four (count 'em) rebounds on the night—an atrocious total, even against a quality big man like Tyson Chandler.
If the Kings are ever going to turn the beat around in Sactown, they'll need Boogie to play much bigger on the boards.
Deciding Factor: Defense
As efficient as the Knicks were on offense, it was (dare I say it?) their defense that made the biggest difference, albeit against a middling Sacramento squad. The Knicks limited the Kings to 37.9 percent shooting, a number that was skewed a bit high by the 30-point fourth quarter that D'Antoni's scrubs surrendered.
Stat of the Night: 32
Wednesday night's win boosts the Knicks' record to 15-15, marking the first time the team has been at the .500 mark in 32 days, since losing to the Oklahoma City Thunder on January 14th.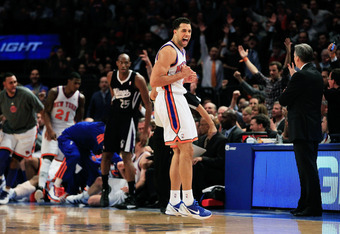 Chris Trotman/Getty Images
Game MVP: Landry Fields
Perhaps no player on the Knicks has benefited more from Linsanity than Landry Fields. The second-year stud out of Stanford paced the Knicks in points (15) and rebounds (10), while chipping in five assists of his own.
Fields did a beautiful job of keeping New York's offense moving while Lin was on the bench and played tremendous defense on John Salmons (two points) on the other end of the floor.
What's Next?  
Both teams face relatively easy opponents in their next games, with the Knicks playing host to the New Orleans Hornets and the Kings colliding with the Detroit Pistons on Friday.