Bulls Rumors: Nothing Wrong with Chicago's Handling of Derrick Rose
February 14, 2012

Rob Carr/Getty Images
Chicago Bulls superstar point guard Derrick Rose is going to miss his third straight game on Tuesday night, as he is still recovering from back pain that has been plaguing him for two weeks.
The news comes from the Chicago Sun-Times, which points out that the good news is that there is no structural damage in Rose's back. He's going to be okay before long.
"Each day he's feeling better but it's still not where we want it to be," said head coach Tom Thibodeau of Rose. "We're going to be patient."
The way in which Thibodeau insists that "we" are calling the shots as far as Rose is concerned is more important than you might think. It should put to rest any notion that Rose alone is the one deciding if and when he plays.
And according to the Sun-Times, that notion is definitely out there:
There has been speculation that Rose is making the decision on whether he will or won't play by himself, which has been fueled by the MVP saying that it's his decision and he's the only one who knows how he feels.
Somebody must have asked Thibodeau about it, as he took care to clear the air once and for all.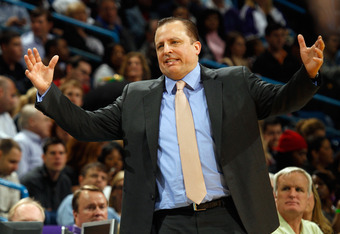 Chris Graythen/Getty Images
"It's not just his decision," Thibodeau said. "There are a lot of people weighing in on it. We have a great medical staff, a great training staff. Their input is critical. His input is critical. We're certainly not going to do anything to jeopardize him being hurt."
That Rose may be solely responsible for putting himself at risk isn't the only train of thought out there, though. Bulls owner Jerry Reinsdorf went on the record on Tuesday saying that he worries the Bulls are asking too much of Rose.
"I'm one of those people who watches and thinks, 'Why don't you get him out of the game?'" Reinsdorf said of Rose, according to ESPNChicago.com. He then said that Thibodeau's handling of Rose reminds him of Phil Jackson's handling of Michael Jordan.
So on the one hand, you have some people who think Rose needs to avoid pushing himself. On the other hand, you have the team's owner saying the team needs to avoid pushing Rose.
The truth is that there's no foul plot afoot on either side of the fence. Rose is banged up right now, but that doesn't mean somebody needs to be blamed.
It's easy enough to take Thibodeau's word for it that the team is being as careful as can be in regards to Rose's playing status. The Bulls wouldn't keep a medical staff and a training staff handy if they weren't going to use them. It can be taken for granted that a lot of thought is going into Rose's injury status, not to mention plenty of poking and prodding.
As for Reinsdorf's gripe, there's really not much to it. He seems to think Rose plays too much, but he really doesn't. Rose averaged 37.4 minutes per game last season, which ranked 14th in the league. Not a bad workload for an MVP. Rose wasn't overused or underused.
This season, Rose is averaging 35.5 minutes per game, and has played 40 or more minutes just eight times.
Rose's injuries are a big reason why his minutes have decreased this season. And given the finicky nature of back injuries, as well as the finicky nature of Rose's turf-toe problem, it's a good bet the Bulls are going to be even more careful with him going forward.
But alas, the Bulls won't be able to stop Rose from being aggressive. Rose has a style of his own, and his style is more dangerous than most. Since it's also more effective than most, though, so it's all worth it.
So there's really nothing the Bulls can do that they aren't already doing. They're playing it safe with Rose, and they will continue to do so.
If Rose gets hurt again, hey, it happens.