Allen Iverson: Ridiculous Ego Will Be Lasting Memory of AI
February 13, 2012

Ethan Miller/Getty Images
Rarely does one of the all-time greats go out in a blaze of glory, and Allen Iverson is just another example.
His decision to skip out on an opportunity to play for the Los Angeles Lakers because of his unwillingness to start out in their D-League affiliate is certainly not a shocking development (per ESPN). A.I. has an ego that is almost as big as his highlight reel.
Remember his last stint with the Memphis Grizzles? Probably not.
Everybody will always remember his epic 10-year run with the Philadelphia 76ers, in which he gobbled up four scoring titles as one of the premier players of the decade.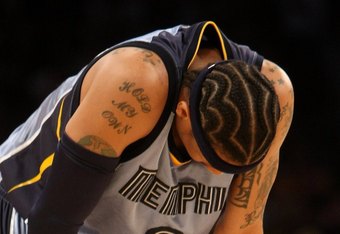 Stephen Dunn/Getty Images
Yet once he was traded to the Denver Nuggets, he became a complete afterthought, as was his tenure with the Detroit Pistons, Grizzles and 76ers once again.
He signed with the Grizzles to begin the 2009-10 campaign only to leave the team. Why? Take one guess:
I had a problem with my butt from sitting on that bench so long. That's the only thing I got a problem with.
He still was fast, but he wasn't Iverson fast anymore. He lost that patented first step and crossover, turning into nothing but a small guy with a limited skill-set and mammoth sized ego.
When you are one of the stars of the league it's okay to act like you own it. Yet when you have an undeserving sense of entitlement as rookies out play you, the routine gets old.
Awesome shoes, crossing over Jordan, cornrows, love/hate relationship with all of his coaches are all a few ways we will remember Iverson.
Yet now that it appears his last chance at the NBA has been rejected by the man himself, and the lasting memory will be Iverson's inability to check his ego at the door to be a team player in the greater good of winning a championship.
It's Iverson's way or the highway, and in 2012 it's the highway—to Puerto Rico.