New York Knicks Rumors: Jonny Flynn Trade Irrelevant with Jeremy Lin's Emergence
February 9, 2012

Brett Deering/Getty Images
The absolute last thing that the Knicks need on the roster is another guard. This is especially true when considering new phenomenon Jeremy Lin. So, it's more than a little confusing to think about the Knicks looking to bring in another point guard. 
According to ESPN's Chris Broussard, the Knicks have shown interest in acquiring Johnny Flynn from the Rockets.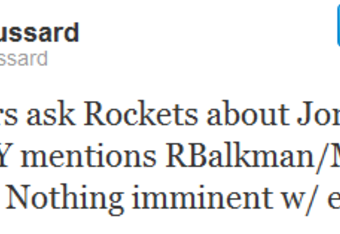 One of two things is going to happen with Lin. Either he's the real deal and has found his spot in the NBA, or he's just a flash in the pan that's having a few good games.
Either way, Flynn would be a pointless move. Take a look at his career numbers.
| | | | |
| --- | --- | --- | --- |
|   | Minutes Per Game   | Points Per Game   | Assists Per Game |
| 2011-2012    | 11.6 | 3.1 | 2.4 |
| Career | 24.1 | 9.9 | 3.9 |
Even the decent looking career numbers are greatly skewed by a strong rookie season. Each of the last two years have been rather unimpressive. Anyone thinking that they're going to get significantly better production than that is being a little overly optimistic. 
If Lin is the real deal, then the Knicks have no need to trade for a point guard. He is playing at an unbelievably high level and if New York can reliably count on that, they would be foolish to look elsewhere. 
But if they can't, they are foolish to put another average point guard on the roster. As things stand right now, five point guards are on the Knicks' roster. If they manage to bring in Flynn without parting with Mike Bibby, it's five. 
I know Mike D'Antoni likes to run, but this is going overboard. 
A point guard playing the way Lin is now is what the Knicks need on a consistent level. I will grant that if Lin is not a long term answer, that person is not presently on the Knicks roster. The only problem is that the same is true for Lowry.
If the Knicks are going to make a trade, they need to go hard to bring in a top name player that can run the offense. Flynn would be nothing more than another long grasp, hoping for the best; those never work well.
Any move the Knicks make needs to be one that will help them win a title. Bringing in another point guard would not do the trick. 
With Lin playing well, this move is irrelevant. But even if he levels off, Flynn is nothing more than a stationary move. That isn't going to help the Knicks win a title and really won't make them a better team.