Lakers' Loss to Jazz Show Kobe Bryant, Not Mike Brown, Is Leader of the Team
February 6, 2012

Stephen Dunn/Getty Images
Los Angeles Lakers head coach Mike Brown may have been fined and suspended for making contact with an official on Saturday night, but when the Lakers are Brown-less Monday night against the Philadelphia 76ers, it won't matter.
That's because, for the past several years—including 2012—the Lakers have been led by their team captain, NBA All-Star shooting guard Kobe Bryant, with Derek Fisher in the vice leader's role.
While Brown was ejected for an incident that started with a no-call he thought should have been a foul against Utah, Bryant also had his own disagreements with the officiating, picking up an early technical foul for demonstratively expressing his disagreement—overt actions indicating resentment—with a no-call with the Lakers leading 23-19 in the first quarter.
After that point, it was clear that Bryant was in disagreement with several calls throughout the game, but it was also quite clear that Bryant was able to keep his emotions in check, at one point resorting to a sheepish grin in response to a late foul called against him, bearing resemblance to former Detroit Tigers pitcher Armando Galarraga's smile in the wake of umpire Jim Joyce's incorrect "safe" call that ended Galarraga's perfect game in June of 2010.
Bryant may have disagreed with calls, he may have even been disgusted, but he kept his cool after technical No. 1 and made sure he stayed in the game to give his team a chance to win.
For a complete opposite reaction to adversity, reference coach Mike Brown.
After Utah had retaken the lead to start the fourth and the game was still within striking distance several minutes later when Pau Gasol lost the ball while appearing to be pushed from behind by Utah's Earl Watson, it was a coachable moment.
Though Gasol's reputation around the league as a flopper—or at least as a player who tends to fall down almost every play regardless of contact—might have played into the minds of the officials who withheld their whistles, the Lakers were only trailing by six points after the ensuing Derrick Favors slam dunk.
Some coaches take those opportunities to call timeout or even pick up a single technical foul to fire up their team.
Brown, on the other hand, went ballistic, bumped referee Zach Zarba and was automatically ejected, giving Utah two free throws with which to expand their lead from two to three possessions.
Brown's fine of $25,000 may have been increased by his failure to leave the floor in a timely manner, but he did leave in the end, leaving the Lakers without their proper head coach.
That's when Bryant took over Brown's job.
Bryant attempted to coach his team, calm them down and get back into the game.
It didn't get his team back into the game, but the Lakers clearly responded to Bryant, running No. 24's plays and continuing to listen. At one time, Bryant had scored nine consecutive points on two three-point field goals and a three-of-three performance from the charity stripe following a perimeter shooting foul.
However, Brown's tantrum had managed to fire up both the Utah Jazz and their hometown crowd, with Utah pulling away to an 11-point lead with under one minute to play in regulation.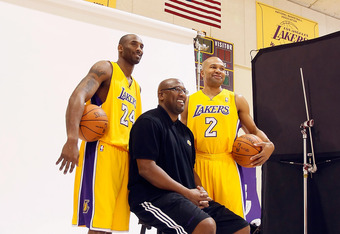 Jeff Gross/Getty Images
That's when acting head coach John Kuester—who had also earned a technical foul for arguing a call—raised the white flag and pulled his starters.
When Brown asks his team to do his bidding, the players listen but execute half-heartedly, in a robotic and lethargic reaction.
When Bryant implores his team to take action, his teammates respond, rise up and emotionally join Bryant in his mission to play stronger—and play smarter.
With Phil Jackson off the sidelines, the Lakers are led by Kobe Bryant and Derek Fisher, not by newcomers Mike Brown and John Kuester.
When Browns' absence Monday night has no effect on the Lakers' performance against Philadelphia—when Bynum and Barnes take their cues from Bryant and Fish—that leadership question will be answered for all to see.