Kenyon Martin Signing Gives L.A. Clippers Much-Needed Depth for Finals Push
February 3, 2012

Doug Pensinger/Getty Images
Kenyon Martin has agreed to a contract with the Los Angeles Clippers.
Just hours after a report that Chinese Basketball Association officials were attempting to fight FIBA's decision to allow Martin immediate clearance to return to the NBA, the veteran power forward has agreed to a new contract with the Clippers.
The deal will pay Martin the mini-midlevel exception once it is finalized and he passes a physical:
Martin is an 11-year NBA veteran who, at 6-foot-9, is expected to bolster the Clippers' inside strength and rebounding performance.

He averaged 13.5 points and 7.2 rebounds in his 11 seasons with the New Jersey Nets and Denver Nuggets.
Martin, now 34, averaged 8.6 points, 6.2 rebounds and 0.7 blocks in 26 minutes of playing time in 48 games for the Denver Nuggets last season.
Once he officially joins the team, Martin will become the third-best big man that Los Angeles has on the roster.
The team had been relying on Solomon Jones and Reggie Evans to provide energy and depth in the second unit, but Martin will almost certainly step into a sizable role from the onset for a very legitimate Clippers squad.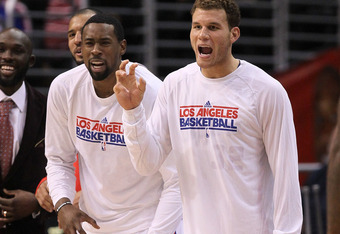 Stephen Dunn/Getty Images
Although he's not the player he once was earlier in his career, Martin can still provide plenty of value to a Los Angeles team looking to make a championship push right now.
Martin had been underwhelming during his stint in China, averaging just 14 points and seven rebounds per game in a league that is void of talented big men. However, that does not mean he's going to have the same trouble assimilating his game stateside upon his return.
Martin had been drawing interest from the Atlanta Hawks, Miami Heat, Los Angeles Lakers, New York Knicks and San Antonio Spurs, but the Clippers had a nice chunk of change, as well as a shot at a sizable role on the team, to offer.
During a season where the Clippers are really turning heads in terms of just how good the new-look team is performing, the addition of Martin will help to provide necessary depth. The lockout-shortened season has really highlighted the importance of having a deep bench, and Martin's presence allows Vinny Del Negro to give some much-needed rest to his big men.
With Blake Griffin averaging a whopping 37 minutes per game and DeAndre Jordan playing a solid 31 minutes of his own, there is no question that Los Angeles could use some help beneath the basket.
It would be foolish to think that Martin is going to be difference-maker in the pursuit of a championship, but he's a nice addition to a team that definitely needed a boost in the big man department in order to make a serious push for the title.