Ranking the Top 6 Most Influential Air Jordan Sneakers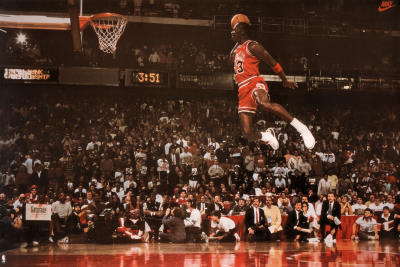 If you're a male ten years or older, a member of the opposite sex has probably asked you the question, "What do you think of my shoes?" Whether you heard it from your mother, sister, cousin, girlfriend, wife, teacher, coworker, or even grandma, chances are that you remain indifferent and just don't want to respond in a way that's going to cause you any trouble.
Now that we can agree with that, it's safe to assume that if you've heard of a brand called Nike, you probably have some knowledge about their affiliation with the name Jordan.
Michael Jordan is widely considered the best basketball player to have ever stepped onto the court, yet it's off the hardwood where he continues to build his legacy.
Jordan signed several endorsement deals after getting drafted in 1984 with the third overall pick by the Chicago Bulls.
During this time, Nike was not the conglomerate it is today, but rather a struggling shoe company trying to find its footing against brands like Adidas and Converse.
Converse already had stars like Larry Bird and Magic Johnson wearing their sneakers, so they were unwilling to compete with Nike in a bidding war for Jordan's services.
Nike was a company that was slowly fading out—which forced them into a position to commit to one athlete, in hopes that their image would be reinvented and make them relevant in the mainstream market.
Enter Jordan.
At first, Michael was disinterested.
Nike pitched him on the black and red colorway, some basic shoe models, and apparel designs—only to hear, "I can't wear that shoe, those are Devil colors."
But the rest is really all history.
Nike initially signed Jordan to a 5-year contract worth $2.5 million—only to see him go on and make both parties two of the most-recognized names in the entire world.
In honor of each championship that he won, here's a look at the brand he built, and the source of his 'Airness'.
Follow me on Twitter
Begin Slideshow

»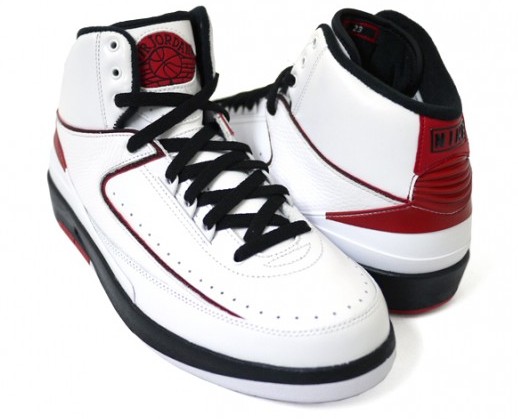 Jordan suffered a broken foot during his sophomore season that forced him to miss 64 regular season games.
The 1986-1987 season saw a new and improved MJ.
Upon his return, Jordan donned the Air Jordan II.
This sneaker was designed by Bruce Kilgore and set new standards of luxury for basketball shoes.
These sneakers were manufactured in Italy and featured a Swoosh-less look, accompanied with a faux lizard print to enunciate its classy appearance.
Interestingly enough, the Jordan II was the only Air Jordan model to not have a black version.
The league was put on notice as Jordan averaged a career-best 37.1 points, 5.2 rebounds, 4.6 assists, 2.9 steals, and 1.5 blocks.
For those who argue that a large portion of Jordan's scoring was inflated due to an obscene number of free-throw attempts, we can simply subtract the 10.2 makes he averaged per game (in 11.9 attempts) from his scoring total—which would put him at a 26.9 average, respectively.
To put that number in perspective, if Jordan averaged 26.9 points last year, he would rank only behind Kevin Durant's 27.7 average as the league's leading scorer—WITHOUT SHOOTING A SINGLE FREE-THROW!
What the sneakers said:
"If we're both going up, you're landing first." Because of Jordan's first Slam Dunk Championship and his unrivaled shot-blocking ability (for guards).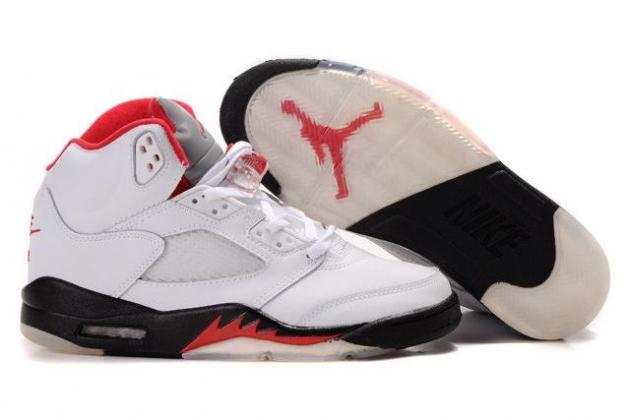 This sneaker was released in February of 1990 and rumored to be modeled off the P-51 Mustang, a World War II fighter jet.
If this rumor holds true, then it certainly explains the mentality of the man the sneakers were designed for.
New attributes included a clear, see-through rubber sole that had the tendency to yellow with age. Lace-locks and shark-tooth shapes aligned the edge of the sneaker for additional flare; however, the most distinct feature about the Vs was the silver reflective tongue.
Having the soul of three fighters, Jordan led the Bulls to a 55-27 record, while posting averages of 33.6 points, 6.9 rebounds, 6.3 assists, and 2.8 steals during the regular season; however, his Bulls lost to the Detroit Pistons for the third consecutive year in the Eastern Conference Finals.
The 1989-1990 season marked the fourth straight year that Jordan led the league in scoring.
What the sneakers said:
"On the rise." In regards to Jordan's high flying acts and the development of Chicago's young group of core players (Scottie Pippen and Horace Grant).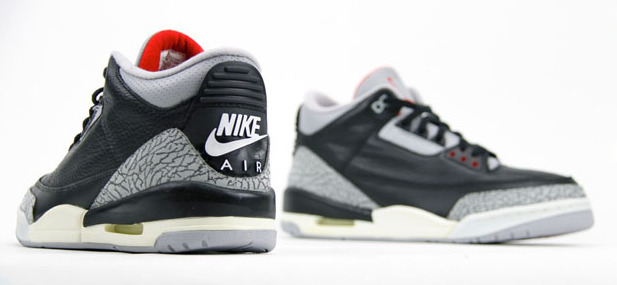 The 1987-1988 season saw Jordan put together one of the greatest defensive campaigns of all-time, while doing it in the most luxurious sneaker the world had ever seen.
Designed by Tinker Hatfield himself, the Jordan III featured the "NIKE AIR" moniker on the heels—only to be later replaced by the now omni-famous Jumpman logo.
Performance and visual enhancements for the sneaker included a visible air sole and faux elephant-print that is known as "cement."
While averaging 35 points per game, 5.5 rebounds, 5.9 assists, 3.2 steals, and 1.6 blocks, Jordan was also able to collect Defensive Player of the Year honors.
The season in which MJ started setting new standards for greatness also coincided with the addition of Spike Lee to Nike's marketing campaign.
After playing the role of Mars Blackmon in the movie 'She's Gotta Have It', Spike doubled up on the role in Nike's commercials—where his only job was to find the source of Jordan's "Airness". And sure enough, time after time, Mars could only conclude, "It's gotta be the shoes!"
Jordan also did this in the 1988 Dunk Contest.

What the sneakers said:
"I'm here to stay." In regards to Jordan's consistency and his commitment to Nike. This sneaker model is credited with MJ's decision to remain with the company that brought him up.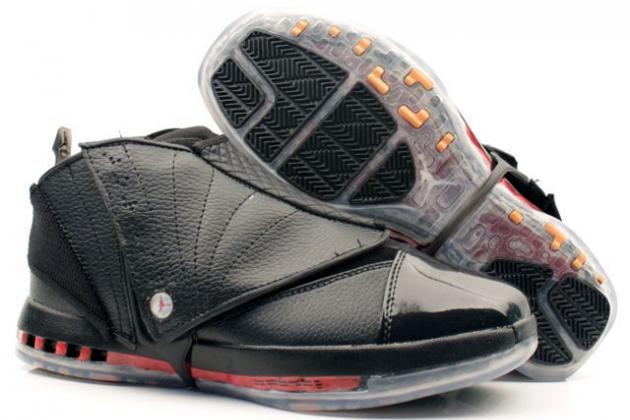 Probably the most stylish and complex sneaker of the Air Jordan collection offers two different looks for its wearer.
The XVI was the first sneaker since the II to have been designed by someone other than Tinker Hatfield.
With Jordan retired for a second time and running the Washington Wizards as President of Basketball Operations and part-owner, Nike Senior Footwear Designer, Wilson Smith, designed the XVI as part of Michael's transition from player to executive.
Smith incorporated a removable gaiter as a way to convey a more professional look and as a way to control temperature.
It was during the summer of 2001 that Jordan seemed interested in making another comeback to basketball. Inspired by the comeback of NHL star and friend, Mario Lemieux, Jordan began conditioning and even hired his former Chicago Bulls head coach, Doug Collins, to coach the Wizards.
Jordan made his return to basketball official on September 25, 2001—indicating that he intended to donate his salary as a player to victims of the September 11 terrorist attacks.
Although Jordan's season in a Wizards uniform was limited to 60 games because of torn cartilage in his right knee, he had shown flashes of his brilliant self, while wearing a sneaker that drew influence from his past.
The clear rubber sole on the XVI is reminiscent to that of the Jordan III, V, and VI, while patent leather was the trademark of the Jordan XI.
What the sneaker said:
"Still fly." Even after returning from his second retirement at the age of 38, Jordan was able to lead the Wizards in scoring (22.9), assists (5.2), and steals (1.42) per game.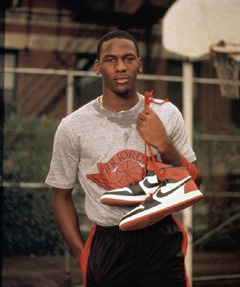 The greatest thing that Nike has ever done for itself was to sign Michael Jordan. Hands down. No doubts about it.
Take a look at the new "Kobe System" marketing campaign.
As impressive and in-your-face as it is, it may have never come to fruition without Jordan's ability to transcend the Nike brand.
And this all started with the original "Air Jordan".
When Jordan debuted this shoe in 1984, the black/red colorway had violated the NBA dress code. Although Jordan was fined $5,000 every time he broke this code, Nike was happy to pick up the tab because of the great amount of publicity and controversy the sneakers were generating.
In his rookie season, Jordan put up stellar numbers of 28.2 points per game, 6.5 rebounds, 5.9 assists, and 2.4 steals while shooting 51.5 percent from the field.
Even in his first year, fans voted Jordan into the All Star game as a starter—which led to even more controversy.
Before the midseason exhibition game took place, word had spread that several veteran players like Isiah Thomas had coalesced and decided to 'freeze' Jordan out of the game by refusing to pass him the ball.
Jordan appeared largely unaffected by this move and went on to win Rookie of the Year honors.
The Bulls would go on to lose in the first round of the playoffs in four games to the Milwaukee Bucks; however, Jordan's potential and legacy would not be fully recognized until the future.
What the sneakers said:
"Watch out, Michael's here." Due to an unparalleled rookie season campaign.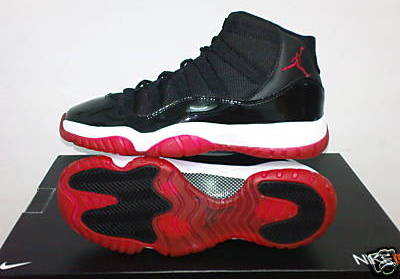 Voted as the greatest sneaker of all time by Sole Collector Magazine, the Jordan XI represented the pinnacle of success in multiple aspects for MJ.
In 1993, a day before training camp was set to start; Jordan shocked the world and announced his retirement from the NBA to pursue a career in Major League Baseball.
While Jordan was with the Chicago White Sox organization, Tinker Hatfield designed the XI in hopes that Michael would wear them if he ever returned.
And we all know he did.
Jordan came back to play the final 17 games of the 1995 season, leading a struggling Bulls team to the Eastern Conference Semifinals—where they lost in 6 games to a Shaq-led Orlando Magic squad.
Against the wishes of Hatfield and Nike, Jordan wore a "sampled" version of the XI in the playoffs.
In the first full year of his return, Jordan posted averages of 30.4 points, 6.6 rebounds, 4.3 assists, and 2.2 steals, while wearing the number 45 and the XI.
The Bulls went on to win their fourth championship of the Jordan era; however, Michael proved to be expanding his popularity in more ways than one.
The Jordan XI was the featured sneaker in the 1996 animated movie "Space Jam". The movie grossed over $230 million worldwide, which forced Nike to re-release the model in a royal blue colorway that is now simply known as "Space Jams".
These sneakers represent Nike's ambition to combine performance with style. By using condura nylon material and a carbon fiber plate on the sole of the shoe, Hatfield was able to increase its' lightweight durability.
The clear outsole provided torsional rigidity, while the patent leather elevated the visual aspects to a whole new level.
It took Nike over a decade to design, but in my opinion, there will never be another sneaker that rivals the XI in terms of style, performance, legacy, and cultural influence.
What the sneaker said:
"Only the best, for the best." Needs no explanation.