Air Jordan Spizikes: Nike Gets Presidential in Spizikes Ode to Obama
January 19, 2012

Rob Carr/Getty Images
The latest Spizikes from Nike are sure to be a memorable installation as they commemorate President Obama in what is a Presidential level success. 
Spike Lee took to Twitter on Thursday afternoon and released news that the latest Air Jordan Spizikes were indeed here, and they were truly special.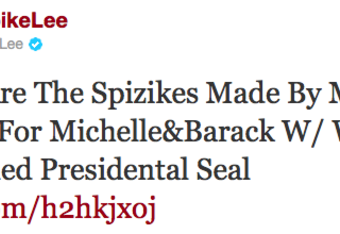 And here is the photo that accompanied the tweet.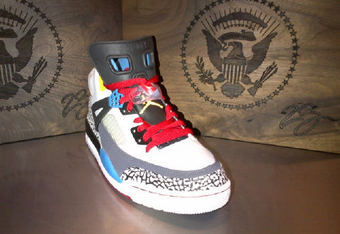 As you can see, nothing was spared going into the latest edition of Spizikes. With that, let's break down what we know about the commemorative sneakers and breakdown their swagger appeal. 

Just the Facts
The YFrog feed has some facts of note to follow. Lee issues that these shows come in a wood ingrained box which is just the right touch for such a special edition. More details will come shortly I am sure. 

Colorway

The Obamas are certainly colorful, but more importantly vibrant. The bright red laces and touch of bright blue are the perfect accents to set these sneakers apart from other shoes, and even other Spizikes released. 
Adding black, white and gray may have proved too much for the shoes, but Nike fits it around the shoe just fine. I really wish we could see what the outsole looks like. 
Grade: A

Swagger
The swagger on these shoes is off the charts. Forget, for a moment, that they look like sneakers that you would feel great flaunting on the street. 
The fact that they also come in a box adorned with a presidential seal and are Jordan's nod to Obama pushes this over the top. 
Forget looking good, you need to feel good in your shoes. These will have you humming Hail to the Chief all day. 
Grade: A+

Conclusion
It's hard to give a proper rundown as details and a full look at the sneakers are pretty hidden. If the appetizer is as good as the main course, I am ready to dive right in.