50 Years Ago: Wilt Chamberlain's Record Season That Will Never Be Matched
January 17, 2012

Wilt Chamberlain wasn't a modest man. He claimed he had sex with over 20,000 women and only lived to be 63. Do the math and you'll be even more astounded and skeptical. But Wilt also holds an incredible sports record that can't be questioned and will never be broken.
In the 1961-62 season, his third year in the NBA, Chamberlain averaged 50.4 points a game playing for the Philadelphia Warriors. That's right 50.4 POINTS A GAME!
Wilt was simply the most unstoppable scorer in the history of basketball. He was called Wilt the Stilt and had prodigiously long arms and legs and at 7'1" and 250 pounds he wasn't just big, he was strong and fast. In college at the University of Kansas he ran the 100-yard dash in 10.9 seconds, shot-putted 56 feet, triple-jumped more than 50 feet and won the Big Eight high jump championship. But track and field was his second best sport.
On the basketball court he could dunk over most—another of his nicknames was the Big Dipper—and had an absolutely unblockable fall-away shot that he usually banked off the glass.
In that 1961-62 NBA season Chamberlain scored 4,029 points in 80 games. Only one other NBA player has ever scored over 3,000 points in a season other than Wilt and that happened only once when Michael Jordan did it in 1986-87.
In 1961-62, Chamberlain also averaged over 25 rebounds a game and incredibly, logged an average of over 48 minutes a game on the court. How was that possible? He virtually never sat and played in overtime.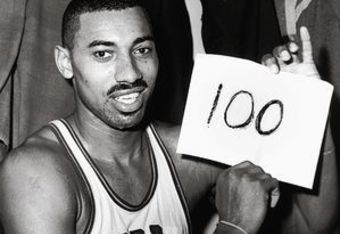 And there was one other record that Wilt established that season that also is unlikely to be eclipsed. On March 2, 1962 he scored 100 points in one game, with shooting stats of 36 for 63 from the field and 28 for 32 at the line. Chamberlain was normally a poor free throw shooter.
In those years NBA teams scored more and the Warriors averaged a league high 125 points a game. Despite Wilt's phenomenal scoring, Philadelphia lost to the Boston Celtics and Chamberlain's epic rival Bill Russell in the playoffs.
But eventually Wilt tailored his game to help his team win two NBA titles, even leading the league in assists one season. Chamberlain's overall career accomplishments are stunning: seven individual scoring, nine field goal percentage and 11 rebounding titles plus four regular season MVP awards.
Is his 50 points a game season scoring average safe? Well, let's put it this way. Wilt Chamberlain is the only player in NBA history to average over 40 points for a season, too. Yep, that was the next year in 1962-63 when he scored nearly 45 points a game.