Anderson Varejao Situation Is Win-Win for Cleveland Cavaliers
January 16, 2012

Christian Petersen/Getty Images
The great player debate—it's an inevitability for every team, every year. 
"Can we re-sign this player?" 
"Should we trade that player?"
Rumors abound as teams try to figure out which players are the pieces that would complete their respective puzzles. 
For the 2011-12 Cleveland Cavaliers, that piece in question is Brazilian big man Anderson Varejao.
A second round draft pick in 2004, Varejao was an essential part of making Cavaliers fans forget about the pain of losing the very popular Carlos Boozer in a free agent debacle. 
Since he began playing for the Cavaliers, Varejao has emerged as one of the most popular players in franchise history. On any given night, Quicken Loans Arena is filled with people wearing his t-shirt, jersey or even a wig fashioned after his signature hairstyle. 
Much of the credit for his popularity can be given to the style of play Varejao has displayed from the minute he stepped onto an NBA court. Varejao is one of the few players who has been able to get away with having a very limited offensive game because he's so good on defense. 
Varejao is the type of player whose impact cannot be appreciated by looking at a stat sheet. Most of the things he does don't even fit into a regular NBA statistical category.
Sure, he's a very good rebounder, a good passer for a big man and a tough defender, but those aren't the things that make him a special player for the Cavaliers.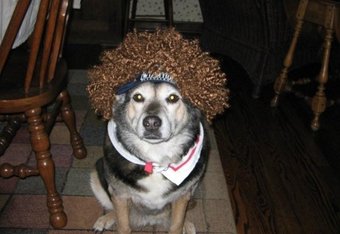 Calling Varejao a hustle player would be the ultimate understatement.
All it takes to see Varejao's true impact is watching just one game. In that one game, Varejao will undoubtedly draw at least one charge, dive after loose balls and make a play on offense that brings everyone to their feet.
Anderson Varejao is beloved by all Cavaliers fans, and he is loathed by everyone else. 
Life as a Cavalier hasn't been all roses for Varejao, however.
In 2009, Varejao was a restricted free agent who seemed to have very little interest in returning to the Cavaliers. After signing an offer sheet with Charlotte and having it matched by the Cavaliers, Varejao resumed his duties as the backup center for the wine and gold. 
Along with the question of his desire to play in Cleveland, Varejao also brings some doubts with his actual game. 
Varejao is a VERY limited offensive player. During his seven-plus years in the NBA, Varejao has found it very difficult to actually put the ball in the hoop. Except for a brief period of time last year when Varejao could actually shoot the ball fairly well, Varejao has been downright poor with both his jump shooting and his free-throw shooting. 
As far as his inside game, Varejao is very much a finesse player. He makes his living moving without the ball, as his repertoire of post moves is also very limited.
Unfortunately for Varejao, he needs to be phenomenal at finishing at the rim. But, he just isn't.
Defensively, again, Varejao is as frustrating as they come. He gets steals, takes charges and out-hustles everyone else on the court. 
As a one-on-one defender, however, Varejao is just a decent player.
Varejao is not a very big or strong player, which is why he has to rely on his hustle.
And, yes, he often acts to be successful.
Unfortunately, that doesn't always cut it, and Varejao really struggles when guarding bigger and stronger players. 
So, in the apparent hot topic discussion of the 2011-12 season, what should the Cavaliers do with Anderson Varejao?
I believe that Varejao still has enough value that he will draw a lot of interest from a lot of teams. Sure, Varejao is a fan favorite, and for good reason. He gives it his all every single night.
But the hard truth remains, Varejao's very best isn't good enough to force the Cavaliers to keep him if they can use him to speed up their rebuilding process. 
The Cavaliers have an expiring veteran contract with Antawn Jamison and, in my opinion, an overrated big man in Anderson Varejao.
The Cavaliers should be able to package the two in order to bring in some major pieces for the future of the team. If they can find a suitor to really give them a sweet deal, they should not hesitate to make it. 
The best news for the Cavaliers is that this is a no-lose situation for them. If they can't find a way to flip Varejao for some young talent or draft picks, they get to keep their fan favorite player and watch him harass opponents throughout the year. 
Anderson Varejao has made a career by making sure he is always in good position. With the options he provides the Cavaliers, he's doing the same thing for his team.