Allen Iverson: Why He Isn't in the NBA and What Teams Could Use His Scoring
January 14, 2012

Jonathan Daniel/Getty Images
It is a wonder what Allen Iverson is doing nowadays.  One of the NBA's most compelling scorers with a natural knack for playing the passing lanes, it is perplexing why an NBA team won't take a gamble on him to play with their second unit and let him dominate his 20 minutes on the floor.
But gambling is hard without question.  You never know what you're going to get and with a mid-30's former superstar, the concerns are valid. 
Iverson's demeanor and image have really propelled teams to stay away from him although he is still a standout from a draft class that included Kobe Bryant, Ray Allen and Steve Nash.  All of them are still starting and very important to the success of their teams.
Not to mention Jermaine O'Neal, Marcus Camby and Derek Fisher, who are key contributors on their respective rosters and from the same draft class of 1996.    
No matter what, though, there are still a handful of contending teams that could use a scoring punch from the second unit with a veteran like Iverson who knows the game and can get into a rhythm quickly.
The Boston Celtics seem to have enough scorers off the bench and are still trying to draw together as a unit and work the kinks out.  Iverson in green and white sounds good but probably wouldn't work.
The Miami Heat could use a solid scoring two guard for about 15 minutes in Dwyane Wade's absence and a team like the Utah Jazz could use his services but Iverson doesn't really fit the image of the latter.
The Los Angeles Lakers could definitely use Iverson off the bench as when their starters check out, so does the scoring. 
The New York Knicks could also use the presence of Iverson as Tony Douglas seems to be the only legitimate scorer within the second-unit once Baron Davis is healthy and starting. 
But the Knicks also seem to have more than enough guards on their roster and how Iverson would relate being a former superstar is another issue.
Iverson is the catalyst for the direction the NBA took a few years back.  The implemented dress code and the rules about conduct with the referees after questionable calls are all a product of his heyday.  
After reading excerpts from former NBA referee Tim Donaghy's book that never came out, who could blame Iverson for some of the callous looks and smirks that he gave them?
Iverson embodied the rebellion-with-finance attitude and the real corporate thugs hated to see that. 
But Iverson's focus on rebellion and being cool via image and camera shots only showed more when he cut his trademark cornrows during an all-star weekend and ultimately grew them right back. 
Iverson should've taken notes and realized a long time ago that conformity isn't necessarily a bad thing especially when you look at the likes of Jay-Z or Barack Obama.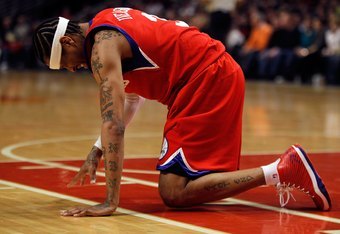 Jonathan Daniel/Getty Images
Compliance is simply a matter of playing the politics within the game of basketball and life. 
Iverson seemed to have only learned one side of that in just playing the game of basketball.
Is Iverson coaching troubled youth somewhere or is he just sitting back watching the games we watch on television while taking care of his family?
It is a true wonder, and a call from an NBA is team is highly unlikely at this point in a shortened season with chemistry issues and a limited number of practices.
Where Iverson would be now if only he knew the importance of "making his teammates better" by practicing.