Gabrielle Union: Dwyane Wade's Beloved Hints at a Kardashian-Style Wedding
January 13, 2012

Mike Ehrmann/Getty Images
The possibility exists that hoops fans will be treated to another highly publicized, highly sophisticated and highly televised wedding in the near future.
The only difference is that this one would feature an actual NBA superstar.
The February issue of Essence is going to feature a piece on Miami Heat guard Dwyane Wade and actress Gabrielle Union, who have been dating for several years now. One topic that comes up is whether the two have any plans of getting married any time soon.
Wade says he and Union are not "rushing it." They've both been married before, and Wade says that both of them "want it to be right" if they are to get married again.
As for what the possible wedding might be like, Union hinted at a dreadful possibility.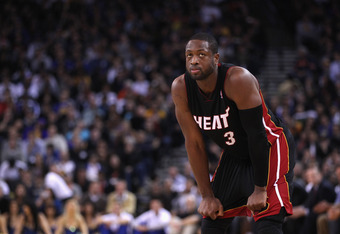 Ezra Shaw/Getty Images
"When it happens, it's going to be something that only our friends and family know about," Union told Essence, per BlackSportsOnline.com. "That is, unless the E! Network comes up with right number."
The reference to the E! Network is an obvious allusion to the marriage of Kim Kardashian and New Jersey Nets forward Kris Humphries back in August. The E! Network made a spectacle out of the whole thing, and there were reports about how the two actually got paid to get married.
Then they got divorced 72 days later, leaving many to cry shenanigans.
Before we go any further, we should clarify that Union is not saying that she and Wade are going to get married in the near future, and she's not saying that their wedding will be on the E! Network.
But rest assured, if they were to come calling, the folks at the E! Network would listen. They know from experience that celebrity weddings involving NBAers are good for business. One starring a superstar like Wade would be even better for business.
All we can do is hope that it doesn't come to this. The mind can only take so many televised wedding extravaganzas before it snaps.
Besides, D-Wade is better than this.