Charlotte Bobcats: Key Matchups vs. Atlanta Hawks and Detroit Pistons
January 12, 2012

Streeter Lecka/Getty Images
D.J. Augustin vs. Jeff Teague
Charlotte Bobcats starting point guard D.J. Augustin (16.1 PPG 6.7 APG 4.0 RPG) has gotten off to a great start this season and will look to replicate his 21-point, 12-assist performance against the Atlanta Hawks last Friday.
Jeff Teague (11.9 PPG 5.6 APG 1.9 RPG) is the Hawks' first-year point guard and has played well this season for Atlanta. Teague has looked more comfortable running the offense as the season has gone on and he is coming off a 20-point performance against the New Jersey Nets.
This will be an important matchup to see if Augustin can disrupt Teague and force him into mistakes because the Hawks generally get wins whenever Teague plays well.
Byron Mullens vs. Greg Monroe
Byron Mullens (11.0 PPG 4.7 RPG) continues to pour in points off the bench with his rangy jump shot and accurate free-throw shooting, as his confidence seems to grow with each game. Even better is the effort that Mullens is giving on the boards recently after coach Paul Silas got on him about making more of an impact in that area.
Greg Monroe (14.8 PPG 8.5 RPG 2.9 APG) is having a good second season and is the Detroit Pistons' future at the center position. Monroe gives the Pistons a rebounding presence down low and he is a threat to get a double-double every time out.
The key to his game is his ability to make an impact on the offensive glass; the Bobcats will have to box him out to limit second chances for the Pistons.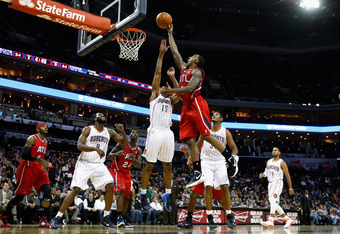 Streeter Lecka/Getty Images
Scouting the Bobcats (2-8)
This begins the Bobcats' only back-to-back-to-back stretch on their schedule this season. Gerald Henderson (13.9 PPG 5.1 APG 1.6 SPG) has played strong and the Bobcats will need his defense and athleticism in these games.
DJ White has played well since moving back to a reserve role, and Charlotte hopes they will have Tyrus Thomas (7.7 PPG 5.3 RPG) back in the lineup as they will need their depth for this upcoming stretch of games. Kemba Walker (9.9 PPG, 3.0 APG 2.7 RPG) scored a career-high 19 points against Atlanta last Friday and hopefully he will bring more of that kind of energy off the bench for the Bobcats because they will need to go deep during these games to avoid fatigue…
Scouting the Hawks (7-3 as of January 11)
Atlanta comes into this game on a three-game win streak that began with their overtime win last Friday in Charlotte. Their strong start to the season can be attributed to the Hawks' core group of players that have grown together over the last few years.
Joe Johnson (16.9 PPG 3.4 APG) leads the Hawks in scoring this season and Josh Smith (15.6 PPG 8.6 RPG 1.8 BPG) has historically played well against the Bobcats. Al Horford (13.1 PPG 7.5 RPG 56.1 FG%) is an imposing force in the paint and can step out and hit the jumper, so the Bobcats will have to watch him. Atlanta will be without small forward Marvin Williams (10.4 PPG 4.8 RPG).
The Hawks have had a hot hand as of late and are seventh in offensive scoring.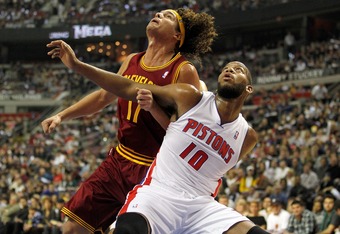 Gregory Shamus/Getty Images
Scouting the Pistons (2-8 as of January 11)
The Pistons have gotten off to a bad start this season and will look to take advantage of the Bobcats when they come to town on Friday. Ben Gordon is second on the team in scoring at 14.6 points per game. Rookie Brandon Knight (11.4 PPG 3.5 RPG) has started a few games for Detroit this season but has mostly contributed off the bench.
Jonas Jerebko (9.5 PPG 6.0 RPG) and Tayshaun Prince (8.4 PPG 3.0 RPG) round out the Pistons starting lineup. Detroit has the lowest scoring offense in the league at 82.8 points per game.
Tune In
The Bobcats tip off at 7:30 p.m. against the Hawks in Atlanta on Thursday and they face Detroit at 7 p.m. at Time Warner Cable Arena on Friday.  
David is currently a writer for bobcats.com and his writing at Bleacher Report has been featured on other news outlets such as the sports pages of the LA Times. If you would like to contact him to talk sports, offer an article suggestion, or anything else, don't hesitate to email him at dwalters@bobcats.com or follow him on Twitter @original_DWade.