Philadelphia 76ers' Spencer Hawes Knows How to Get Paid Like Kris Humphries
January 9, 2012
Jonathan Daniel/Getty Images
ESPN's Kevin Arnovitz, in discussing Demarcus Cousins, called a player's first four seasons in NBA  "an audition for one of the most lucrative service contracts known to man."
Will Cousins be able to show an employer how valuable he can be and get that $100 million deal?
I don't know that for sure, but found another player's attempts to get that deal interesting.
Spencer Hawes is going gangbusters through seven games with 12.6 points, 10.6 rebounds and three assists per game shooting 65 percent. That 10.6 rebounds number looks good.
He's a a double-double machine—and he knows he's playing for a contract.
"I would be lying if I didn't say that was a part of this," said the Washington product (via FanNation.com).
But is he any better a rebounder this year than last?
The percentage of offensive boards available he's pulled down has this year is 8.7, and was 8.7 and 8.6 in the previous two years. However, his defensive rebound rate has improved to 27 percent up from 22.5 last year, and 17.7 two years ago.
As as a result, he's pulling down 9.8 defensive rebounds versus 7.0 last year per 36 minutes.
Those three more boards make Hawes look a whole lot better, but there isn't consensus that it makes the Philadelphia 76ers any better.
In the last few years the question of whether rebounds have diminished returns has occupied a large place in academic/APBRmetrics NBA discussion, and it appears that all defensive rebounds are not created equal.
One more Hawes board may mean one less Elton Brand rebound, and not just one more rebound. An additional defensive rebound by a player has been found to be worth about 0.3 rebounds.
In fact, through seven games, the Sixers are overall collecting 74.5 percent of available defensive rebounds, down from 73.2 last year, pushing them from 12th in the NBA metric down to 16th.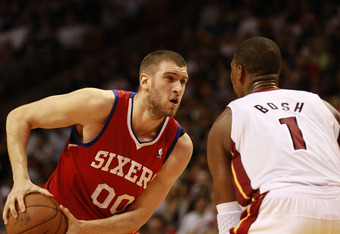 Marc Serota/Getty Images
One might think that NBA decision makers would be aware of this and not overvalue defensive rebounding, but contract year big men keep putting up big defensive rebounding numbers and getting big contracts.
Kris Humphries did it this past year. And David Lee and Carlos Boozer two years prior. All three players' defensive rebounding rates declined in the following season.
Humphries' was 26.7 percent two years ago, up to 32.2 in the contract year, and now back down to 25.5 percent.
Spencer Hawes has improved his performance greatly this season, increasing his true shooting percentage from 48 to 64 percent and assist rate from 11.2 to 16.9 percent.
Maybe Hawes' defensive rebounding improvement isn't just a strategic plan to become considered a top player, but a reflection of increasingly aggressive play that carries across his whole game and will be sustained.
At the very least, the Sixers can know that Hawes wants to be considered elite—and that's more than can be said for some other talented young bigs.