The Boston Celtics 'All-Stiemsma' Team
January 7, 2012
Elsa/Getty Images
Keeping with the Greg "Steamer" Stiemsma's domination of the Boston Celtics fan base, I've decided to put together my all-time great Greg Stiemsma-like players.
Stiemsma-like    

Steeeeeem-sma-like

a relatively unknown person who holds a crucial, yet undetermined role
a person fighting hard every day to help his teammates
a person who possesses the qualities that Celtics fans love
This article cannot compete with some of the great work that's been posted on the CLNSRadio network about Greg—it's not intended to.
Every time I watch this young goldie-blocks take the parquet, I'm forced to recall other great members of the Celtics that have been unheralded and often forgotten for their contributions to other title-contending teams.
At the start of every season. there is always that one guy that leaves you asking yourself, who the hell is that?
Often those players are cut, traded and forgotten by the time the playoffs roll around. Every once in a while, however, NBA fans will come across a guy that has no real compelling qualities, other than he plays the game with the great intensity of a man fighting for his roster spot and professional life.
Stiemsma has certainly displayed that endearing quality early in the 2012 season. Fans have recognized it. Now let's look back at some of the other guys over the last several decades that conjure up the feelings of Celtic Pride that Greg Stiemsma is bringing this team's fanbase.
***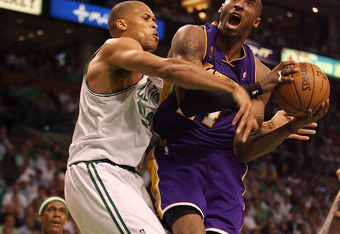 Elsa/Getty Images
P.J. Brown—Brown joined the Celtics after the All-Star break in 2008. He was drafted in 1992 and always possessed great defensive skills. Brown was All-Defensive Team three times and was always held in high regard with his teammates and opponents. However, by 2008, Brown's career was all but over. After being courted by Boston's big three, Brown finally decided to lace up his sneakers for one last stab at a title. Brown will always be remembered as the guy who hit that huge shot versus Cleveland in Game 7 of the eastern semifinals. Celtics fans still refer to holes within the team's roster as needing a P.J. Brown. One season in Boston and yet always remembered as a Celtic.
***
Eddie Pinckney– Easy Ed Pinckney was one of my favorite players on the Boston Celtics underrated 1991 team. Eddie actually played for the Celtics from 1989-94 when he was brought over in the trade that sent Danny Ainge to the Kings. Pinckney was known as a hard-nosed defender and terrific rebounder. Eddie also started, allowing Kevin McHale to go back to sixth man. Pinckney's gritty intensity would often have the old Boston Garden chanting Eddie-Eddie—a chant usually reserved for Larry Bird.
***
Rick Robey—Rick Robey is before my time (I was 3 years old). However, who can forget the stories Larry Legend would tell about the C's starting big man for the 1981 title? Robey will rarely be mentioned for his accomplishments on the hardwood. Rick's more noteable attributes, that land him on this list, are the friendships he developed with his teammates. He is known to have helped the anti-social Bird acclimate to being a professional basketball player. So we'll place Robey on this list for tipping back more than a few Miller Lites with a young Bird destined to be a legend.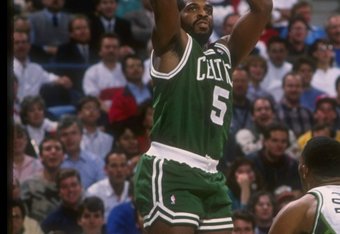 Getty Images/Getty Images
***
John Bagley—John Bagley is the guy who eventually cut into Dennis Johnson's playing time. He was a fan favorite in New England, graduating from Boston University. Bags was Big East Player of the Year. He joined the Celtics in 1989 and started, on and off, from 1989 through 1992. A creative passer and timely jump-shooter, he fit into the Celtics mold as D.J. entered the twilight of his career. After Johnson was eventually waived, Larry Bird often complained about having to play "point-forward." John allowed Bird to post up more and move without the ball. Before landing in Boston, Bagley had stints with Cleveland, New Jersey and Utah. After retiring, he has noted that playing with the Celtics in the Boston Garden has been the highlight of his basketball career—that alone lands him on this list.
***
Greg Kite—As most of you know, I co-host the Celtics Late Night Show right here on CLNSRadio. Hosting a two-hour call-in show with a slight bias towards the Boston Celtics allows me to stay in touch with C's fans. With today's technology, the majority of our listeners are young basketball fans. It shocks me when Greg Kite's name gets mentioned by people who, in many cases, weren't even born when Greg wore green.
Known for his toughness, he anchored the Boston Celtics' blue collar, gritty demeanor back in the 1980s. Kite embodied the complete opposite of the Showtime Lakers—the C's arch rivals of that era. He's most known for his bully-like defense of Kareem Abdul-Jabar in the Celtics/Lakers matchups of the 80s. Greg Kite retired in 1995 with two NBA championships.
Kite remains the most famous player in Boston with a career point average of under four points per game.
***
That's the list, as I see it. I'd love to hear some of your great players who have a Stiemsma-like affect.
***