Charlotte Bobcats Drop Overtime Thriller to Atlanta Hawks
January 7, 2012
Streeter Lecka/Getty Images
THE RESULT
The Charlotte Bobcats (2-5) dropped an overtime thriller, 96-102, to the Atlanta Hawks (5-3) on January 6 at Time Warner Cable Arena®.
TURNING POINTS
Both teams got off to a slow start, but settled down and began to make a game out of it. The Hawks, coming off a triple-overtime game against the Heat the night before, took a 43-38 lead into the half.  The Hawks led by as much as 11 in the second half, but the Bobcats were able to close the gap with D.J. Augustin and Kemba Walker streaking up and down the court together. 
Some key defensive plays while the Bobcats played a zone down the stretch gave the 'Cats a chance at a last-second Boris Diaw shot at the end of regulation, but it rimmed out. The Bobcats trailed for the entire overtime period and a Hawks offensive rebound off a missed free throw led to a three-pointer, which opened Atlanta's lead and proved to be the back-breaker for the Bobcats.
INSIDE THE BOX SCORE
The Bobcats shot 46 percent (40 of 87) from the field while the Hawks shot 44.2 percent (42 of 95) from the field. Charlotte also shot well from behind the arc, hitting 7-of-18 triples to Atlanta's 7-of-20. Charlotte won the assist battle (29 to 23) and led in blocks (nine to four), with Bismack Biyombo's three swats.
BOBCATS PLAYER OF THE GAME
Augustin had another good game for Charlotte, leading the team in scoring with 21 points (8-of-16 shooting), 12 assists and two rebounds.
BOBCATS TOP RESERVE
Walker was the top player off the bench in this one, scoring a career-high 19 points to go with three rebounds and two assists.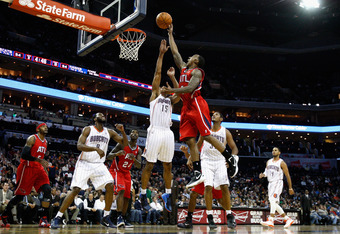 Streeter Lecka/Getty Images
Josh Smith led the Hawks with 23 points (10 of 18 shooting), 13 rebounds, three steals and two blocks.
INSIDE THE LOCKER ROOM
"Well we got back in the game.  Offensively they were really pushing it and making it happen.  We were struggling there for a while and put Kemba and D.J. in there together and played a zone to get back in the game and we had a chance, we had a chance to win it."
-Bobcats Head Coach Paul Silas
"(Walker and Augustin) can be aggressive because either one of us can push it.  It's tougher for guys to guard us, and that means shots are going to fall.  I thought we did pretty good (in a zone defense), it's really the first time we did it. We just didn't rebound well out of it. That's always tough in a zone."
-Bobcats Guard Kemba Walker
GAME NOTES
Reserve Center Byron Mullens once again set a career-high in scoring for the third game in a row, with 17 points and five rebounds. D.J. White had another strong showing with 14 points and nine rebounds. Diaw had 10 points, nine rebounds and four assists. Tyrus Thomas (seven points, five rebounds) made his return to the court after a left ankle sprain, but left in fourth quarter with an injury. Corey Maggette has a strained left hamstring and will miss two to four weeks. Reggie Williams and Eddie Najera were listed on the injury report as they recover from their respective knee surgeries. The Bobcats return to New York to face the Knicks on Monday, January 9.
NEXT UP
The Bobcats are back on the road Saturday to face the Indiana Pacers at 7 pm at Conseco Fieldhouse.