San Antonio Spurs: 5 Things Team Must Do with Manu Ginobili Shelved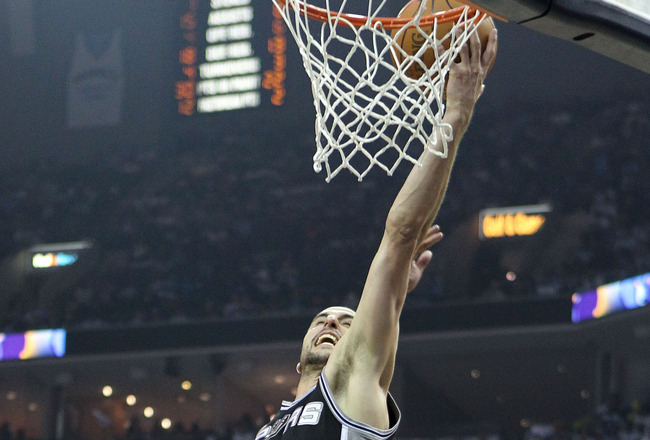 Andy Lyons/Getty Images
While Tony Parker waits for a word from the basketball gods, his backcourt teammates must begin to cobble together enough scoring to keep the Spurs afloat in Manu Ginobili's absence.
San Antonio will play at least a month without its vivacious, future Hall of Fame pulse and soul.
Parker's disillusionment is understandable, given the unavoidable, freak nature of the Argentine All-Star's latest injury. Ginobili suffered a fractured fifth metacarpal on his left hand while extending it for a steal attempt. Hundreds of these "Manu being Manu" reaches have resulted in swipes that yielded fast-break scores. The rest, at worst, allowed the ball handler a less obstructed path to the rim.
No medical reports have ever indicated this ailment relates to mileage, age or an athlete's injury record. When it happens to an unlucky player, it just happens. Suiting up less for Argentina in international competitions would not have prevented Ginobili's bad break. All those postseason runs did not cause the bone to give in a way that required six stitches.
A month without Manu means at least 17 games and a number of grueling back-to-back sets will pass sans the slasher best equipped to navigate such an intense itinerary. San Antonio hosts Golden State tonight and Dallas tomorrow. With a 3-2 record and a defense that morphed from surprising to dreary and dreadful in Minneapolis, morbid predictions have flooded sports sites outside of Texas. Few see the Spurs withstanding this setback.
The gloomy forecasts range from a lottery appearance to the No. 8 seed. If San Antonio hopes to evade those projections and remain in the top seed hunt, these five things must happen. No, "El Contusion" in this case does not mean no chance.
James Anderson and Gary Neal Offer Long-Range Solution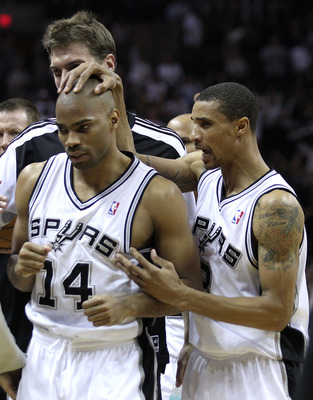 Jed Jacobsohn/Getty Images
No one can replace Ginobili. So much of his game is not choreographed or planned. He competes with a fearlessness and recklessness that has never registered or fit on a Xerox machine. The two players, though, who must rise to the occasion with the starting 2-guard sidelined can fill some of that mammoth void by connecting on a healthy percentage of long-distance calls.
Anderson, a former Big 12 Player of the Year, was projected as a lottery selection in the 2010 Draft but fell to 20 after a hamstring injury limited his individual workouts with team executives. Most pundits lauded the Spurs' pick. ESPN analyst Jay Bilas, that night in the Madison Square Garden Theater, called Anderson the potential steal of the proceedings. Here, Bilas ranked Anderson 10th on his best available prospects list.
Neal, an undrafted rookie who spent his first few professional seasons abroad, grew from a summer league surprise with a rare guaranteed contract to a temporary playoff hero. He earned a spot on the All-Rookie second team and displayed a ballsy knack for hoisting pressure-packed, sometimes ill-advised shots that recalled Stephen Jackson at his 2003 finest.
The team recalled the reserve spark plug two practices in to his rehabilitation stint with the D-League's Austin Toros. Get well really soon, Gary.
Both players together cannot equal Ginobili. They can, however, provide their own brands of scoring and tenacity. Neal demonstrated an ability to finish at the basket with contact. He learned to create his own looks. His passing also improved as he tallied more minutes. His three-point accuracy was tops among rookies.
Anderson, the guard adversely affected by Neal's emergence, made 10 of his first 20 treys before medical tests revealed the stress fracture that wiped out most of his 2010-2011 campaign. Anderson has not been as prodigious—he has converted a paltry 18 percent of his triples five games into his sophomore sojourn. He must regain his touch and continue to ameliorate his in-between game.
Neal and Anderson figure to still get plenty of open looks with Parker speeding to the hole and Duncan anchoring the middle. What they do with those opportunities may determine whether the Spurs meet or far exceed expectations.
Tony Parker, Tim Duncan Stay Upright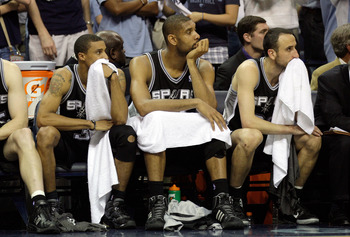 Andy Lyons/Getty Images
It should go without saying that Ginobili's absence means the Spurs must keep the other two-thirds of the Big Three on the court. I'll say it again anyway. Losing one player—even if he's now the best one—remains a manageable problem for one of the league's deepest backcourts. If Duncan or Parker, however, joins Ginobili in street clothes, catastrophe will ensue.
Parker as the Closer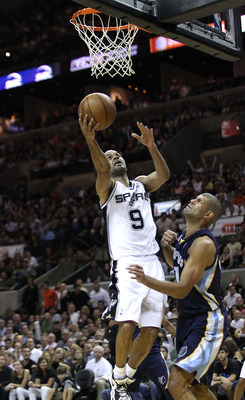 Jed Jacobsohn/Getty Images
The point guard has every reason and right to lament his backcourt mate exiting the fold with a broken hand. He also has every reason to savor the chance this offers like a fine wine paired with an aged cheese. Ginobili rightfully enjoys a reputation as the Spurs' best clutch performer. It is difficult to remember a crunch-time play in which he was not involved.
Duncan drained that open three-pointer against the Suns in 2008 because Ginobili's perfect, almost no-look pass allowed him to shoot in rhythm. Parker's name sometimes gets lost in the shuffle when pundits assign credit for San Antonio's routine excellence.
A few reminders of what he can contribute—say, a few 30-point outbursts—would go a long way toward keeping the Spurs in position to host a playoff opener.
The Mavericks and Warriors have rarely stopped Parker, and the next two nights present windows for the French blur to torch those struggling defensive squads again. He made just 12 of 36 shots in the previous three contests. That, as Duncan would say, will not get it done.
As Parker goes, so will the Ginobili-less Spurs.
Build a Better Defense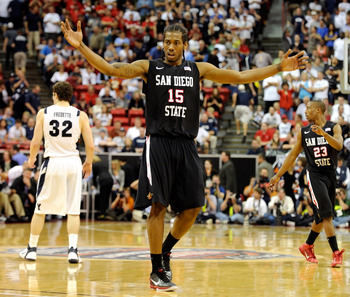 Ethan Miller/Getty Images
The Spurs remember The Alamo. If only they could remember how to play defense. Last week, San Antonio appeared stout versus the L.A. Clippers and Utah Jazz. Both opponents needed several scoring surges to shoot in the high 30s. That aura/look vanished Monday against the Timberwolves, who shot above 60 percent for most of three quarters and fell below 55 because of a 12-point final period.
No one is asking the Spurs to reprise or resemble the Bad Boy Pistons overnight. How about a happier medium?
A 6'11", two-time Spanish League MVP and perhaps the best defender from the 2011 Draft can help that reclamation project. One way to compensate for Ginobili's near-20-points-per-game average is to make certain foes score less, which lessens San Antonio's offensive burden. Tiago Splitter and Kawhi Leonard are the obvious candidates to lead that movement.
Everyone from Neal to Dejuan Blair, though, must make continued strides on the uphill end of the court. Last season, which produced 61 victories, suggests a frightening defensive effort against the Timberwolves is just par for the course. The Spurs erased three double-digit, second-half deficits versus Minnesota en route to a 4-0 series sweep. That matchup has been problematic for San Antonio for two years.
Gregg Popovich better hope that embarrassing performance was a mirage.
Use Every Advantage and Encounter Some Luck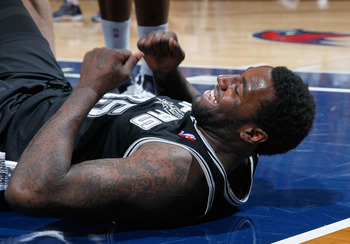 Kevin C. Cox/Getty Images
The Spurs play more January games than any other NBA team. Click here to see the brutal schedule. Disregard the misprint at the top of the browser window.
The item on this list that sounds simplest may prove the most complicated of all. The Spurs open the condensed 2011-2012 slate with a slew of home dates. Many opponents will head to Alamo City after playing somewhere else the previous night. San Antonio must respond to those early scheduling favors with wins.
The players in silver and black need not apologize, either. They will suffer more than enough in this truncated campaign. The NBA made sure it evenly distributed the pain.
Racking up home victories is essential, as the squad hosts eight more games at the AT&T Center this month.
The luck part remains out of the Spurs' control, as evidenced by Ginobili's injury. Good fortune could come with a rival slumping in an unexpected defeat streak. Another injury to a star on a key West foe would also level the playing field a bit.
Losing Ginobili for at least a month hurts. It does not have to cripple the Spurs.
Keep Reading

San Antonio Spurs: Like this team?