6 Signs Derrick Favors Is in Line for a Breakout Season with the Utah Jazz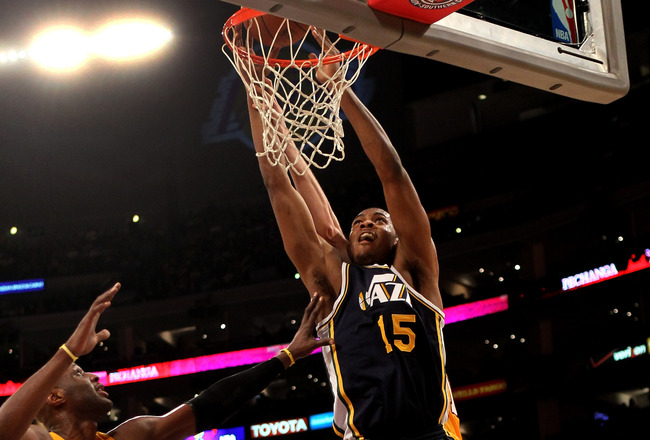 Favors has hops and reach, a nice combination
Stephen Dunn/Getty Images
Derrick Favors is poised to have a breakout season with the Utah Jazz this year. He is positioned to live up to the hype that surrounded him as the third pick in the 2010 NBA Draft, just not with the team that originally drafted him.
Though he was acquired through the Deron Williams trade and some of the shock of that loss temporarily numbed the Jazz faithful, he is a presence in the paint and will help revive the franchise alongside fellow lottery picks Gordon Hayward, Enes Kanter, and Alec Burks.
Favors will benefit from having a season under his belt, yet he is still young and improving at only 20 years old. There will be plenty of minutes to go around as the tightly scheduled NBA season wears older teams and teammates down, and he has already shown some promise when given the opportunity to start.
No. 1: More Offensive Opportunities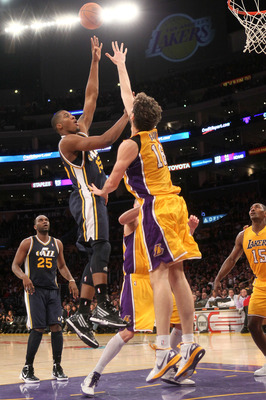 Nice touch in the paint
Stephen Dunn/Getty Images
Favors has been shooting the ball more this year than he did in his rookie campaign and that will inevitably lead to more points. He is averaging 8.3 shots per game through four games, up from 5.3 last year when he played for both the New Jersey Nets and the Jazz.
Though that number is inflated due to a 10-16 shooting performance against the Philadelphia 76ers on Dec. 30, he will continue to get the ball more as the season wears on.
Favors is currently averaging a near double-double with 9.3 points and 8.5 rebounds per game, and those numbers should only increase as the year moves on.
No. 2: Natural Rebounder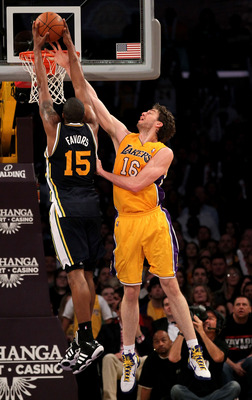 Favors putting it down on Gasol
Stephen Dunn/Getty Images
Favors is able to play both power forward and center, meaning he is always around the rim and has more opportunities to get into the lineup. His current average of 8.5 rebounds per game is 20th in the league and made possible due to his 6'10", 265 pound frame.
He has long arms that extend his range to a standing 9'2" reach, and that combined with his leaping ability give him a fighting chance at any ball coming off the glass.
Favors has excellent hops for a big man, and as he gains game-time experience, he will continue to build up an assortment of post moves working with veterans Al Jefferson and Paul Millsap.
No 3. Big Al Will Wear Down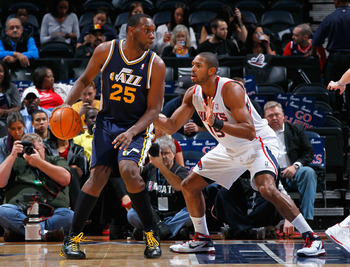 Kevin C. Cox/Getty Images
The season is going to wear down players with histories of injuries, specifically Al Jefferson. Big Al has already been hobbled by an ankle injury, and more minor injuries are bound to happen as the truncated season starts to grind players' bodies down.
With Jefferson out of the lineup, Favors was able to help lead the Jazz to their first victory of the season against the 76ers, scoring a team high 20 points while grabbing 11 boards. More opportunities are bound to come, and Favors will capitalize on them.
No. 4: Flying Under the Radar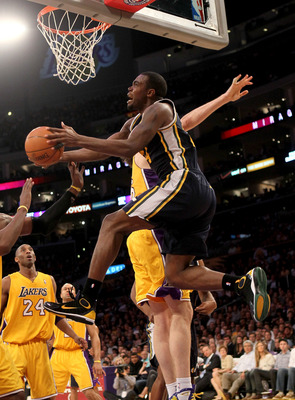 Millsap demands attention
Stephen Dunn/Getty Images
Playing alongside Al Jefferson, Paul Millsap, and even Enes Kanter will make team focus more on Favors' teammates and give him opportunities for easy baskets. Defenders helping out with double-teams on "Big Al" and "Sap" will give Favors more room to work around the basket, allowing him to utilize his reach and athletic ability for alley-ops and quick passes from his fellow big men in the paint.
Teams are certainly going to be watching Favors as he continues to assert himself in the league, but for the time being, it will benefit him to play in the shadows of other proven scorers.
No. 5: Garbage Time (Sad, but True)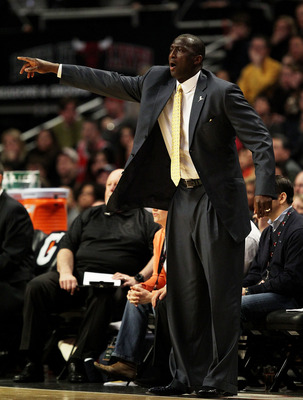 Tyrone Corbin will lean on his young guys to fill in minutes
Jonathan Daniel/Getty Images
Though the Jazz are certainly not the worst team in the league, they are also not the best…yet.
There is going to be plenty of mop-up duty this year in the fourth quarter, something already seen already in lopsided loses to the Lakers, Nuggets, and Spurs, and sadly there are bound to be more games when Tyrone Corbin sends in the young players for more experience/to rest the older players.
With three teams in the Northwest division—the Nuggets, Thunder, and Trailblazers—all well-suited to make runs into the playoffs, the Jazz are going to face some stiff competition this year. They will win their fair share, but playing other more experienced teams is going to show at times and Favors will get plenty of time to work on his game down the stretch.
No. 6: Intensity and Ability

Favors' Rookie Season

Just watch the mixtape from Favors' rookie season and you will see why many have picked him to excel this year and beyond. He has touch around the rim, has enough bounce in his legs to throw it down over some big defenders, and he also has a nice first step that will help him get around defenders.
The future looks bright for Favors.
Keep Reading

Utah Jazz: Like this team?