2012 NFL Mock Draft: Top-Notch Stars That Will Impact Contenders
April 26, 2012

Every year, the assortment of NFL teams in the postseason is slightly tweaked from the previous season. A few "legitimate contenders" fall short of expectations, opening the door for up-and-comers. 
Which prospects can 2011 playoff teams draft to improve their chances to make a return trip to January football?
2012 NFL Mock Draft (Final Pre-Draft Update)
1. Indianapolis Colts: Andrew Luck, QB, Stanford 
Luck's the perfect pick. He's a generational talent at the game's most important position.
2. Washington Redskins (trade with St. Louis Rams): Robert Griffin III, QB, Baylor 
Robert Griffin III in the NFC East is another ideal scenario. He's a high-profile guy with jaw-dropping talent in the high-profile and talent-filled NFC East. 
3. Minnesota Vikings: Matt Kalil, OT, Southern California 
Kalil's easily the best left tackle prospect in this class and could be plugged in as the team's franchise blindside protector for Christian Ponder.
4. Cleveland Browns: Trent Richardson, RB, Alabama
I'm not a huge advocate of taking running backs in the first round, but Richardson isn't your everyday runner. His game is well-rounded and his punishing style aligns with the physical AFC North.
5. Tampa Bay Buccaneers: Morris Claiborne, CB, LSU
There's a statement I keep coming back to with the Buccaneers and Claiborne. If you play in a division with Drew Brees, Cam Newton and Matt Ryan, you need quality corners. The LSU product is best in class.  
6. St. Louis Rams (trade with Washington Redskins): Dontari Poe, DT, Memphis
Blackmon's a possibility, but in my gut, I feel that Jeff Fisher will look to find his Albert Haynesworth to anchor the middle of the Rams defense that allowed 152.1 rushing yards per game last season. 
7. Jacksonville Jaguars: Justin Blackmon, WR, Oklahoma State
Blaine Gabbert needs more than Chastin West, Jarett Dillard and Mike Thomas. Some believe Blackmon can be a No. 1 wideout, others think he's a No. 2. I see a little Anquan Boldin in him.  
8. Miami Dolphins: Ryan Tannehill, QB, Texas A&M
Based on the current state of the Dolphins, this isn't a major reach. Yes, Tannehill needs work, but he'll be working with his college coach Mike Sherman who's the Dolphins offensive coordinator. 
9. Carolina Panthers: Fletcher Cox, DL, Mississippi State
To some, Cox is the best interior defensive line prospect in the draft. He manned all the positions across the Bulldogs' front last season, has a high motor, and is deceptively athletic. The Panthers would love to provide Cam Newton more weapons on offense, but Cox should be a priority. The wide receiver class is deep. 
10. Buffalo Bills: Michael Floyd, WR, Notre Dame
The Bills need another stud WR to put them on the map in the AFC East. Floyd is a solid pick at 10. He's got great size, great hands and can be a legit top NFL WR. 
11. Kansas City Chiefs: Luke Kuechly, LB, Boston College
Chiefs will make the smart choice here with Kuechly. He's a smart LB and one who can not only apply pressure to the QB, but has the speed to drop back in coverage and can help with some of the speedy tight ends that are popping up all over the NFL. A great three-down backer. 
12. Seattle Seahawks: Nick Perry, DE, Southern California
Seattle has their quarterback to complete its offense, now its about making sure their pass rush is adequate to complete the defense. The Giants won two Super Bowls in large part due to their pass rush, Perry will provide a major boost for the Seahawks in their pursuit back to the postseason. Also, he was coached by Pete Carrol at USC.  
13. Arizona Cardinals: David DeCastro, G, Stanford
Left tackle Levi Brown was re-signed in the offseason, for some reason. While he's one the most inconsistent tackles in the game, his play would instantly improve with DeCastro next to him. 
14. Dallas Cowboys: Dre Kirkpatrick, CB, Alabama 
Dallas' secondary has plagued their highly-talented defense for years. Kirkpatrick is one of the most talented playmaking corners in the draft and will help the 'Boys increase their interception totals as soon as 2012. Mark Barron is another possibility to land here, too. 
15. Philadelphia Eagles: Michael Brockers, DL, LSU
Philly finally fills its biggest hole that has plagued its defense for years. Brockers is an animal and will morph the Eagles' defensive line into one of the most feared in all of football.
16. New York Jets: Riley Reiff, OT, Iowa
Simply put, Mark Sanchez needs more time in the pocket if the Jets want to win a Super Bowl. Reiff was once touted as a potential top-10 pick, so this could actually be seen as a slight steal for Gang Green. Defense is more coveted by Rex Ryan, but Reiff's the smarter pick.
17. Cincinnati Bengals: Melvin Ingram, DE/OLB South Carolina
Melvin Ingram has been all over draft boards in recent weeks. Here, he falls to the Bengals who are building one of the more talented young defensive units in the game. Everyone can agree that he's a top-10 talent, but he could experience a slide simply due to team's looking to address other positions. 
18. San Diego Chargers: Courtney Upshaw, DE/OLB Alabama
San Diego started to build a strong defensive line last year in the first round and they continue the trend this year. Upshaw is a versatile player, which the Chargers love as they play chess games on the field with the opposing offense. While he's not overly explosive, he's simply a good football player with great instincts that keep him around the football. 
19. Chicago Bears: Quinton Coples, DE, North Carolina
Quinton Coples was one a potential top-five pick. Pairing him on a defensive line with Julius Peppers will allow him to destroy opposing QBs and make General Managers across the NFL wonder why they didn't select him when they had the chance. This an ideal scenario for a guy with an apparent "low motor."
20. Tennessee Titans: Zach Brown, LB, North Carolina
Defense wins Championships and the Titans know a stout defense is what's needed to win in the AFC South. Brown is a reliable linebacker who will help tighten the Titans' rush-defense. Playing in a division with Arian Foster and Maurice Jones-Drew, speedy linebackers will never go out of style. 
21. Cincinnati Bengals: Stephon Gilmore, CB, South Carolina
After landing a stud defender earlier in Ingram, the Bengals continue building their defense to compete in the daunting AFC North. Gilmore is a playmaking CB and will fill the void Jonathan Joseph left last year. He's added insurance if Leon Hall was slowed by his Achilles injury.  
22. Cleveland Browns (from Atlanta): Kendall Wright, WR, Baylor
In one round, the Browns completely revamp their offense and franchise. They finally have their stud RB in Trent Richardson and a go-to-target for Colt McCoy in Kendall Wright. The Browns are finally trending up with an offense that, all of a sudden, isn't so easily to match up against. 
23. Detroit Lions: Cordy Glenn, OL, Georgia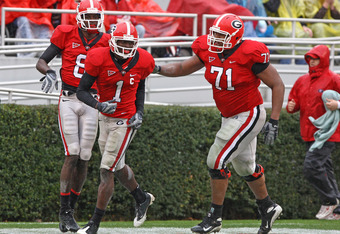 Mike Zarrilli/Getty Images
As we saw last year, the Lions are close. Matt Stafford had one of the best, yet overshadowed, seasons in the history of the NFL. No joke. He must be protected. Glenn is a massive prospect at 6'5'' and 345 pounds and theoretically, can play either tackle or guard spot.
Now, facing Jared Allen, Julius Peppers and Clay Matthews won't be as daunting. 
Perfect. 
With a bolstered offensive line, the Lions are one frightening team that should have legitimate Super Bowl aspirations. 
24. Pittsburgh Steelers: Dont'a Hightower, ILB, Alabama
Linebackers are a must and typically flourish in Dick LeBeau's system. James Farrior was released and Hightower would bring another thumping presence on defense to the Steel City. Instant impact for a team that seemingly reloads on defense every year.
They'd love to grab an offensive lineman, but with Glenn unavailable, they take the next best player in Hightower, a guy who's NFL ready.
Another ideal selection. That really, isn't fair. Hightower playing alongside Lawrence Timmons with James Harrison and Lamar Woodley on the outside and Troy Polamalu deep.
Yikes. 
25. Denver Broncos: Devon Still, DT Penn State
The Broncos need a menacing force in the middle of their defense to allow Von Miller and Elvis Dumervil even more freedom on the edge. 
When motivated, there aren't many defensive tackles with more pure penetrating power than Still. Another Day 1 starter with great potential. 
Bolstering the defense to make Peyton Manning's life easier is a priority. 
26. Houston Texans: Coby Fleener, TE, Stanford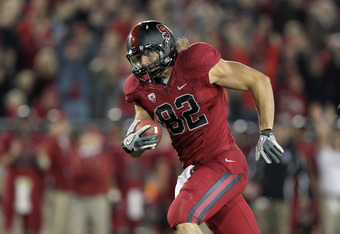 Ezra Shaw/Getty Images
Owen Daniels and Fleener would create quite the tight end tandem to an already well-balanced and explosive Texans offense. 
Although they'll likely look to add a wide receiver later on, the Stanford product would be the guy who will take extra coverage away from Andre Johnson. 
He's a huge target at 6'6'' and 245 pounds and he runs like a wideout. 
27. New England Patriots (from New Orleans): Mark Barron, SS, Alabama
I doubt Barron lasts this long—he's seen a considerable boost in his draft stock over the last 24 hours, but he'd be an secondary member with instantaneous impact for the Patriots. 
Barron with Patrick Chung would be an intimidating duo, but as seemingly always happens, the Patriots will likely trade down from this pick. 
28. Green Bay Packers: Andre Branch, DE/OLB, Clemson 
This pick will either be Branch or Boise State's Shea McClellin. Either way, the Packers need pass-rushing help and would have a dynamite tandem with Branch or McClellin and Clay Matthews.
They totaled only 29 sacks last season and a lot of the reason why their secondary looked so lost in the playoff defeat at the hands of the New York Giants was due to the nonexistent pass rush.
Branch is an underrated but dynamic prospect.  
29. Baltimore Ravens: Chandler Jones, DE, Syracuse
The Ravens would like to add more athleticism, youth and overall depth on their defensive front seven after losing Jarret Johnson and Corey Redding in free agency. Jones isn't a finished product yet, but he'd have a great chance to become a quality starter in Baltimore. 
Playing under the tutelage of Terrell Suggs—what's better than that for a rookie outside linebacker? 
Not much. 
30. San Francisco 49ers: Amini Silatolu, G, Midwestern State
With Mike Iupati and Amini Silatolu pulling to the second level, Frank Gore has got to get to 1,500 rushing yards next season, right? Silatolu should be the selection, but either he or Kevin Zeitler would instantly contribute to the 49ers.
They seemingly are looking to add more downfield passing to their offense with the additions of Mario Manningham and Randy Moss, but their true identity is still a run-heavy club.
Silatolu will be welcomed with open arms.  
31. New England Patriots: Whitney Mercilus, DE, Illinois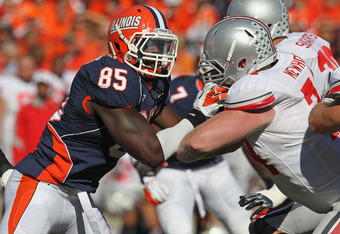 Jonathan Daniel/Getty Images
The Patriots secondary would benefit significantly from a more threatening pass rush. Mercilus led the nation with 16 sacks last season and could be a great pass-rusher in Bill Belichick's scheme.
While some believe Belichick wouldn't take a situation guy with his first-round pick, he knows his pass rush is of the utmost importance and Mercilus represents great value here.
Then again, he'll probably trade back. 
32. New York Giants, Jonathan Martin, OT, Stanford
The Giants must do a better job keeping Eli Manning upright and it's unlikely Kareem McKenzie is with the team for the 2012 season. Martin can slide to the right tackle position or, at the very least, provide serious competition from 2011 fourth-round pick James Brewer.
If he demonstrated a bit more strength during the pre-draft process, Martin would have been picked in the middle of the first round. 
He'll mesh well with the veteran trenchmen.