Week 4 Fantasy Football Waiver Wire: Red Light/Green Light
September 28, 2011
Stephen Dunn/Getty Images
I was thinking about potential Week 4 Waiver Wire pickups as I was driving Monday. While I pondered which of the available players would continue their success from the past week, I hit a red light. I hate red lights.
Red lights stop your momentum.  Red lights waste time. Red lights make you have to stare at the guy that just cut you off for far too long.
In the same way, each player you add off the waiver wire can be a big red light. They can hinder your season, frustrate you and waste your time.
That is why I have created my weekly waiver wire guide called Red Light/Green Light.  In case this is your first time reading, my Red Light players are those that I think are in the "one–week wonder" category.  As such, you should stop dead in your tracks on them (bench or even drop).
My Green Light players are the guys who I think carry good value the rest of the year.  As long as you don't have the dream fantasy team already, without hesitation you should charge ahead with them (pick up and/or start).
I will finish with some Yellow Light players—those guys that I am still on the fence about, but may be worth a look, especially if you are really hurting for ideas.
As a point of reference, 10 of my 14 Red Light/Green Light predictions from last week ended up playing out in Week 3 (I don't grade my Yellow Light picks).  Let's hope for some of the same success this week.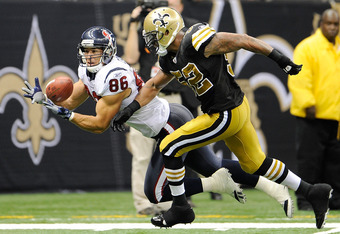 Stacy Revere/Getty Images
Red Light
James Casey— Casey exploded in Sunday's shootout against the Saints, catching five passes for 126 yards and one touchdown.  But that will be as good as it gets for Casey this year, as he will constantly be battling for looks with fellow tight ends Owen Daniels and Joel Dreessen, along with ball hog Andre Johnson.  Furthermore, the role of the passing game for the Texans will likely reduce once Arian Foster returns from his hamstring injury.  Don't be fooled by mighty Casey.
Matt Hasselbeck— I must admit, what Matt Hasselbeck has done so far this season is astounding.  I mean, come on, the guy is 36 years old, playing for a new team and he's been lights out, only getting better by the week.  Seriously—he's ranked eighth in passing yards, third in completion percentage, tenth in touchdowns thrown and seventh in overall quarterback rating.  That's against guys like Brady, Rodgers, Brees, Stafford, Fitzpatrick and Romo, who have all been on fire to start the year.
But do you really think he can keep it up? Hasselbeck hasn't played a full season since 2007 due to injuries. With Kenny Britt now out for the year, Hasselbeck's best wide receiver just became Nate Washington—sounds like the talent level he was dealing with back in Seattle. Chris Johnson hasn't been himself lately, but once he settles in, the passing game is sure to diminish. Lastly, Hasselbeck has never been as good for a full season as he has been during the past three games.  Why should that change this year? I'm not bringing Hassle back ( a la Justin Timberlake).
Ryan Fitzpatrick– Fitzpatrick has been on my Red Light list for three weeks in a row.  And I'm still not buying his hot start.  In fact, I predicted Fitzy would have a great game against the Patriots in my piece last week.  But six of the Bills next 10 opponents have defenses ranked in the top 10 versus the pass so far this year.  Not to mention the Bills first three opponents' defenses have all ranked in the bottom half this year against the pass. Fitzpatrick also started hot last year, only to fizzle when the weather got worse. I would be afraid to start Fitzpatrick going forward, except on a matchup basis.  I'm not buying his killer start, I'm selling.
Cam Newton– Now this is the performance I had been waiting for.  After Newton dazzled in Weeks 1 and 2, going over 400 passing yards in each contest, he delivered a dud against the Jaguars this past Sunday.  Newton only threw for 158 passing yards, with an awful completion percentage of 53. I would not start Newton going forward, except for maybe a spot start during your QB1's bye week, because he will never be reliable as he works through the rookie woes.
Donald Jones–Jones had a big week in Week 3, racking up over 100 yards on five catches. However, I seriously doubt that the Bills will be involved in a shootout every week like Week 3, and I still have no confidence in Jones' quarterback situation (see Ryan Fitzpatrick above).  Lastly, the Bills have a lot of options at wide receiver, with both Steve Johnson and David Nelson garnering their share of targets, and let's not forget tight end Scott Chandler and running back Fred Jackson.  Although Jones is a talented with potential upside in the future, he is not worth owning in fantasy leagues because his week-to-week performances will be entirely unpredictable.
Montario Hardesty– Quite a few of those ESPN guys have come out this week with high praise for Montario Hardesty—especially in fantasy circles—fresh off his mediocre performance against the Dolphins on Sunday. Starter Peyton Hillis was a late scratch from the game with a case of strep throat, which gave Hardesty the opportunity to start. But is 86 total yards on 17 touches really all that impressive?  Don't get me wrong—it's not bad.
However, with Hillis expected to return this coming week and still the main back for the Browns, I doubt that Hardesty sees much more of the field than he did in Weeks 1 and 2 when he got five and three touches, respectively.  And don't forget, Hardesty is infamous for being injury prone.  In fact, Hardesty tore his ACL just a year ago, and was known for having knee problems throughout college. I don't get what those ESPN guys see in Hardesty. Do you?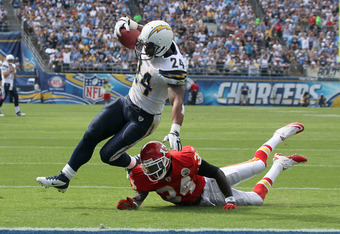 Stephen Dunn/Getty Images
Green Light
Ryan Mathews– Just two weeks ago, we were all trying to figure out whether or not Mike Tolbert was really the back to own in San Diego.  All that is irrelevant now, as it looks as though Ryan Mathews has finally turned a big corner in his pro career.
Against the Kansas City Chiefs this past week, Mathews rushed 21 times for 98 yards and two touchdowns, adding four receptions for 51 yards.  Those are the type of numbers only elite running backs put up. In comparison, Tolbert only had seven total touches and his goal line rushing duties were given to Mathews. Without the "Goal-line Back" title, Tolbert suddenly becomes the man not to own in San Diego.  Instead, Mathews is now the guy.  If you don't believe me, read what Mathews' coach and teammates said after the game in this article by North County Times.
Dan Bailey– I know, kickers rarely get recognized in fantasy football.  But after rookie Dan Bailey stole the show on Monday night, winning the game for the Cowboys by nailing all six of his field goal attempts, I figured he was worth writing about. Now 9/10 on field goal attempts this year, with a long of 48, and 6/6 on PATs, I'd say this rookie is worth owning in all leagues. Dallas is one of the higher-powered offenses in the league, ranking fifth in total yards per game, and as such, you can expect a lot more opportunities for Bailey going forward.  If you need a kicker, Bailey is the guy to get.
Lance Moore– We all know Lance Moore.  But the fact is that Moore is still not owned in many leagues, and if you are in one of them, you need to pick him up.  Moore is coming off a great 2010 season, when he caught 66 passes for 763 yards and eight touchdowns.  But some owners have been wary to add him to their rosters given his groin injury.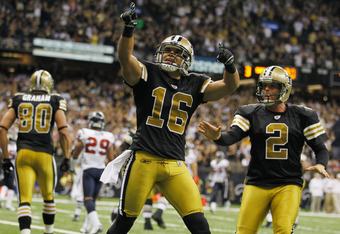 Chris Graythen/Getty Images
Well, if Week 3 was any indication, Moore is fully recovered and looking sharp.  In a shootout game against the Texans, Moore caught all nine of his targets for 88 yards and a touchdown. Until Marques Colston returns from his broken collarbone, Moore will be quarterback Drew Brees' favorite target, and may even maintain that role when Colston comes back.  Expect big things from Moore this week against Jacksonville.
Daniel Thomas– Thomas is another case where a lot of owners wondered whether the other guy—Reggie Bush—was the man to own in Miami. But after two weeks of solid performance from Thomas and complete duds from Bush, the picture has become much clearer.  In fact, if we had any sense at all, we would have figured that Bush would not be man enough to hold down the lead back role.  However, I for one didn't think he would fail so quickly.  But none of that matters.  What matters is that Thomas is the guy to own and seems relatively poised in the backfield now, with those rookie woes seemingly behind him.  He's worth starting going forward.
Bernard Scott– I wrote a whole article on Scott after news of Cedric Benson's looming suspension broke.  Read it and you'll understand why Scott is one of my Green Light players this week.
Kendall Hunter– Frank Gore left the game against the Bengals on Sunday, yielding valuable playing time to rookie backup Kendall Hunter.  And Hunter didn't disappoint, notching 38 yards on 11 total touches, including the go-ahead score (the only touchdown of the game, for that matter). Now while Gore is expected to play this coming week, his performance year-to-date hasn't really earned him increased playing time.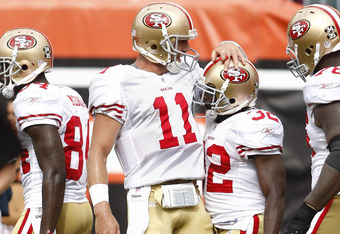 John Grieshop/Getty Images
In fact, Gore has managed a measly 2.5 yards per rush through three games, whereas every season prior to this Gore averaged at least 4.2. Furthermore, Gore gets progressively worse as the game advances, averaging 2.7 yards per carry on his first 10 attempts, but just 2.4 yards per carry on attempts 11–20. I'd say his wheels are slowing down, which should present more opportunities for Hunter as the year progress.  Handcuff or not, Hunter should be owned in all leagues at this point, and started once Gore gets hurt or benched.
Yellow Light
Torrey Smith– I also wrote an article about Smith after his amazing performance on Sunday.  And while I heaped heavy praise on Smith and argued that his future forecast looks favorable, I am still on the sidelines as to whether or not he can produce consistently enough to satisfy fantasy owners. ESPN analysts Christopher Harris and Eric Karabell have both referred to Smith as a "Devery Henderson" type, with the chance of boom or bust every week.  I agree.  Add Smith, but start him with caution only if you are hurting at wide receiver.
Victor Cruz– Cruz delivered a masterful performance against arguably the best cover corner in the league, Nnamdi Asomugha, this past week.  Cruz caught two dazzling touchdowns with Asomugha in his grill, which I'm sure earned some confidence from his quarterback Eli Manning going forward.  While Cruz only received this opportunity because Mario Manningham was out with a concussion, I still believe he should get more looks going forward filling the slot position for the Giants.  Add Cruz with the notion he could break out with all of the defense's attention going to Nicks and Manningham in the passing game.
Pierre Garcon– I've been down on all the Colts players this year, and I even put Austin Collie on my Red Light list after Week 1.  However, Pierre Garcon warrants some interest going forward, especially if Curtis Painter starts.  If you noticed on Sunday night against the Steelers, Colts fill-in quarterback Kerry Collins got hurt (possible concussion).  Painter stepped in, and while he didn't win any Quarterback Challenges, he definitely showed a tendency to look for Garcon down the field.  In fact, five of Painter's 11 passes went Garcon's way, connecting on three of them for 53 yards.  Using that as a proxy, Garcon could be in line for a lion's share of targets in future games.  He is worth holding onto for at least a few more weeks if you were starting to have doubts.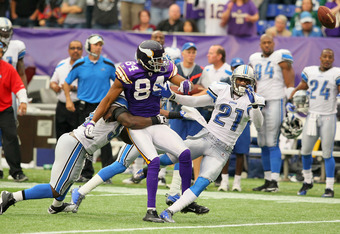 Adam Bettcher/Getty Images
Michael Jenkins– Michael Jenkins is by no means the Vikings most talented receiver.  No, that would be Percy Harvin.  But Jenkins does lead the Vikings in receptions, receiving yards and receiving touchdowns in 2011 (15, 143, and 1, respectively).  While that isn't going to win him any fantasy awards, he may be worth a look in PPR leagues.  However, once quarterback Donovan McNabb and the Vikings coaching staff get their heads screwed on straight, and start getting the far more talented Percy Harvin involved in a majority of the offensive scheme, Jenkins will likely be a guy to avoid.  Take a chance on him now, if at all.
Brandon Pettigrew– Pettigrew erupted with a monster performance against the Vikings on Sunday, catching 11 passes for 112 yards.  However, Lions head coach Jim Schwartz said on Monday that "Brandon was probably, the best way to put it is he was our run game," referring to how the Lions started throwing short passes Pettigrew's way in the second half instead of running the ball (Detroit Free Press). As such, Pettigrew's performance sounds more like the exception, rather than the rule.  Therefore, while he is still worth some starts going forward, I would temper your expectations—the Lions have a ton of weapons which means a timeshare.
Stevan Ridley– The Law Firm (BenJarvus Green–Ellis) stunk it up in Week 3. He gained only 18 yards on 10 carries. With that awful performance, Patriots head coach Bill Belichick started giving rookie running back Stevan Ridley some opportunities.  Ridley capitalized, rushing six times for 42 yards—heftily out producing BGE in limited time.  While it will probably take more than that for Ridley to win the starting job, I do expect him to play a bigger role in each game going forward.  He is simply a more talented back than The Law Firm.
Follow Andrew McFadden on Twitter @andrewmcfadden
And on facebook at FantasyFootballersAnonymous
Please leave any comments!