Week 3 Fantasy Football Waiver Wire: Red Light/Green Light
September 21, 2011
Ezra Shaw/Getty Images
Last year, many owners locked up their fantasy seasons by wisely picking Michael Vick off the waiver wire.
Vick emerged as a fantasy superstar in Week 1—all because he was given an opportunity, which is the key ingredient to any player gaining fantasy relevance.
This past week, guys like Denarius Moore, Eric Decker and David Nelson were given opportunities to shine, and they each capitalized in a big way. But their Week 2 production doesn't mean anything unless they can produce at a high level for the remainder of the season—a la Michael Vick in 2010.
Therefore, it is crucial to decide whether a player's performance this week was just a fluke or a sign of things to come.  For some players the answer is clear.  For others, it is still uncertain.
With that said, I will give you my ideas for the best and worst players to pick up off the waiver wire for Week 3 in a piece I call Red Light/Green Light. 
Piggybacking off of the ageless children's game, my Red Light players are those that I think are in the "one-week wonder" category. As such, you should stop dead in your tracks on them (bench or even drop).
My Green Light players are the guys who I think carry good value the rest of the year. As long as you don't have the dream fantasy team already, without hesitation you should charge ahead with them (pick up and/or start going forward). 
I will finish with some Yellow Light players – those guys that I am still on the fence about, but may be worth a look, especially if you are really hurting for ideas.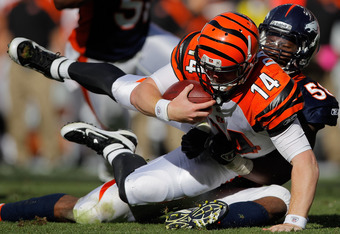 Justin Edmonds/Getty Images
Red Light
Andy Dalton
Dalton threw for more than 300 yards and two touchdowns against Denver this week, which is no small feat for a rookie quarterback. 
However, Denver's passing defense ranked as one of the worst in the NFL last year, and while the addition of defensive-minded John Fox has been helpful, the Broncos are still far from having an imposing secondary. 
So please take Dalton's performance with a grain of salt, and expect more "rookie-like" statistics going forward.
Ryan Fitzpatrick
Fitzpatrick finds himself again on my Red Light list this week.  While I didn't expect him to put up as good of numbers as he did this past week against Oakland, I am still pretty sure his level of play will fizzle as the season moves along.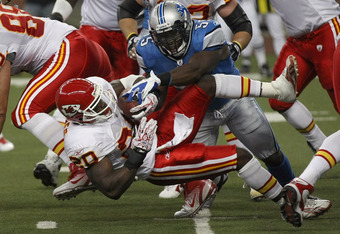 Dave Reginek/Getty Images
Fitzpatrick started very hot last year—if you remember—only to play very sporadically over the second half of the year as weather conditions grew harsher. While he may be good for an occasional spot-start (especially this week against New England), I would avoid him unless you play in a two-quarterback league.
Javon Ringer
Chris Johnson has gotten off to an awfully slow start, barely eclipsing 100 total yards in his first two games combined (and no touchdowns).  This has forced the Titans to give backup running back Javon Ringer more looks. 
Ringer came through for the club in a limited amount of time this past week, rushing for 21 yards on five carries while scoring a touchdown. Fresh off of that performance, head coach Mike Munchak said that he plans to increase Ringer's role going forward. 
But don't be fooled.
There is a reason the Titans made Johnson the highest-paid running back in the league.  He's one of the most talented players in the NFL, and once he gets back into game shape, Ringer's role will be nearly non-existent in fantasy realms.  Only Chris Johnson owners should be carrying Ringer on their rosters.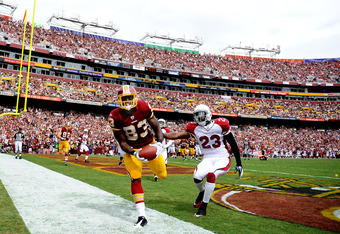 Patrick Smith/Getty Images
Danario Alexander
Don't get me wrong here—Alexander is a very talented receiver.  If you had any doubt about that, just go back and watch the highlight reel from Monday night's Rams/Giants game. 
Alexander made some great catches and finished the night with 122 receiving yards and a touchdown.
The cause for concern here is Alexander's knee.  It has been operated on more times than Brett Favre has retired.  Maybe you can squeeze a good game or two out of him, but for the most part, Alexander will be unreliable and likely to aggravate his knee in some way any given week.
I'm staying on the sidelines.
Thomas Jones
Jamaal Charles suffered a season-ending knee injury on Sunday, which means someone has to step into his place in the Chiefs' running game.  While Coach Todd Haley will likely give more carries to Thomas Jones than Dexter McCluster, this situation is destined for a time-share, and Jones has hardly any juice left in his tank.
He averaged less than three yards per carry in his last six regular season games, if you need any proof.  With Kansas City dependent on Jamaal Charles to be able to produce offensively, Jones will lack in the rushing touchdown category as well.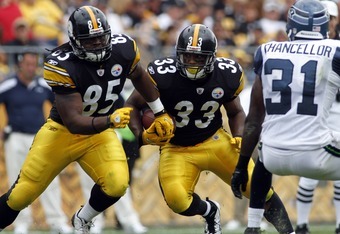 Justin K. Aller/Getty Images
I'm steering clear of Jones and letting some other emotionally invested owner pounce on him.
Tony Gonzalez
Gonzalez had a great game against the Eagles on Sunday night, catching seven passes for 83 yards and two touchdowns, which equates to a monstrous night for a tight end. However, I believe Gonzalez's performance is just a flash in the pan.
His average yards per catch have been on the decline since 2006, and at 35 years old with 15 NFL seasons under his belt, I'm not exactly expecting a turnaround. I doubt Gonzalez gets anywhere near his Week 2 fantasy point total for the remainder of the season.
I recommend you start him with caution, realizing there may be better options available from week to week.
Burress went from having a respectable fantasy performance in Week 1 to completely disappearing in Week 2. 
What worries me the most is that the Jets were playing the Jaguars this past weekend—a team whose defense ranked fifth-worst against the pass a year ago—and yet Burress came up empty-handed.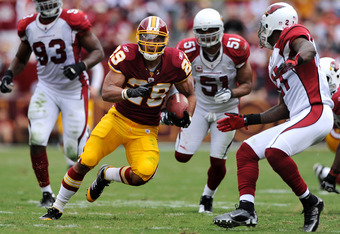 Patrick Smith/Getty Images
I expect Burress to have less ups than downs for the remainder of the season. As such, fantasy owners would be wise to avoid him even if a great matchup arises.
Knowshon Moreno
 Moreno has been a complete flop for fantasy owners so far this year. He managed just 22 rushing yards in Week 1, leaving the game early with a hamstring injury. The injury hadn't quite healed enough for Moreno to play this past week, so Willis McGahee got the start.
McGahee produced in a big way, rushing for over 100 yards while scoring a touchdown.  After that performance, the Denver Post speculated that McGahee will be the starting back even when Moreno returns to the team.
With Coach John Fox's tendency for running back committees, Moreno looks like a player to steer clear of for the foreseeable future.
Green Light
Denarius Moore
With both of Oakland's starting wide receivers out this past week due to injury, Denarius Moore got the start and wowed all the fans in attendance. 
Moore ended up catching five balls for 146 yards and one touchdown, making some spectacular plays.  But many NFL analysts weren't even surprised, as Moore has showed this kind of playmaking ability since the start of the preseason. 
Accordingly, coach Hue Jackson said Monday that Moore's performance on Sunday has earned him more playing time.  Jackson would be crazy not to give it to him.  Moore is a must-add in all leagues and could end up having a great rookie campaign if given a starting job.
Eric Decker
Decker, like Moore, benefited from key injuries this past week.  Lead Bronco's receiver Brandon Lloyd was a late scratch for Sunday's game, while Eddie Royal injured his groin during play.
Decker went on to be Kyle Orton's favorite target throughout the game, amassing five catches for 113 yards and two touchdowns.  He definitely caught the eye of all fantasy owners. 
With Lloyd set to return this week, but Royal likely to miss 2-4 weeks due to his groin injury, Decker still maintains fantasy value as Orton's No. 2 target. Get him while he's hot.
David Nelson
With Roscoe Parrish suffering a season-ending injury in this past week's game, David Nelson was able to step up in a big way for the Bills.  Nelson caught 10 passes for 83 yards and the game-winning touchdown.
While I believe Fitzpatrick is destined to decline as the season moves along, Nelson should still rack up plenty of catches, as Fitzpatrick throws lots of short balls. If you play in a PPR league, Nelson is a guy to target if Decker and Moore are already taken. 
In standard leagues, given my concern for Fitzpatrick, I would consider Nelson more of a Yellow Light player.
Nate Washington
With Kenny Britt exploding for two weeks in a row, Nate Washington has been overlooked. But he shouldn't be. 
Washington has averaged over six catches for 80-plus yards in his first two weeks, which are very serviceable numbers in the fantasy world. 
At the bare minimum, Washington should be sitting on your bench for the occasional spot start, and not on the waiver wire.  Washington holds more value in PPR leagues, given his high catch totals.
Fred Davis
Davis was on my Yellow Light list last week, but after delivering another great fantasy performance in Week 2, I am "all in" on Davis. 
Quarterback Rex Grossman obviously prefers Davis to Chris Cooley, as evidenced by Davis' seven targets to Cooley's two this past week. 
Teams needing a tight end should make it a goal to grab Davis.
It's still hard for me to believe that Burleson isn't owned in 100 percent of all leagues. 
He was one of my draft picks, and as a result, I don't tend to think of him as a guy to pick up.  But he is still available in a lot of leagues. 
Given that he leads the Lions in both receptions and receiving yards through two games, this guy is a must-add. 
All of the defense's attention goes to Calvin Johnson, leaving Burleson open on many plays. And his quarterback, Stafford, is a stud. Get Burleson if you still can.
Yellow Light
Cam Newton
Alright. I am starting to believe this Newton kid might actually be something special. 
Newton's back-to-back 400-plus passing yard performances have caught my eye—and everyone else's eyes, for that matter. 
While I am still not going to jump "all in" on him after just two games, I think Newton has proven he can put up good fantasy numbers, and at least deserves to be owned in all leagues at this point. 
However, I am still in doubt as to whether or not he can perform this big consistently.  Peyton Manning was a much more talented rookie quarterback than Newton, yet he didn't produce these types of numbers in any week during his first year. 
I'm still on the fence with this one, but I'll keep watching (and enjoying).
Isaac Redman
Redman had a decent game this past week, running for 49 yards on 10 rushes, while scoring a touchdown.  Rashard Mendenhall is definitely "the guy" in Pittsburgh, but Redman could have some sneaky fantasy value as the season progresses. 
Mendenhall had 324 rushes last year, which could make him more injury-prone, so keep an eye on Redman. And, if you are a Mendenhall owner, make sure you pick Redman up before someone else does.
Roy Helu
Many fantasy owners were impressed this past week by Roy Helu.  He rushed for an impressive 74 yards on just 10 carries, replacing a "fatigued" Tim Hightower for much of the second half.
Coach Mike Shanahan praised Helu's performance after the game.  If that was a hint, Washington's running back situation could soon turn into a full committee, especially if Hightower doesn't keep producing at a high level. 
This is a situation to monitor, and I would urge all Hightower owners to grab Helu if he's still available.
Dexter McCluster
McCluster is set to benefit from Jamaal Charles' season-ending knee injury—but I think his potential is somewhat limited, thanks to the presence of Thomas Jones. 
McCluster is a smaller back, which means he is more brittle.  Therefore, I think Coach Todd Haley will limit McCluster's rushes and use him more in the short-yardage passing game. 
As such, McCluster should hold decent value in PPR leagues, but I am uncertain how consistently he will be able to produce in standard leagues.  He will, no doubt, get scooped up by someone this week, but I think there are better options available.
Kevin Ogletree
With Miles Austin out this week due to an injured hamstring and with Dez Bryant coming back from an injured quad, Kevin Ogletree might just be Tony Romo's most reliable wideout. 
Of course, that doesn't mean he will be targeted more than Jason Witten (or Bryant, if he returns), but he will still get a fair amount of looks on Monday night. 
If your team is in need of some wide receiver help this week, and the Green Light receivers have been taken, make Ogletree a priority.  He's better than most people think and has a great quarterback throwing to him.
Follow Andrew McFadden on facebook at FantasyFootballersAnonymous