Start 'Em, Sit 'Em Week 5: Smart Matchup Plays, Sleepers and More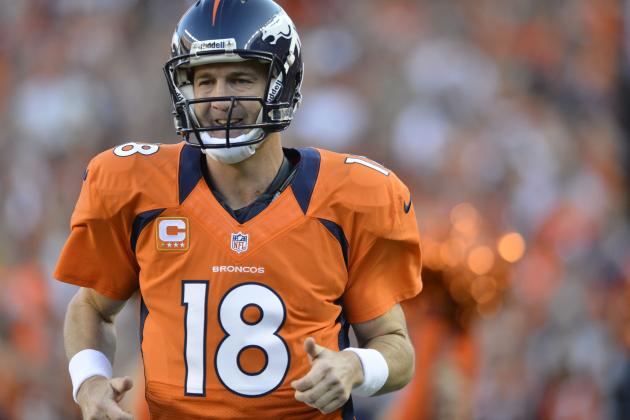 Ron Chenoy-US PRESSWIRE

It's Week 5, and a fantasy football victory must happen to keep the postseason hopes alive.
We're nearing the midway point of the fantasy regular season, and much like pro football, the contenders and pretenders continue to gradually spread apart.
Fortunately, there are quarterbacks like Peyton Manning who are capable of racking up tons of yards and points. Despite Manning and the Denver Broncos traveling to play Tom Brady and the New England Patriots, Bill Belichick's defense is vulnerable against the pass.
Just last week, the Pats allowed Ryan Fitzpatrick to toss for 350 yards and four touchdowns, as well as four interceptions. But after throwing three first-quarter interceptions on the road to the Atlanta Falcons in Week 2, Manning this week is unlikely to replicate that or Fitzpatrick's turnover numbers.
So, along with Denver's stud gunslinger, let's move ahead and see what's in store for another fantasy football weekend.
Begin Slideshow

»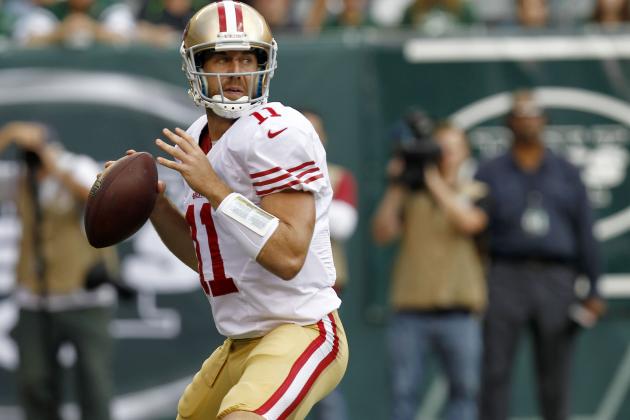 Jeff Zelevansky/Getty Images

Alex Smith isn't going to burn up the fantasy stat sheet, but the Buffalo Bills will have trouble stopping him as well.
Thus far, Buffalo allows an average of 406.5 total yards and almost 33 points per game.
Therefore, if the Bills defense is to stop the San Francisco 49ers, they must emphasize toward Frank Gore and the ground attack. Winning the line of scrimmage is San Francisco's forte on both sides of the ball, and it's a big reason for Jim Harbaugh's immediate success.
This, however, also forces Buffalo to play man coverage against Vernon Davis, Michael Crabtree, Mario Manningham and Randy Moss. All four of these receiving targets are capable of beating man-to-man, so that provides easier decision-making for Smith.
And if Buffalo tries to double cover anyone, that simply increases vulnerability against the run. Considering that the Bills gave up 247 rushing yards to the pass-happy Patriots, focusing more up front is imperative.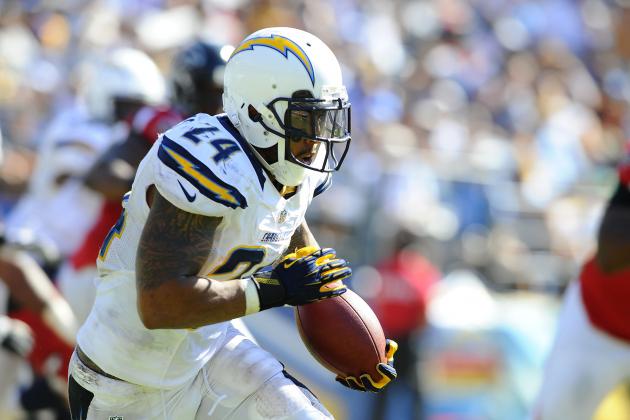 Christopher Hanewinckel-US PRESSWIRE

The San Diego Chargers have a solid two-back tandem working for Philip Rivers right now.
With Ryan Mathews having missed the first two games, Jackie Battle was a great filler in Norv Turner's backfield.
That said, the Bolts need both ball-carriers to remain productive and continue feeding each for a balanced attack. Without a standout No. 1 receiver, San Diego can't afford to let a defense key in on one back.
Interestingly enough, each are a dual-threat and a nice play in Week 5 against the New Orleans Saints. The Saints field a weak defense against the run and pass, so the Chargers will move the ball consistently.
Battle is the stronger and more powerful back; therefore, expect him to see more touches inside the red zone and other short-yard situations. Mathews will still get decent numbers as well because he did total 82 yards versus the Kansas City Chiefs and possesses the ability to break big plays in open field.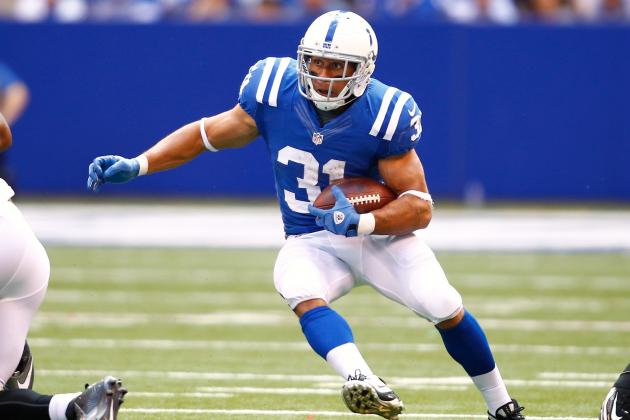 Michael Hickey/Getty Images

If there's still one somewhat concerning aspect of the Green Bay Packers, it's defense.
The Packers have most definitely improved in terms of quarterback pressure and yards allowed, but Green Bay must be more consistent.
So, enter the Indianapolis Colts and rookie quarterback Andrew Luck. Running back Donald Brown may have only 155 rushing yards in 2012; however, Indy is coming off a bye week. In turn, the Colts had that extra week to prepare for the Packers, and the upgraded offense will move the chains.
Luck's passing threat, along with his array of reliable targets, is concerning for Green Bay, so expect less pressure other than Clay Matthews. A byproduct of gearing more coverage, though, will be Brown between the tackles and Luck's checkdown.
The Colts' present receiving targets like Reggie Wayne, Donnie Avery and Coby Fleener are capable of beating man coverage. And if the Packers neglect to honor Indy's aerial assault, an upset is possible.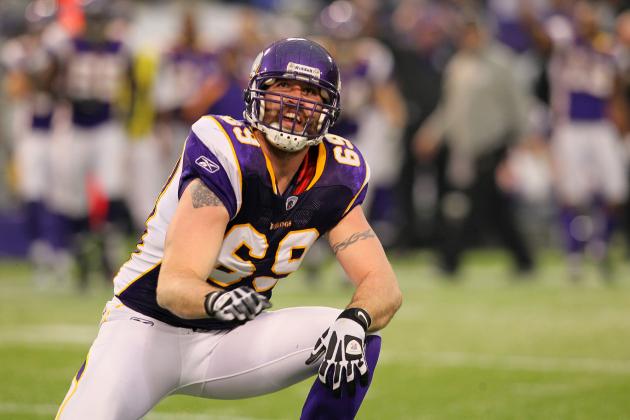 Adam Bettcher/Getty Images

The Minnesota Vikings are not going under the radar.
However, Jared Allen and the defense are not getting the recognition they deserve.
Because of Adrian Peterson and the development of Christian Ponder, much attention has rightfully gone to Minnesota's impressively balanced offense. Include the special teams touchdowns from Week 4, and the defense is a sleeping giant.
Through four games, the Vikings have recorded 12 sacks, forced five fumbles (recovered four) and have allowed an average of just 18 points per game (13 in each of the past two). This week, Minnesota hosts the 1-3 Tennessee Titans, who have scored 81 points in 2012.
Unfortunately for Titans fans, 44 of those 81 came at home against the Detroit Lions.
So, aside from one game, Tennessee has managed just 37 points in its three other contests. The Titans lack a consistent passing and running game, whereas the Vikings bring impressive pressure and are technically sound against both phases.
Steven Bisig-US PRESSWIRE

Right now, the Seattle Seahawks rank dead last in passing offense.
A big reason for that is because rookie signal-caller Russell Wilson hasn't targeted tight end Zach Miller enough.
With just 91 yards on nine receptions this season, getting Miller more involved can significantly boost Seattle's passing game. After all, this is a guy who caught 182 passes for 2,268 yards and scored nine times from 2008 through 2010 with the Oakland Raiders.
Miller is a lot more consistently reliable when given opportunities, and Wilson has to get him the rock in Week 5. Facing the Carolina Panthers, Wilson looks at a defense that fails to defend against the run and pass.
The Cats have given up almost 394 total yards and just over 27 points per game. In short, Seattle will have windows of opportunity at scoring and racking up yards. But, the potential overall production can be increased if Miller sees more targets.
He can beat any linebacker man-to-man, and with Marshawn Lynch drawing up defenders in a stacked box, Miller will get favorable coverage situations.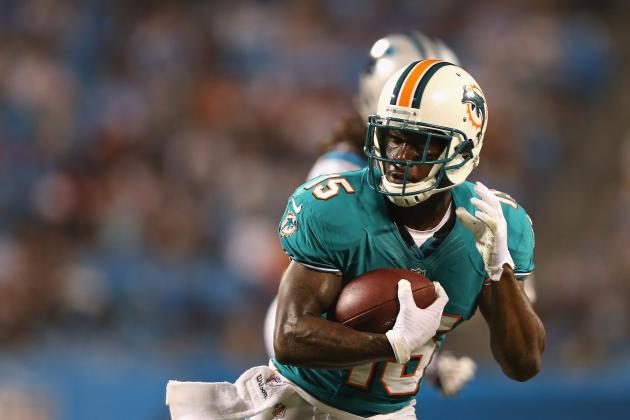 Streeter Lecka/Getty Images

Davone Bess has quietly been a reliable receiver for rookie quarterback Ryan Tannehill.
Much of Bess's production, though, has been overshadowed because of fellow receiver Brian Hartline.
Of Hartline's totals, 364 of his 455 receiving yards and 21 of his 25 receptions have come in two games. Bess, on the flip side, has been more consistent week to week.
With seven receptions for 123 yards against the Arizona Cardinals on Sunday, he'll need a similar game for the Miami Dolphins to win against the Cincinnati Bengals. Also, because of Hartline's Week 4 numbers, the Bengals will likely gear more coverage toward Tannehill's favorite target.
This only helps Bess, though, as he'll see more man coverage and linebacker shells underneath.
Not to mention, Cincy also needs to focus attention toward Reggie Bush. Combine these elements, and it makes Bess Miami's best option in Week 5 for getting yards after the catch and accumulating first downs.
Sam Greenwood/Getty Images

Unsurprisingly, the Jacksonville Jaguars' offensive production revolves around Maurice Jones-Drew.
And despite MJD still being one of the NFL's top running backs, the Chicago Bears will shut him down in Week 5.
For one, the Bears rank No. 3 against the run and allowed just 67.3 rush yards per game. Secondly, Jacksonville's passing offense—although improved—isn't threatening enough to prevent Chicago from stacking the box.
Cornerbacks Charles Tillman and Tim Jennings can lock down in man coverage over Jacksonville's receivers, which then allows Brian Urlacher and Lance Briggs to wall off the middle and put more attention to MJD.
Plus, the Bears defensive line will get pressure on Blaine Gabbert, who has already been sacked 12 times.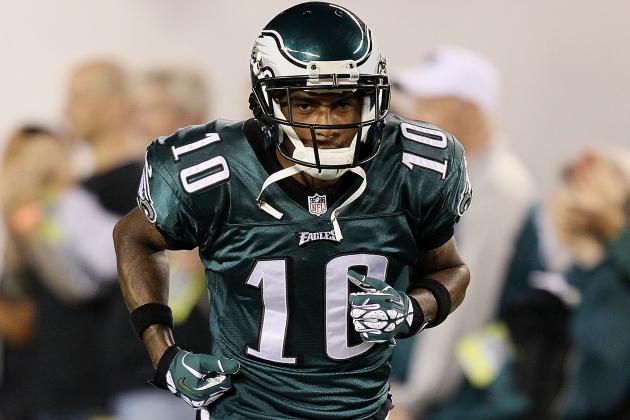 Alex Trautwig/Getty Images

The concern here is Michael Vick.
Yes, the Philadelphia Eagles quarterback didn't turn the ball over against the New York Giants.
Still, we have to remember that Vick can be turnover prone and the Giants have arguably the most banged-up secondary in pro football. So, it was no surprise to see DeSean Jackson produce well.
Next up, however, are the hungry Pittsburgh Steelers.
Along with this being a road game for Philly, the Steelers are much better against the pass and remain capable of getting consistent quarterback pressure. For the Eagles to win this game, though, it's feeding LeSean McCoy on the ground.
We saw how productive he can be with 20-plus carries, and Pittsburgh's weakness right now is stopping the run. When the Raiders upset Pittsburgh in Oakland, Darren McFadden amassed 113 rushing yards on just 18 carries.
The Eagles present more overall talent than Oakland, and using McCoy is needed for a win. In turn, Jackson won't see many targets, and Pittsburgh's coverage will also limit his opportunities.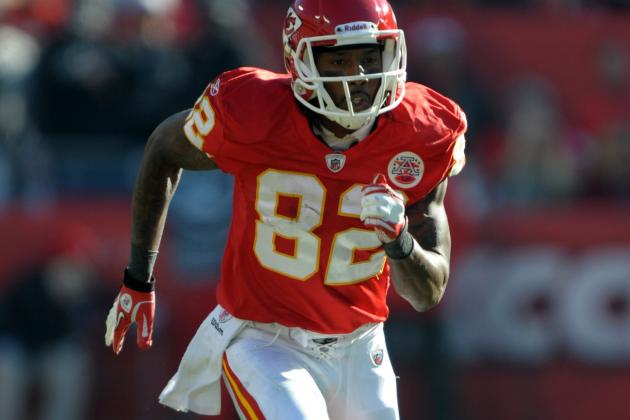 Kirby Lee-US PRESSWIRE

Dwayne Bowe is the Kansas City Chiefs' only legit receiving target.
Unfortunately, Matt Cassel has yet to recreate the magic he possessed during the 2010 season.
Now, the Baltimore Ravens are susceptible to the pass, because Brandon Weeden tossing for 320 yards was unexpected. There are two major issues with K.C.'s passing game, though, despite Baltimore's uncharacteristic flaw:
1. Cassel has been sacked 13 times, so pass protection will limit Bowe's time to develop routes against the Ravens, and
2. Cassel has been consistently turnover-prone in 2012.
The Ravens will attack that pass protection weakness and also gear coverage to isolate Bowe. Include Cassel's decision-making woes, and K.C.'s best chance to move the rock is with Jamaal Charles on the ground.
Any time Cassel is dropping back, he's usually looking for Bowe, which Baltimore will be aware. So, the more favorable game plan is to force other targets like Jon Baldwin and Dexter McCluster to make plays.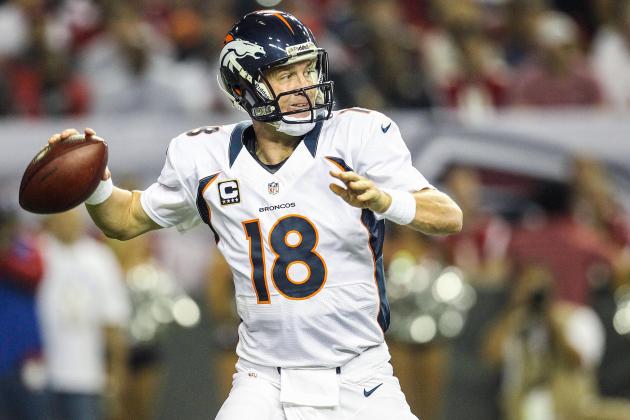 Daniel Shirey-US PRESSWIRE

Peyton Manning has had his highs and lows against Bill Belichick and the New England Patriots.
One aspect that has been unfortunately consistent in New England, though, is pass defense.
At least in strict terms of the regular season, New England continues to be vulnerable against the pass, and 2012 is adding to the trend. In 2010, the Pats ranked No. 30 in pass defense and No. 31 in 2011; therefore, expect Manning to attack from the get go.
Right now, New England ranks No. 25 versus the pass and allowed an average of 366 yards in the previous two games. Then again, keeping pace with Tom Brady and the offense also forces an opponent to throw more as well, which means New England's run defense isn't getting much work.
As for Manning and the Broncos, Denver possesses the talent to rack up points. A high-scoring contest doesn't necessarily favor the Pats either, because Jack Del Rio's secondary presents better playmakers in Tracy Porter and Champ Bailey.
Obviously, Manning is far better than Ryan Fitzpatrick as well, so look for the Broncos to make a statement in New England.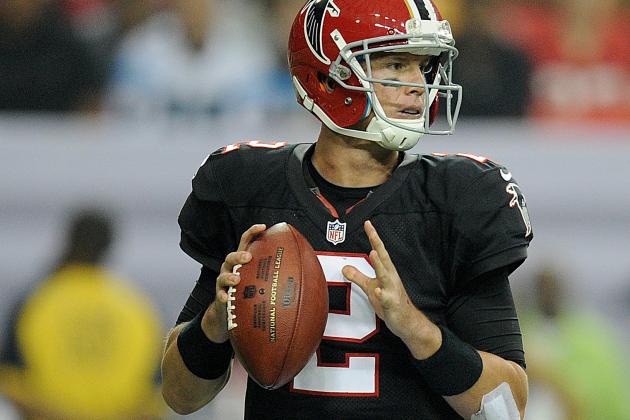 Kevin Liles-US PRESSWIRE

Matt Ryan putting up big numbers will come as no surprise.
And with the Atlanta Falcons traveling to play the Washington Redskins in Week 5, the Dirty Birds must explode from kickoff.
The Redskins field one of the worst pass defenses and have given up an average of just over 30 points per game. Atlanta knows how to score points whenever it needs to, as we saw against Carolina, and will put the pressure on Washington's offense.
For as impressive as Robert Griffin III has been, the Falcons will be his best challenge yet. Presenting an opportunistic defense and sound pass rush, forcing a shootout is to Atlanta's advantage. Not to mention, the more RG3 drops back, the more turnover opportunities create additional possessions for Ryan to score points.
He's has been on fire all season with 11 touchdowns to only two picks, so letting him lead is the Falcons' best option.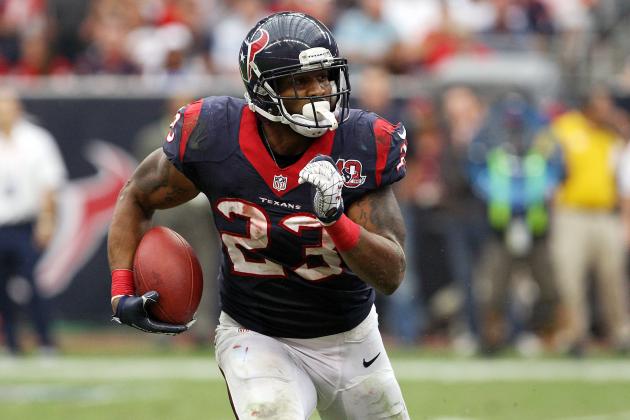 Troy Taormina-US PRESSWIRE

Last week the New York Jets gave up 245 rushing yards to the San Francisco 49ers.
This week, the Jets host the Houston Texans, and they're just an upgraded version of San Francisco.
The Texans present a better passing attack, and Wade Phillips' defense will lock it down and provide more possessions to the offense. All this simply plays into the hands of running back Arian Foster.
With 380 rushing yards on the year, Foster has scored four touchdowns and Houston sits at 4-0. Featuring one of the NFL's most balanced offenses, Foster benefits from a guy like Andre Johnson out wide.
Gang Green will obviously have to respect Houston's potential at being effective downfield, so don't expect Foster to see a stacked box all game long. Include an offense in New York that's extremely likely of getting blanked for a second straight week, and Foster will just get fed more in the second half.
Anticipate the Texans winning in dominant fashion once again; however, Foster won't take over until late, as Houston looks to put the game away before halftime.
Follow John Rozum on Twitter.