2012 NFL Season Predictions: Division Winners, Champions and Awards
The summer lull between NFL seasons is upon us, and we NFL diehards are craving anything that'll give us our football fix.
One thing that we fanatics can do is pander about useless and exceptionally premature predictions as to how the upcoming NFL regular and postseason will play out, and I have done just that, along with predicting various award winners.
Now, many prognosticators will predict records for various teams, but the one thing the vast majority of them forget is that with every win there must be loss—that is, the league must have an overall .500 winning percentage, or in other words an accumulated record of 256-256. That is the case with these predictions.
In this article, you'll see all records predicted, playoff standings, award winners, playoff scores and, of course, the Super Bowl champion. And, as aforementioned, the predictions are virtually worthless—but they do get conversation flowing.
Without further ado, let's move on to the AFC divisions.
Begin Slideshow

»
Rob Carr/Getty Images
Tom Brady will lead his team to yet another AFC East crown in 2012
Patriots 13-3
The Patriots had one of the best offseasons in the league, bolstering their defensive front and backfield in the draft and picking up key acquisitions at wide receiver, filling a void on the outside with Brandon Lloyd, as well as bringing in former Patriot OC Josh McDaniels, under whom Lloyd thrived in Denver.
These additions, coupled with the fact that they are the defending AFC Champs and have the easiest schedule (record-wise) in the league (and of course Tom Brady and Bill Belichick), leads me to believe that 13-plus wins and a first-round bye are easily within their reach.
Bills 9-7
The Bills pulled off perhaps the biggest free-agent splash of the offseason when they signed Mario Williams for $100M, immediately making the Bills' defensive front one to reckon with.
Buffalo got off to a hot start last year before fizzling out, and hope to repeat their run out of the gates sans the late-season disappointments. With Ryan Fitzpatrick and a talented WR corps returning, expect them to exceed .500 for the first time since 2004 and make a run at a Wild Card spot in the AFC playoff picture.
Jets 9-7
Last season was a disappointing one for the Jets, as they squandered a chance, at home, after two Patriots losses, to take a stranglehold on the division and gain valuable momentum going into the second half of the season. Instead of doing so, they floundered to an 8-8 record and missed the playoffs after two straight AFC Championship Game appearances. Mark Sanchez, while recording a career-high 3,474 yards passing and 26 touchdowns, posted 18 interceptions and just a 78.2 passer rating.
With no huge offseason moves (other than acquiring Tim Tebow) to speak of, don't expect much more from the Jets this year.
Dolphins 3-13
With turmoil and controversy at the quarterback position and a defense that went from sixth overall in 2010 to a middling 15th in 2011, expect the downward trend to continue in Miami, at least for now.
The lone bright spot in the Dolphins' offseason might have been their draft, which was unusually solid, picking up Texas A&M QB prospect Ryan Tannehill and highly-touted OT Jonathan Martin out of Stanford.
Despite these silver linings, anything more than last place in the AFC East would be a surprise for this Dolphins team.
Jim Rogash/Getty Images
Ray Rice should run the Ravens to another AFC North title
Ravens 11-5
Coming off a heartbreaking loss in the AFC Championship Game, the Ravens still look strong, returning every major offensive starter (although the Ray Rice contract situation is becoming of increasing concern).
On the defensive side however, Baltimore is beginning to look shaky. Reigning DPOY Terrell Suggs was lost for the year after tearing his Achilles tendon, Ray Lewis isn't getting any younger, and Ed Reed has hinted at a potential holdout if a contract extension agreement cannot be reached.
Despite these missteps, however, I don't see anyone overtaking the Ravens in the North.
Steelers 10-6
Losing Hines Ward and James Farrior in the same offseason were heavy blows for Pittsburgh, although they bounced back nicely in the draft and in offseason acquisitions, picking up offensive guru Todd Haley to bolster an already-talented attack, headed by Pro Bowler Ben Roethlisberger.
Regardless of what's going on around them, the Steelers always seem to remain a steadfast team and a solid pick to win 10-12 wins and secure at least a Wild Card spot in the playoffs, and I don't see that changing in 2012.
The Bengals seem poised to take this division in the coming seasons, but I just don't see it happening quite this year. Andy Dalton and A.J. Green flourished immediately in black and orange as rookies, showing a rapport few rookie tandems ever demonstrate. Another excellent draft buttressed fans' hopes of a deep playoff run, which was before a far-off wish but is now becoming a distinct possibility.
With no players in legal trouble and a solid young core of players to build off of, expect the Bengals to perform well, but not take the division just yet.
Cleveland Browns 4-12
The Browns had an exciting draft after taking Trent Richardson and Brandon Weeden in the first round and giving those in the Dawg Pound hope of a return to the glory days of the '80s.
Sadly, I don't see those two gelling this season. In what is increasingly a pass-heavy league, the Browns may have been better suited drafting a top-end receiving threat rather than Trent Richardson to complement Weeden on the offensive side, despite the tremendous talent Richardson is.
That being said, the future is brighter for the Browns—just not the immediate future.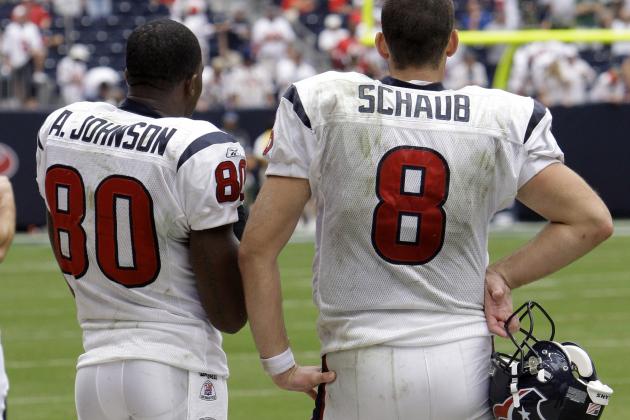 Bob Levey/Getty Images
Expect the Texans to contend for a Super Bowl berth in 2012
Texans 12-4
The Texans, had they not been riddled by injuries midway through the 2011 season, could have easily contended for a Super Bowl championship last year. After being porous in 2010, they fielded what was statistically the second-best defense in the league and boasted perhaps the best QB-WR-RB trio with Schaub, Johnson and Foster.
They may have lost Mario Williams, but don't expect the Texans to budge anywhere from the top spot in the South, as they should wrap up a first-round bye and make a deep playoff run towards Super Bowl XLVII.
Titans 8-8
Jake Locker showed promise in the action that he saw on the field in 2011, giving Titans fans something to be pumped about going into 2012. Chris Johnson bounced back somewhat after the midpoint of the season following a horrendous start, and he hopes to regain his 2,000 yards-rushing form to make the Titans' rushing attack formidable once again.
However, after a few head-scratcher picks in the draft and very little offseason activity other than a failed attempt at getting Peyton to return to Tennessee, I don't see the Titans being anything more than an average team.
Colts 6-10
The story of the Colts' offseason was obviously the Peyton Manning/Andrew Luck ordeal. Most people by mid-February had a good idea as to what the Colts were planning on doing, and they were right—the Colts parted ways with the legendary quarterback so they could free up room for what they hope will be a second coming.
Andrew Luck, whom many scouts tout as the best prospect to come into the NFL since, well, Peyton Manning, has a lot riding on his shoulders, but like most people familiar with football, I don't see him cracking under it. In fact, don't expect to see the Colts wallowing at the bottom of the division for too long.
Jaguars 2-14
I don't see any reason as to why the Jaguars won't contend for the No. 1 overall pick. After seeing some of the worst rookie quarterback play ever from Blaine Gabbert, a contract dispute with their lone offensive bright spot in Maurice Jones-Drew and a draft that resulted in a DUI arrest for their top pick and not much else, almost nothing went right for the Jaguars this past offseason. Consequently, I don't see much going right for them when the real season kicks off.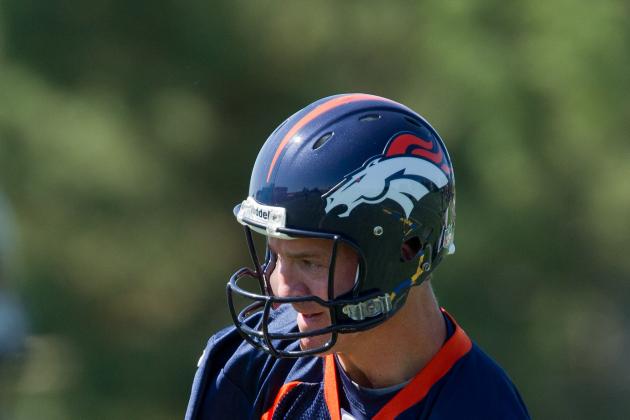 Justin Edmonds/Getty Images
Peyton Manning could vault the Broncos to elite status
Broncos 10-6
In all fairness, the Broncos probably should have been a 5-6 win team last year. Tim Tebow sparked a series of extremely improbable victories that gave the Broncos a record that really did not indicate how good of a team they truly were. The lovable overachievers traded away Tebow, however, as everyone who isn't living under a rock knows, and brought in one of the greatest quarterbacks to ever grace the gridiron.
While some predict the Denver/Manning experiment as a bust, I see him bringing what is an all-around mediocre team to a divisional championship and perhaps into a fairly respectable playoff run—he's already done it with multiple Colts teams.
Chargers 10-6
Ever since Philip Rivers took the reins in 2006, the Chargers have been touted as a team that has not taken advantage of its talent and window of opportunity, and deservedly so. It seemed that every year from 2006-2009 they were plagued with slow starts that ended in fast finishes and a decent playoff seeding, only to stop short of the Super Bowl each season.
The loss of Vincent Jackson dealt a heavy blow to a potent offense, but don't expect the Chargers to perform as badly as they did last season. A Wild Card spot is in their future, and we all know how dangerous Wild Card teams can be.
Raiders 7-9
After nearly a decade of misfortune, the Raiders looked to be on the brink of contention last year, after bringing in Carson Palmer and having RB Darren McFadden come into his own.
Unfortunately, the team's offseason did not reflect the steps they took forward in 2011, with Hue Jackson being fired. Following the loss of Al Davis, the team's front office seems to be in disarray, which doesn't bode well for the players.
With two other teams poised to make playoff runs in this division, don't expect the Raiders to make much noise.
Chiefs 5-11
One of the few high points of the Chiefs' 2011 campaign was their takedown of the then-perfect Packers in Week 15. That win was probably what kept interim head coach Romeo Crennel in that position. While the Chiefs do have many important position players coming back, including Matt Cassel, Jamaal Charles and Tony Moeaki, someone has to be the loser of the division and I just don't see them overtaking two teams that have Philip Rivers and Peyton Manning calling the signals for them.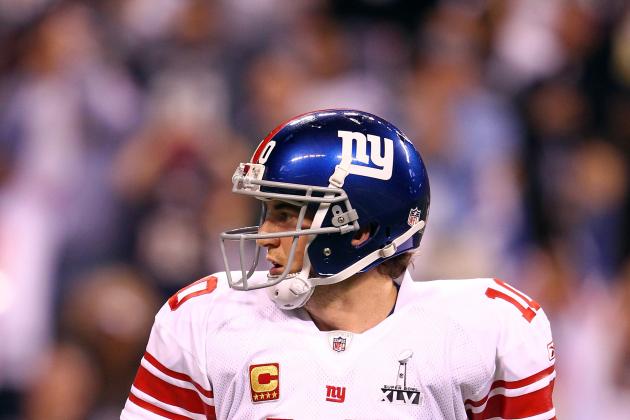 Al Bello/Getty Images
Don't expect a Super Bowl hangover from the Giants
Giants 11-5
The NFC East has been the most consistently tough division to compete in for the last six or so years, and the Giants will have their hands full trying to repeat as division champs, let alone getting back to the Super Bowl. However, I see them taking all the pressure of being a defending champ in stride. In 2008, the year after Eli Manning won his first championship, the Giants improved their regular season win total by two, and I expect the exact same to happen this season.
Despite losing Mario Manningham and Brandon Jacobs, the Giants will be the beast of the east once more.
Eagles 10-6
The so-called Miami Heat of the NFL have their work cut out for them if they wish to match what the actual Heat did in their second year with championship expectations. This supremely talented team was supremely underwhelming in 2011, at least until the last quarter of the season when they finally seemed to have realized some of their potential, going 4-0 and blowing teams away.
With all of their stars returning healthy and happy, there's no reason this team shouldn't at least make a push for a playoff spot.
Cowboys 9-7
If the Cowboys utilized their talent to its full potential less erratically, they probably would have won multiple championships in the past six years. Even if Tony Romo were a little more consistent in the clutch, he might already be a Super Bowl-winning quarterback.
The early 2011 Rob Ryan move, made to shore up the Dallas D, didn't pan out exactly as hoped, but the Arlington faithful are still optimistic about their chances. If the defense does work out the kinks and does become elite, the Cowboys could go from being a borderline Wild Card team to a division winner and even potentially compete for a first-round bye.
Redskins 5-11
The Redskins significantly boosted their championship aspirations by making a move to draft the most dynamic college football player in 2011, Robert Griffin III—a trade lauded by most. Most scouts feel his combination of athleticism, arm strength, touch, accuracy and football IQ would combine to make a stellar NFL career.
While they were all probably correct, don't think that Griffin's going to pull a miracle his first year under center for Washington. The 'Skins still have to surround him with more talent and he needs time to develop in what is a much faster and more cut-throat football environment than the one he experienced at Baylor.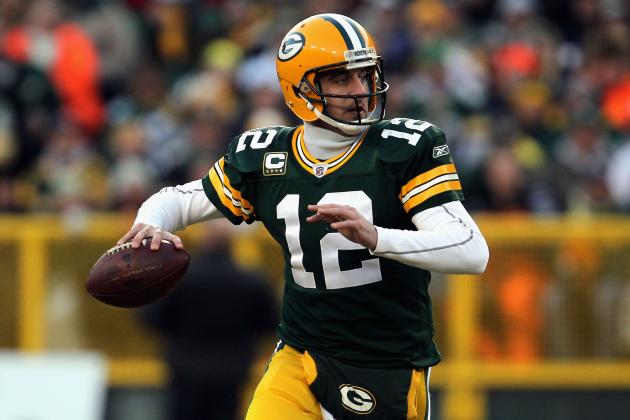 Jonathan Daniel/Getty Images
No surprise that the Packers are the favorite in the North
Packers 13-3
The Packers' 2011 season was a spectacular one, as they nearly ran the table, going perfect through 13 games before being tripped up by Kansas City.
However, despite their near-perfection, the Packers have a lot to improve on. Their defense, considering its pedigree of talent and recent past, was horrendously bad last year, setting a record for most yards given up in a season, and consequently most yards given up in a game per season. It showed in their 37-20 defeat at Lambeau Field to the Giants
Regardless, don't expect the Pack to move anywhere from their perch atop the North. They should be serious contenders once again.
Bears 10-6
For a stretch there in the 2011 season, the Bears looked like one of the top three teams in football. They were running the ball well, Jay Cutler was playing at an elite level and their defense was shutting down explosive offenses weekly.
Then, to the Windy City's chagrin, Cutler went down and the Bears lost five in a row after winning five straight.
This prediction is based off the assumption that Matt Forte, Jay Cutler and their newest addition Brandon Marshall stay healthy for the entire season—and if that's the case, 10 wins is a fairly conservative estimate considering Cutler and Marshall's already-established chemistry with one another.
Lions 9-7
The Lions finally made the anticipated leap last year into contention, sprinting out of the gates for a 5-0 start. While they did somewhat limp to the finish line at 5-6, they won 10 games and made the playoffs, giving Drew Brees and the Saints a good game in the Superdome until the final quarter. Matt Stafford and Calvin Johnson in their first full season together were nothing short of spectacular, with Johnson leading the league in receiving yards and touchdowns, and Stafford throwing for over 5,000 yards and 41 touchdowns.
What this team lacks is consistency on defense, and in a division with two other explosive offenses, that doesn't bode well no matter how potent your own attack is.
Vikings 2-14
With a Percy Harvin contract dispute looming, the arrest of Adrian Peterson and a draft that did almost nothing to shore up the many holes they have on both sides of the ball, it's no surprise many are picking the Vikings as the favorites for the No. 1 overall pick in the 2013 draft. I really couldn't see this team having any form of success in any division in the NFL, never mind one of the top three toughest in the league.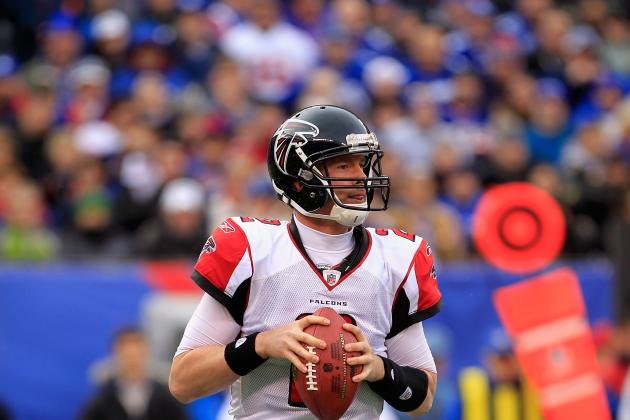 Chris Trotman/Getty Images
With the Saints reeling, expect the Falcons to seize control
Falcons 10-6
Ever since Matt Ryan came to town in 2008, the Falcons have been a good bet to get 10+ wins or so and go nowhere in the playoffs. I don't really expect that trend to falter right now—Atlanta lacks a quality that would put them over the cusp, into elite status, into serious championship potential rather than being perennial playoff losers, and I can't really say what it is. There's nothing really to complain about in Matt Ryan's play. He's more than a game manager but less than truly elite.
Perhaps if the Saints misstep more than I predict, the Falcons will win more games, although a first-round bye has done nothing to help them in a conference with Aaron Rodgers, as we learned in 2010.
Saints 9-7
There are basically two trains of thought when it comes to how the Saints will react to the chaos and turmoil that was their 2012 offseason. One side believes that the whole thing was blown way out of proportion and that the Saints will be their usual selves, contending for a Super Bowl championship. The other believes that the blows dealt in the Bountygate punishment will be too much to overcome in 2012 and that the Saints will crumble.
I tend to be somewhere in the middle—I don't believe that the Saints will maintain the lofty status they've held since Drew Brees came to town, but I also don't believe they'll be bottom dwellers in the South. For all I know, one or the other could happen, but I'm going to err on the side of caution and stick with a moderate estimate.
Panthers 8-8
Cam Newton will own this division in three years if his rookie season was anything to take note of. Coming into the season, no one doubted his prodigious athletic ability—his pocket presence, football IQ and savvy were in question, however. After having one of the greatest rookie seasons of all time, and certainly the greatest season a rookie quarterback has ever enjoyed, it would seem that all the critics have been quieted and the sky's the limit for Carolina.
Passing for a ridiculous 4,051 yards and 21 touchdowns, and rushing for another 706 and 14 scores (a record for quarterbacks), his total production of 4,757 yards and 35 scores is absolutely unheard of when it comes to rookie signal-calling. Don't expect to see the Panthers in the bottom two of the South for much longer.
Buccaneers 5-11
How the Buccaneers will respond after one of the most disastrous seasons in their franchise's history is anyone's guess. A year that started with such promise ended in an embarrassing 10-game skid for now ex-head coach Raheem Morris.
In a division with two legitimate playoff contenders and another rising star at quarterback, I don't see the acquisitions of Vincent Jackson and Carl Nicks turning the tide much for hapless Tampa Bay. If Josh Freeman can return to his 2010 form and that defense can revert to the quality of its glory days, who knows how good this team could be—but both of those things happening at the same time seems unlikely.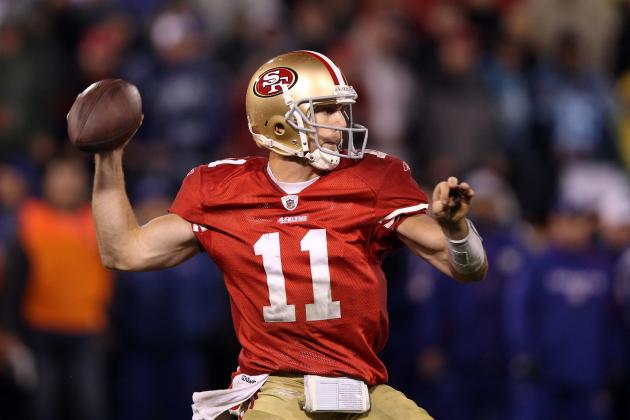 Ezra Shaw/Getty Images
Smith broke out last year and will continue his solid play into 2012
49ers 12-4
The 49ers were easily the surprise of the NFL last season.
While many pundits predicted a division championship out of the squad (in a very weak division that had been won by a 7-9 record the previous year), no one thought that they would wrap up a 13-3 record, a first round bye and be one botched punt from the Super Bowl.
This year, no one will be surprised by the 49ers—in fact, they will be one of the few teams with targets on their backs. How they will react to the pressure of being an elite team is anyone's guess, but in my estimation Jim Harbaugh is the man for San Francisco, and the addition of Randy Moss could give that offense the extra boost it needs to gain access to the upper echelon of pro football attacks. Don't be shocked if the 49ers make another long run into winter this coming season.
Cardinals 6-10
The Cardinals had sky-high hopes for incoming quarterback Kevin Kolb last year, but instead they were plagued by inconsistent play and a lackluster effort from both Kolb and his backup, John Skelton. Despite these shoddy performances, Larry Fitzgerald had another outstanding season, catching 80 balls for 1,411 yards and 8 scores. It seems that Fitzgerald thrives regardless of the man throwing the ball his way.
The Cards didn't have a terrible year last year, going 8-8, but with no major moves to speak of in the offseason in free agency or on draft day, its hard to see them keeping up with the rest of the teams in a league where, if you're not going forward, you're going backward.
Seahawks 4-12
In 2010 the Seahawks fielded perhaps the worst division champion in NFL history, and when a true contender in the 49ers showed their heads in the West it was clear that they wouldn't be able to repeat. Pete Carroll and Tarvaris Jackson led Seattle to a 7-9 record, the same as the previous year, but with much different results. They missed the playoffs and left with an offseason that saw the Seahawks needing to make big splashes if they wanted to keep up.
The signing of Matt Flynn and the re-signing of Marshawn Lynch were bright spots in the offseason, but they won't be enough to usurp the 49ers at the top of the heap.
Rams 4-12
At the end of the 2010 season most people would have predicted that the Rams would be in control of the division for years to come, what with the impressive play of then-rookie Sam Bradford and St. Louis competing for a division title in its last game of the regular season.
Fast-forward to 2011, however, and Bradford has hit a wall, resulting in a sophomore slump, and the Rams falter to a dismal 2-14 mark. After trading the second overall pick to the Redskins, the Rams made no big moves other than to bring Jeff Fisher to St. Louis in an attempt to change the atmosphere to that of a winner. I don't see it working in the immediate future.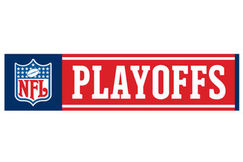 Here are the final playoff seedings as I see them playing out:
AFC Standings:
Patriots—13-3
Texans—12-4
Ravens—11-5
Broncos—10-6
Chargers—10-6
Steelers—10-6
NFC Standings:
Packers—13-3
49ers—12-4
Giants—11-5
Falcons—10-6
Eagles—10-6
Bears—10-6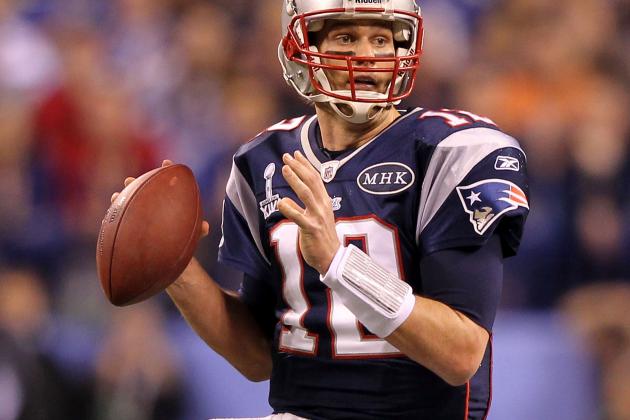 Jamie Squire/Getty Images
Tom Brady will be back with a vengeance in 2012
The safest pick for the MVP award is always choosing the previous year's winner or sometimes even the previous year's Super Bowl MVP, if that player is a quarterback. This year I'm going to go with a quarterback (predictably), but not last year's.
MVP—Tom Brady
In 2010, Tom Brady was voted the league's first unanimous MVP, ever. He registered a ridiculous 36-4 TD-INT ratio and threw 335 consecutive passes without an interception—both records.
In 2011, many believed he was even better, throwing for 5,235 yards (second-best all time, and blowing away his old record for most yards thrown by a cold-weather quarterback) and 39 touchdowns. He led a team with a defense that was statistically one of the worst of all time to a 13-3 record, a No. 1 seeding, and one dropped ball away from a Super Bowl championship.
With the Super Bowl loss looming in his mind as motivation, and his first real deep threat since Randy Moss left in 2010, the two-time MVP will come out of the gates more zoned in than ever.
Offensive Player of the Year—Arian Foster
In just 13 games last season, Foster touched the ball 331 times for 1,841 yards. If Matt Schaub and Andre Johnson can remain healthy for the entire season and take more focus off of the run game, the sky's the limit for this previously-undrafted star.
2,000+ yards from scrimmage is a goal well within his reach, and he could challenge LT's mark for most yards from scrimmage in a season if he gets enough touches.
Defensive Player of the Year—Aldon Smith
Many believe that the DPOY will be on the San Francisco 49ers, but most those people believe it will be All-Pro linebacker Patrick Willis. This pick is going out slightly on a limb, as I only have one year in the pros as foundation to make this prediction, but with Smith's freakish athletic prowess and his near rookie-record 14 sacks last season, I only see him getting better, especially in a defense that's on the rise. He could challenge the single-season sacks record that Jared Allen so frustratingly got close to last year.
Offensive Rookie of the Year—Andrew Luck
It's hard to go against the new Golden Boy of the NFL here. His praises have been sung for nearly two years now and it's finally time for him to show us what he's worth, and I don't believe he'll disappoint.
I don't see him having as much success as Cam Newton did in his phenomenal rookie campaign, but I do see Andrew Luck living up to his billing as the No. 1 overall pick and taking this award home as proof of his ascension.
Defensive Rookie of the Year—Morris Claiborne
There weren't many extremely highly-touted defensive players coming out of college this offseason, with Claiborne being the highest-picked defender at sixth overall. While this may seem like a cop-out pick, he was considered the best defensive prospect by many scouts and should help change the D in Big D, helping them on their way to elite status.
His instincts and athleticism will make up for whatever gross rookie misjudgments he might make, and if he lives up to his potential he should take home this award.
Comeback Player of the Year—Jay Cutler
After having his season cut short last year, expect Jay Cutler to come out on fire in 2012 after being reunited with former teammate Brandon Marshall. A 4,500+ yard, 30+ touchdown season is certainly in the cards for the Vandy alum, as is this award.
Coach of the Year—Andy Reid
This award is always difficult to predict, as Coach of the Year often goes to the coach of a surprise playoff team or a team faced with unexpected adversity that still manages to make it to the big dance. For now, I'm going to say that it goes to a coach who's team was given super expectations last year but fell short. After a tumultuous regular season, Reid's steady hand will guide the Eagles to the playoffs and a second AP Coach of the Year award.
—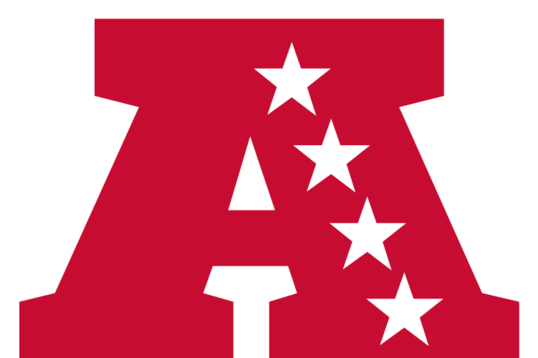 Wild Card
(6) Steelers at (3) Ravens—Ravens, 17-14
The Ravens at home are tough to beat, especially in the playoffs—in a tough defensive slugfest, I see the home team prevailing.
(5) Chargers at (4) Broncos—Broncos, 27-14
The Mile High Stadium will be rocking and Peyton Manning will lead them to their second straight home playoff victory.
Divisional Playoffs
(4) Broncos at (1) Patriots—Patriots, 34-20
In a rematch of last year's divisional playoffs, Tom Brady and Co. will be too much for the Denver D, although it will be closer than last year's 45-10 drubbing.
(3) Ravens at (2) Texans—Texans, 30-20
In a second AFC Divisional rematch, the Texans will be the home team. With Matt Schaub behind center, Andre Johnson lined up outside and OPOY Arian Foster in the backfield, Houston will light up the scoreboards on their way to the franchise's first AFC Championship Game appearance.
Conference Championships
(2) Texans at (1) Patriots—Patriots, 35-27
In a hard-fought shootout, the second-straight AFC Championship Game held at Foxborough will be a nail-biter, but in the end the Brady Bunch will prevail over the upstart Texans and advance to their record-tying eighth Super Bowl appearance and second in as many years.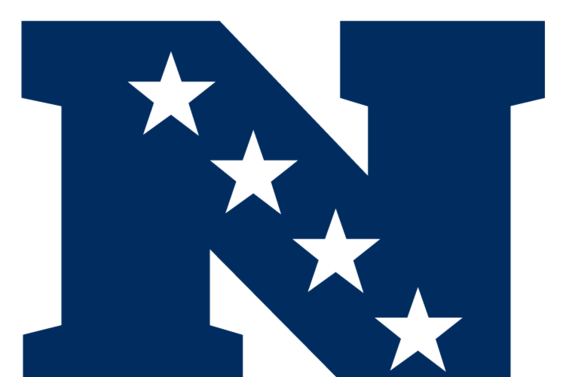 Wild Card
(6) Bears at (3) Giants—Giants, 21-10
With MetLife Stadium filled to capacity, a rowdy New York crowd will rally the Giants towards a playoff win and a spot in the Divisional Playoffs.
(5) Eagles at (4) Falcons—Eagles, 27-17
As I said earlier, I don't see the Falcons as a legitimate championship contender at the moment. With the Eagles clicking at the end of the year I don't expect the Falcons to slow them down.
Divisional Playoffs
(5) Eagles at (1) Packers—Packers, 31-28
The Eagles will hit a wall against the Packers, but will put up a fight. Aaron Rodgers and the rest of the Pack will prove too much too handle, however, as Lambeau Field will be the stage for the NFC Championship for the second time in six years.
(3) Giants at (2) 49ers—49ers, 20-14
The 49ers will have revenge on their minds when Big Blue comes to town, and I see them squeaking out another difficult, hard-nosed defensive battle, with the trenches being where the game is decided.
Conference Championships
(2) 49ers at (1) Packers—49ers, 28-24
In a battle of two storied franchises, I see the team with the better defense prevailing. The Packers showed last year that they were susceptible to a team with a strong pass rush, especially in cold weather, and with Aldon Smith and Justin Smith on that line, I see the Niners cashing in on their second consecutive chance to make it to the Super Bowl.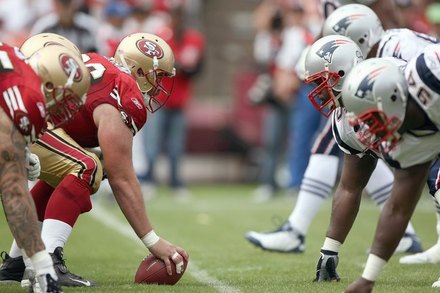 Super Bowl XLVII will be another one to remember
Super Bowl XLVII Score:

(2) 49ers vs. (1) Patriots—Patriots, 31-27
This will be another one that comes down to the wire, as all Patriots Super Bowls are. In a dome environment, expect the two offenses to unleash some fireworks, posting the highest-scoring Super Bowl since Adam Vinatieri kicked the Patriots to their second championship over the Panthers in Super Bowl XXXVIII. Alex Smith will outdo himself and go toe-to-toe with Tom Brady for nearly four quarters before Brady leads a no-huddle drive in the final minutes to put the Patriots up for good and secure their fourth Lombardi Trophy.