1 Player from Each AFC Team Who Will Rebound from Horrid 2012 Seasons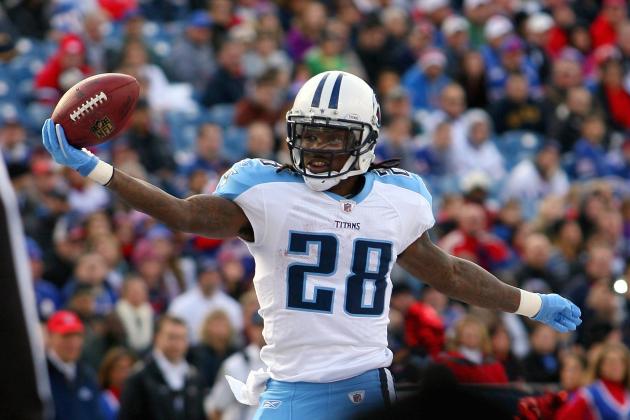 Rick Stewart/Getty Images

One player from each AFC team who endured a horrid year will rebound in 2012.
These players range from offensive linemen to pass-rushers and from wide receivers to quarterbacks. They differ in position, but not in performance.
Something all the players on this list have in common is that whether by way of injury, holdout, team change or "just one of those seasons," they all struggled to perform at the level expected of them in 2011.
The expectations for some of these players were perhaps too high to begin with. However, they did not play well regardless.
Which of these players do you believe will have the best bounce-back season?
Begin Slideshow

»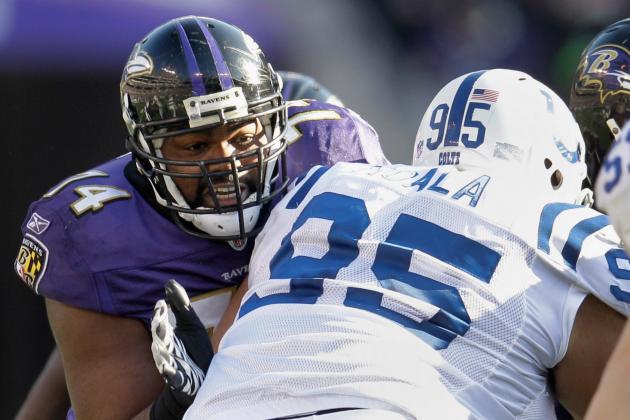 Rob Carr/Getty Images

Everyone knows of Michael Oher from the movie that portrayed his incredible story, The Blind Side.
What not many know is that during his first three seasons in the NFL, the Baltimore Ravens have asked him to switch offensive line positions three times.
As a rookie, Oher played mainly at right tackle. Then, in 2010, he was asked to switch to left tackle—the blind side—after the team released Jared Gaither.
Finally, last season he was again asked to move, this time back to the right side following Baltimore's signing of Bryant McKinnie. That's also where he will play in 2012.
In early February, Oher told The Norris & Davis Show on 105.7 The Fan in Baltimore that he would play wherever the team asked him to play (h/t Matt Vensel, Baltimore Sun). "It doesn't matter as long as we're winning games and getting to championships," he said.
Oher considers himself a right tackle, so staying at the position next to one of the best guards in football, Marshal Yanda, will greatly benefit the fourth-year man out of Mississippi.
He allowed 10 sacks a year ago (via ProFootballFocus). Continuity will make 2012 a much better year for Oher.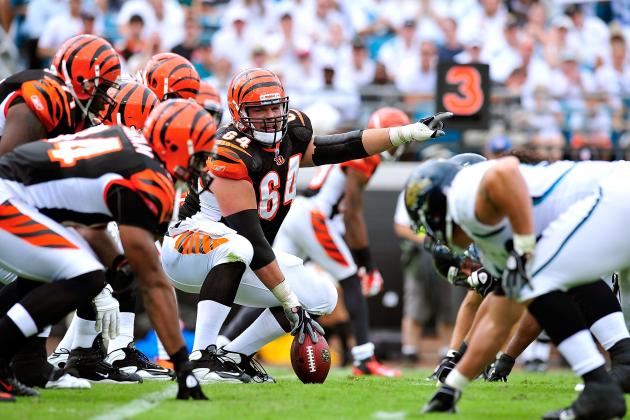 Grant Halverson/Getty Images

Kyle Cook has been a disappointment of sorts for the Cincinnati Bengals.
Entering his fifth season in the league, he has yet to be a consistent blocker.
B/R NFL Draft Lead Writer Matt Miller ranked Cook as the No. 25 center in the NFL, saying he hides himself among the other Bengals linemen:
Cook plays on one of the biggest and most dominant lines in the NFL, and that allows him to hide. His chief job is to get the ball to Andy Dalton on shotgun and under-center snaps and then hold his ground.
He was the ranked No. 21 among NFL centers a year ago at Pass Blocking Efficiency (via PFF), but he will finally pull it together and make Cincinnati's line one of the best in the league.
Consistency needs to be Cook's focus, and that will propel him this year.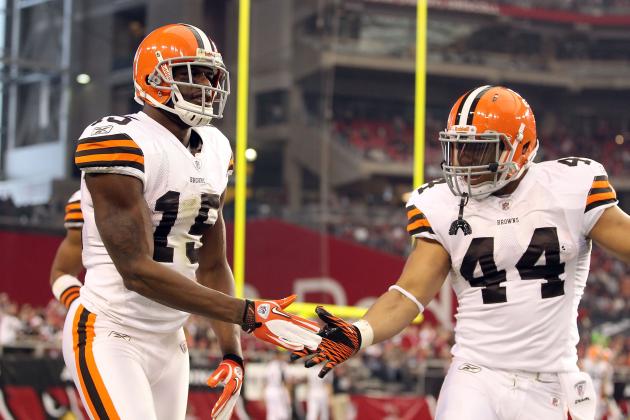 Christian Petersen/Getty Images

Pro Football Focus shows that an absurdly high drop rate tarnished what could have been a great rookie season for Greg Little.
He still caught 61 passes for 709 yards and two touchdowns, but with 14 dropped passes, he left a lot of yards and perhaps a touchdown or two on the field.
B/R AFC North Lead Blogger Andrea Hangst provides the perfect breakdown of one of Little's worst games last year, a game that Cleveland could have won if not for some untimely drops from the rookie.
Mary Kay Cabot, who is the Browns' beat writer for the Plain Dealer, reported via Twitter that Little has dropped 11 pounds this offseason, and he's been working on catching the football more consistently.
After an OTA session last month, head coach Pat Shurmur said the following via The News-Herald:
"I've seen him look a lot quicker, a lot more sudden [...]. To this point, he's caught the ball at a much more consistent rate. He just looks like a different guy to me—a guy who's been through it once."
Little will have help from a new quarterback this season, of course, as Brandon Weeden brings his strong arm to the Browns' offense.
If there was a problem on the Pittsburgh Steelers' defensive line last year, it was Ziggy Hood.
He was out of shape and didn't show much explosion off the ball.
B/R's Matt Miller says Hood has a lot of work to do to catch up with the rest of the Steelers' defense.
The video above is that work (a must-watch).
Hood said he dropped 18 pounds of fat and added 20 pounds of muscle, completely transforming his body and becoming a leaner, faster defensive end.
Via the Pittsburgh Tribune-Review:
"What better way to help my speed and help my agility but to lose body fat?" Hood said. "I play better when I feel good. When I don't feel good, I don't do as well as I want, and I didn't feel good all the time last year […]. All that big and looking sloppy, that's out the window. We are sexy now."
"Sexy" or not, Hood is markedly faster and more athletic-looking than a year ago, and with more playing time on defense coming his way, the 2009 first-round pick is ready to be elite.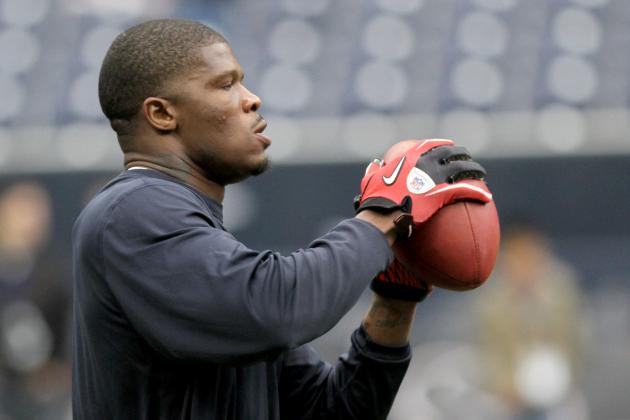 Thomas B. Shea/Getty Images

The 2011 season was disappointing for Andre Johnson.
After a strong start, he suffered a hamstring injury that sidelined him for the better part of the season.
When he came back, he lasted only a game and a half before succumbing to the injury once more.
Johnson returned and played in 18 snaps during the Texans' Week 17 game against the rival Tennessee Titans. He caught two passes but was not a factor.
He finally got it going in Houston's first-ever playoff appearance, catching 13 passes for 201 yards and one touchdown in the team's two games.
Including the playoff games, Johnson caught 46 passes for 693 yards and three touchdowns, a far cry from what the world is used to seeing from the All-Pro.
Now that he's healthy again, look for Johnson to really turn it on this season. Barring another unforeseen injury, he could have a year much like 2008, when he nabbed 115 passes for 1,575 yards and eight touchdowns.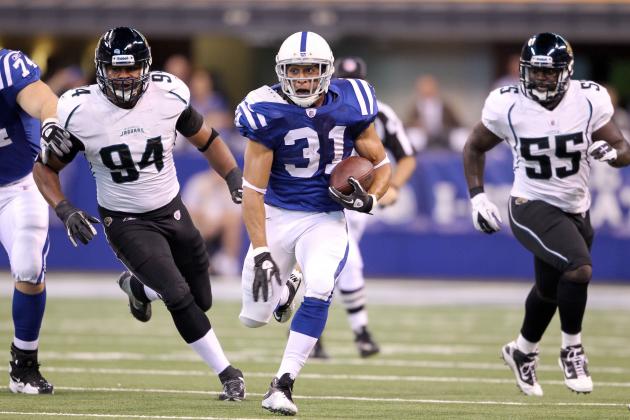 Andy Lyons/Getty Images

Everyone had a horrid 2011 season for the Indianapolis Colts.
At 2-14 and with the league's worst record, they very famously are moving on from arguably the best quarterback in NFL history to the kid who is supposed to be the best quarterback since his predecessor.
As a former 2009 first-round pick, Donald Brown has not been able to truly showcase his talent as a runner.
He did set career highs with 134 carries for 645 yards and five touchdowns on the ground, but he is capable of so much more.
With Andrew Luck taking snaps under center, that capability will turn into reality.
While at Stanford, Luck orchestrated an offense that produced three consecutive 1,000-yard rushers. Toby Gerhart rushed for 1,871 yards in 2009 and Stepfan Taylor did it in both 2010 and 2011, averaging 1,233.5 yards over that span.
Luck is, indeed, one of the best passers in college football history; however, he's an even better game manager. He lets the situation dictate what the offense will do, and that will be to Brown's advantage.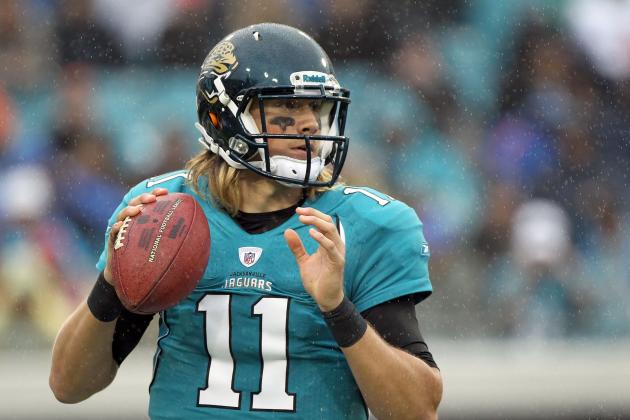 Sam Greenwood/Getty Images

Having no offseason to work with may not be the most solid of excuses for the abysmal rookie season turned in by Blaine Gabbert, but he needed the work more than some other rookie quarterbacks who were able to rely on athletic ability to succeed.
Gabbert also had the league's top rusher behind him in Maurice Jones-Drew, but that did little to help his case.
He completed just 50.8 percent of his passes for 2,207 yards, 12 touchdowns and 11 interceptions for a 65.4 QB rating.
Goldilocks will have two new targets at which to direct passes, however, and that should help. Jacksonville signed free-agent receiver Laurent Robinson to a five-year, $32.5 million contract and also drafted Justin Blackmon.
Blackmon's second DUI since 2010 could see him punished by ultra-dictator Roger Goodell, so his immediate impact could be halted, if suspended.
This offseason could be big for Gabbert's development. If he gains some pocket toughness, he will be able to feed his receivers better by using his big arm.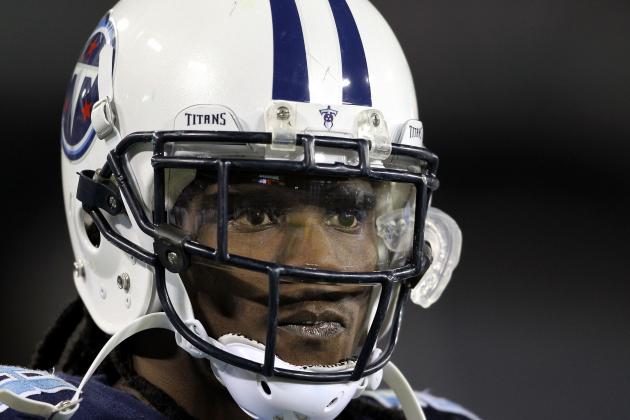 Andy Lyons/Getty Images

The holdout that dragged on throughout the entire preseason last year hurt more than just Chris Johnson.
The most selfish act in professional sports proved to be just that for Johnson and the Tennessee Titans, as they had an opportunity to make a run at the AFC South.
Ultimately, Johnson's lack of a team mentality cost the Titans what was a golden opportunity.
The holdout seemed to bog him down all throughout the year, and despite gaining 1,047 yards on the ground, he was almost a total non-factor for much of the season. He averaged a career-low 4.0 yards per carry and scored a career-low four rushing touchdowns.
He totaled 500 fewer yards and a full yard per carry less than his career averages. And all for what? More money.
The real Chris Johnson will be ready to go in 2012, and the Titans' offense will be of a different, more potent nature because of it.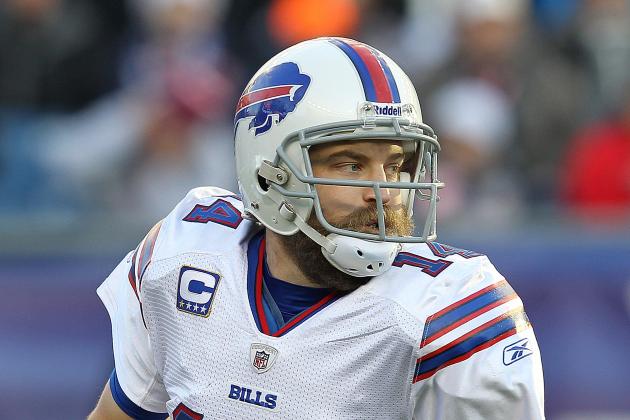 Jim Rogash/Getty Images

Turnovers plagued Ryan Fitzpatrick last season, as he led the NFL with 23 interceptions thrown.
His career-high 3,832 yards, 62.0 completion percentage and 24 touchdowns are all impressive, but those turnovers killed a lot of important drives throughout the year.
He has been really good in the same games in which he's been really bad. Consistency is the problem, and the Buffalo Bills believe they have the solution.
They hired David Lee, who last year served as the offensive coordinator/quarterbacks coach at Mississippi, as the Bills' new quarterbacks coach in hopes that he can get Fitzpatrick to do less bad and more good throughout the course of the season.
In an interview with the Associated Press, Fitzpatrick essentially said he is learning how to be a quarterback with Lee instructing him.
"Nobody's really ever taught me how to do it," Fitzpatrick said. "So now for a guy to come in and say, 'This is why you're missing that throw,' he's going to be a very big help for me this year."
Lee added that where Fitzpatrick is right now is not where he will be down the road.
"We might have a little bit more extensive work to do with him than some others, but all of them—everybody—they all need to have their fundamentals critiqued," Lee said. "A pro athlete, if they're smart and have a lot of talent, they'll improve really fast. And he's doing that right now. But he's not where he's going to be."
Take that how you want, but it seems as though Ryan Fitzpatrick is about to become a very dangerous quarterback.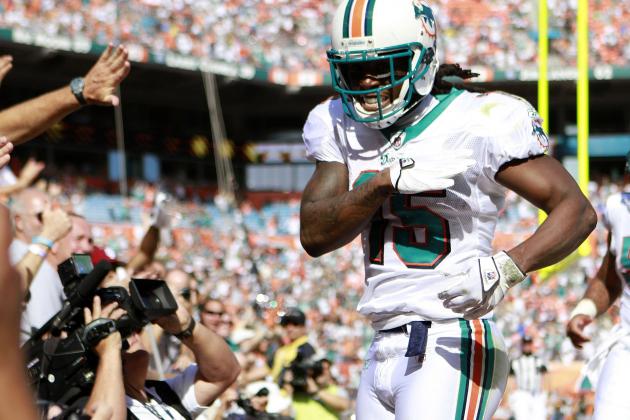 Marc Serota/Getty Images

Davone Bess has never been an extremely productive receiver.
Between 2009 and 2010, he caught 155 passes for 1,578 yards and seven touchdowns, a good two-year span for an undrafted free agent in his second and third seasons in the NFL.
But he struggled right along with Miami's 22nd-ranked offense in 2011.
Now that Brandon Marshall is out of town, Bess will be the primary target far more often than last season, when he was thrown to 79 times— the fewest since he was targeted 75 times during his rookie season of 2008 (via Pro Football Focus).
The Dolphins did bring in Chad Johnson and Legedu Naanee to provide competition for Bess, but one of them will be better as a slot receiver, ultimately obtaining less playing time.
Bess played from the slot more last season than in any season in his career, and Naanee has made his living from the slot.
It will be interesting to see how the receiver competition plays out in Miami, but Bess should play more on the outside this season, as he performs better there than in the slot.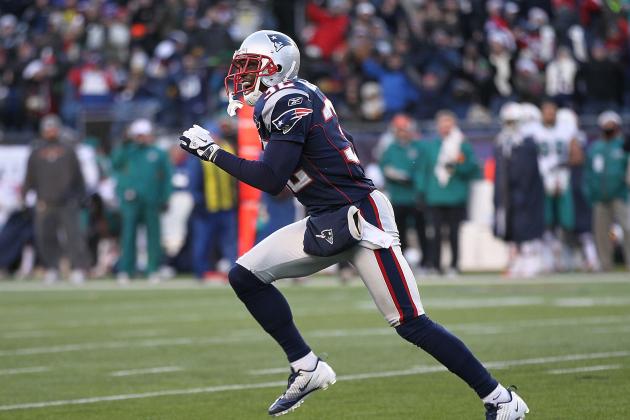 Jim Rogash/Getty Images

As good a 2010 rookie season as Devin McCourty had, that's how bad his second season was.
McCourty allowed 62 receptions for 1,004 yards and six touchdowns last year while intercepting only two.
Compare that to his rookie season in which he surrendered 48 receptions for just 586 yards and four touchdowns while picking off seven passes.
According to B/R's AFC East Lead Blogger Erik Frenz, his struggles have prompted debates about whether McCourty would be better suited at safety rather than at cornerback.
The awful season could be attributed to the lack of official offseason work, or it could be simply a "sophomore slump," but what it will not become is a recurring event.
McCourty is too talented to continue struggling as much as he did last year, and whether he plays corner, safety or both (he has the versatility to do so), his third season will be more like his first.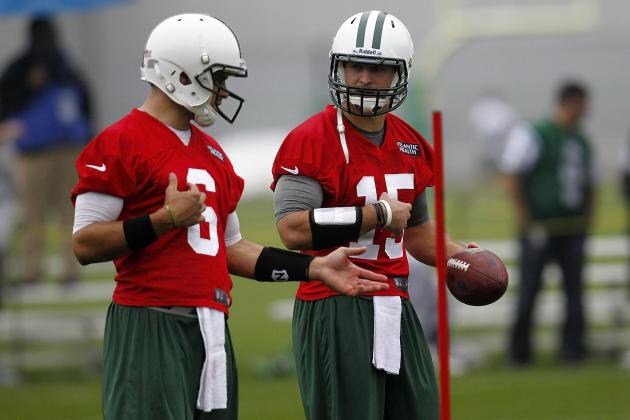 Jeff Zelevansky/Getty Images
Will Tim Tebow make Mark Sanchez a better quarterback?
While the New York Jets possessed a top-five rushing attack for the first two seasons of Mark Sanchez's career, not many people complained that he was a mediocre quarterback.
Last year, the Jets finished as the No. 22 rushing offense in the NFL, and now Sanchez is being looked at as he should have been all along: a top-five pick who has severely underperformed as a pro.
The rushing attack led them to three consecutive AFC championship games, all of which they lost, and two of which Sanchez "orchestrated," if you will.
With no rushing threat, the Jets missed the playoffs.
Then they traded for Tim Tebow, and Sanchez will be better for it. If anything, Tebow will teach Sanchez how to be a football player instead of the sniveling crybaby he is. He's complained about the threat of being benched more times than he's actually been threatened with being benched.
The addition of wide receiver Stephen Hill through the draft is also something to note. This kid is a super-athlete and will make going down the field with deep passes much easier.
Hypothetically, that will make for a better rushing attack as well. Hypothetically.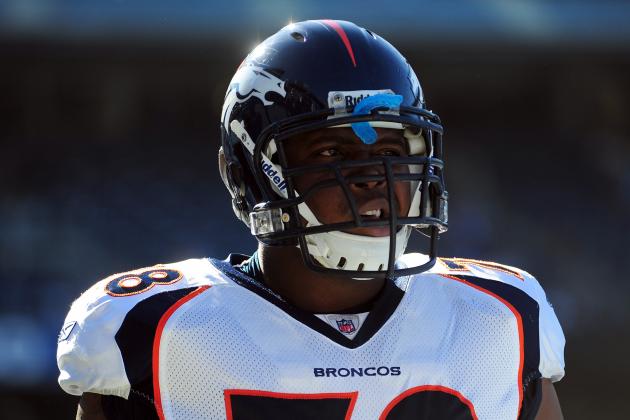 Harry How/Getty Images

Somehow, despite his worst season as a pro, Ryan Clady made the Pro Bowl roster following last season.
Granted, he was an injury replacement (taking Jake Long's spot), but he did not deserve even that.
Clady is a pass-blocking machine, but he struggled mightily to protect the NFL's No. 1 rushing attack a year ago. With the surgically repaired Peyton Manning roaming the offensive backfield this season, he will be back in his comfort zone.
The Denver Broncos and I are apparently on the same page, as they have reportedly begun contract extension talks with Clady, per Mike Klis of The Denver Post.
There is little doubt he will return to form by default with Manning's trademark quick release and superior feel for the pocket.
Jamie Squire/Getty Images

Matt Cassel's 2011 season ended prematurely when he was forced to undergo surgery on his throwing hand after injuring it in a Week 10 loss to the Denver Broncos (via Fox Sports).
He wasn't having a stellar year even up to that point, so he may have ended up on this list whether injured or not.
Cassel averaged only 190.3 passing yards per game last season, and that was without a significant running game—his horse, Jamaal Charles, went down midway through Week 1 with a torn ACL—and one of the best young receivers in the league, Dwayne Bowe.
Per NFL.com, he threw too many interceptions in the fourth quarter, with four of his nine coming in the final frame.
But with Charles returning to action and an extremely talented young receiving corps, Cassel will rebound and have a great 2012 season. The addition of Eric Winston, the game's best right tackle, doesn't hurt, either.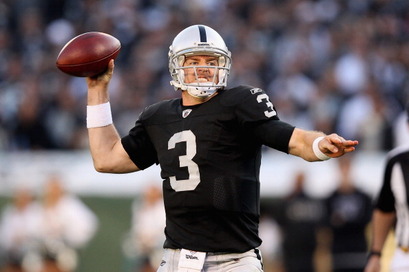 Ezra Shaw/Getty Images

Carson Palmer wanted to be traded, but he probably assumed it would be to a franchise in a better situation than the Cincinnati Bengals.
Boy was he wrong.
The Oakland Raiders have lost the most games in the NFL since losing Super Bowl XXXVII.
But the good news for Palmer and the Raiders is that they are an up-and-coming team in the AFC. They're another team in the AFC West with a young and talented receiving corps—and they're all fast.
Darrius Heyward-Bey, Denarius Moore and Louis Murphy all run a sub-4.45 40-yard dash, and rookie Juron Criner out of Arizona, though not a burner, is athletic and dangerous if he gets behind a defense.
As for Palmer's first season with Oakland, he looked lost at first and threw far too many balls that need not have been thrown.
He threw 16 interceptions in just 10 games. That average of 1.6 per game works out to nearly 26 over the span of an entire 16-game season. He would have led the NFL if he would have played the whole season in a Raiders uniform.
Better knowledge of Oakland's offense and a (fingers crossed, Raiders fans) healthy Darren McFadden will make for a much-improved Palmer.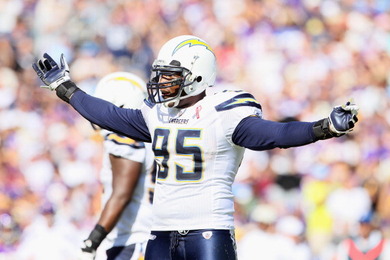 Jeff Gross/Getty Images

Shaun Phillips missed time last year due to a foot injury, but even when he was healthy he was not effective as a pass-rusher.
That will certainly change moving forward, as the San Diego Chargers have hired the ultra-aggressive Greg Manusky as the team's new defensive coordinator.
Phillips recorded a career-low 3.5 sacks last year, less even than the 4.0 sacks he notched as a rookie in 2004. For someone who averages a shade over eight per season, that is not acceptable.
In January, Manusky told Christopher Smith of Chargers.com he sees potential with the defense as it is, and says they will be aggressive, but won't change much.
"[The scheme is] hardcore. Relentless. Getting after people," Manusky said. "(The Chargers) have in the past. Shoot, they were No. 1 last year and hopefully we'll just pick up where we were last year.

"I'm going to bring some new ideas but also continue the foundation that they've already had and just build on it. I think with the players that we have, the sky's the limit."
That means unleashing both Phillips and rookie Melvin Ingram.
This defense will be a force to be reckoned with, and Phillips will be in the middle of it all.