Catching Up on the Latest NFL Rookie Buzz Now That All OTAs Are Underway
June 3, 2012

Joe Robbins/Getty Images
Due to the physical nature of the sport, the NFL has greater player turnover than any of the major sports in America. While it is sad to watch your favorite players fade quickly, there is an air of excitement every season as new rookies begin to make their impact.
The unpredictability of the NFL draft can be frustrating at times, but it also provides hope to fans of every NFL team. Nobody knows for sure who the next young superstars will be, and that makes tracking rookie progress in the NFL a must.
With OTAs underway and training camp less than two months away, here's a look at the latest rookie buzz in the NFL
TOP 10 PICKS
Starting at the top, news about Andrew Luck's contract negotiations had been slow to develop until Colts owner Jim Irsay took to his Twitter account to offer an update.
On Saturday, Irsay tweeted that the Colts and Luck are getting close to a deal. Luck has been absent from OTAs as he finishes academic work at Stanford, but he is expected to be in attendance for minicamp on June 12.
Robert Griffin III has drawn rave reviews from nearly everyone in the Redskins organization, and not just for his physical abilities.
According to Aditi Kinkhabwala of NFL.com, Griffin and Mike Shanahan have had a veritable love-fest with each other. Shanahan has said that Griffin has learned the playbook faster than any quarterback he's ever had and is among the first players at practice every day. In the same article, Griffin praised his relationship with Shanahan.
Jaguars top pick, wide receiver Justin Blackmon, was arrested early Sunday morning for aggravated DUI.
This was Blackmon's second DUI arrest in less than two years. However, because it was his first as an NFL player, he does not fall under the "repeat offender" category with the league. If Blackmon is convicted, he still does face a possible suspension from Roger Goodell.
Blackmon is scheduled to be arraigned Monday at 2:30 p.m.
PICKS 11-20
There are some interesting rookies to keep an eye on who were selected in the middle of the NFL draft, and at the top of that list is Dontari Poe.  
Poe might have a high upside, but he also has huge bust potential. So far in Chiefs camp, things are looking good for Poe. He has been working with the starting unit, and according to Dave Skretta of the Associated Press, has had no problem getting to the quarterback in practice.
Poe has always looked good in practice and in the weight room, so the true test will come during games. 
Things haven't been ideal for Michael Floyd in Arizona over the past week, but it's probably too early to let any kind of panic set in. Floyd remains unsigned, but had been participating in OTAs until a quadriceps strain kept him out of workouts last week. Neither his injury nor his contract status should be much to worry about at this point, though.
The Seahawks' Bruce Irvin is another rookie whose progress is worth watching.
There was never a question about his talent, but many figured his off-the-field issues would prevent him from being a first-round pick. The Seahawks took a chance on Irvin at No. 15 overall, and so far it has paid off. 
Irvin signed early and has been one of the most impressive players during team workouts. He has been working with the first team and has frequently shown the dynamic speed that caused the Seahwaks to fall in love with him.
PICKS 21-32
Although nothing is expected to be made official anytime soon, Brandon Weeden was taking snaps as the Browns' first-string quarterback last week. The press hasn't been privy to to the daily happenings of the quarterback situation between Weeden and Colt McCoy, but on the first day the media were allowed to view practice, it was Weeden starting behind center.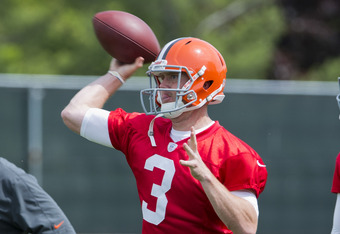 Jason Miller/Getty Images
On Friday, the Vikings announced they had signed Harrison Smith, the No. 29 pick in the NFL draft. The Vikes have now signed eight of their 10 picks from the draft; Matt Kalil, the No. 4 pick, is one of the two unsigned.
ROUND 2
After the first day of the NFL draft, one of the biggest names left on the board was Courtney Upshaw.
The Ravens sat with the third pick in the second round and were in the market for a linebacker. The marriage couldn't have been more perfect.
Upshaw has made an impression as a nasty player on the field and a respectful rookie off of it so far. While he can't be expected to play at the level of Terrell Suggs, it looks like Upshaw is going to do his part in compensating for the loss.
Jets wide receiver Stephen Hill has been very impressive in workouts so far. While he was able to haul in a 50-yard bomb for a touchdown from Tim Tebow and beat Darrelle Revis for a slant in a two-minute drill, Rex Ryan was more impressed with his physicality at the line.
Ryan had expected Hill to struggle in press coverage, but that hasn't been the case yet at all. 
ROUNDS 3-4
Seahawks quarterback Russell Wilson has played well enough to thrust himself into a three-way quarterback controversy in Seattle. Pete Carroll acknowledged that Wilson will fight it out with Matt Flynn and Tarvaris Jackson for what will likely be a six-week-long battle at a minimum.  
Carroll has said not to expect the situation to be resolved anytime soon. 
If A.J Green is right, the Bengals might just have the best young receiving corps in the NFL. Green recently lauded third-round pick Mohamed Sanu as a fluid receiver who will be a special player in the NFL. Sanu wasn't the fastest receiver on the stopwatch, but he has shown he is fundamentally sound and has great hands in workouts thus far.
The Dolphins announced the signing of fourth-round pick Lamar Miller on Saturday. The running back expects to immediately play a large role in the Dolphins offense.
Wide Receiver Nick Toon is looking like a phenomenal pick in the fourth round by the Saints. Toon appears ready to become a starter very quickly and is being compared to teammate Marques Colston.  
Toon doesn't have the speed to replace Robert Meachem, but he has a knack for getting open and has shown that he is more polished than many rookie receivers.
LATE-ROUND PICKS 
The Falcons signed fifth-round pick Jonathan Massaquoi, a defensive end from Troy. Massaquoi had been participating in team workouts and has shown the burst needed to get to the quarterback. He is on track to make an impact as a situational pass-rusher this season.
Jets seventh-round pick Jordan White, a prolific receiver from Western Michigan, broke his foot during the team's first organized workout. The All-American underwent surgery and is expected to be back for the start of training camp.