Liverpool: Remembering the 2011-12 EPL Season (Game 13/38)
May 29, 2012

Alex Livesey/Getty Images
Liverpool played at Anfield against Manchester City in front of 45,071 fans.
The 13th game of the season started against the unbeaten Manchester Blue in a lock, until City defender Vincent Kompany netted a goal in the 31st minute. However, things took a bizarre turn as former Everton defender Joleon Lescott put the ball into his own net, giving the Reds something to cheer about. 
The game started with a minute of silence for Gary Speed's untimely and tragic death and for Brad Jones' son who died fighting a battle with leukemia at a very young age of five.
Manchester City started off dominating the midfield and eventually took the lead through Kompany's header. Two minutes later, the Blues were kicking themselves after Charlie Adam's 30-yard shot was luckily deflected off of Lescott and into the back of the net. City goalkeeper Joe Hart could only watch.
The own goal triggered something in the Reds as they began to show more dominance on the pitch and looked more likely to make something happen.
Luck, however, was not to be on their side twice, as their finishing needed more of it. 
Mario Balotelli was brought on in place of Samir Nasri, but the substitution may have been a poor one by Roberto Mancini, as the Italian striker found himself the recipient of his second yellow card after elbowing Martin Skrtel in the 83rd minute.
The match finished 1-1, both teams knowing they could have won the game.

November 27: Manchester City (H)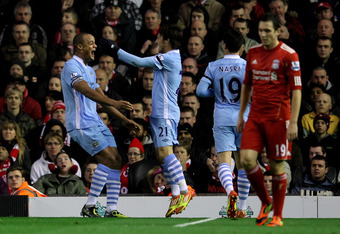 Alex Livesey/Getty Images
Liverpool Lineup:
Goalkeeper: Reina
Defense: Johnson, Skrtel, Agger, Enrique
Midfield: Lucas, Kuyt (off 84'), Henderson, Adam, Downing
Attack: Suarez
Substitutes: Coates, Carroll (on 84', yellow 90'), Doni, Spearing, Kelly, Rodriguez, Carragher
Manchester City Lineup:
Goalkeeper: Hart
Defense: Richards, Kompany (yellow 13', goal 31'), Lescott (own goal 33'), Clichy
Midfield: Milner (yellow 86'), Y. Touré, Barry (yellow 32'), Silva (off 90'), Nasri (off 65')
Attack: Agüero (off 82')
Substitutes: de Jong, Pantillimon, Johnson, K. Touré (on 90'), Dzeko (on 82'), Zabaleta, Balotelli (on 65', yellow 77', second yellow 83')
You can read the full match report here.
Match Stats: (Home | Away)
Total shots: 17 | 7
Shots on target: 6 | 3
Shot accuracy: 40% | 42.9%
Possession: 51.3%| 48.7%
Offsides: 2 | 2
Corners: 8 | 5
Total passes: 502 | 489
Passing accuracy: 81.1% | 85.1%
Total crosses: 35 | 13
Successful crosses: 22.9% | 23.1%
Tackles: 24 | 20
Tackles won: 83.3% | 70%
Fouls conceded: 11 | 15
Yellow cards: 1 | 3
Red cards: 0 | 1
Liverpool Stats for the Season:
Goals: 17
Conceded: 12
Shots: 220
Shots on target: 67
Offsides: 47
Corners: 105
Passes: 6040
Crosses: 353
Tackles: 268
Fouls conceded: 133
Yellow cards: 19
Red cards: 2
Liverpool Form: W, D, L (H) / w, d, l (A)
D-D-w-D-w-D
Stay tuned for tomorrow's game recap: Liverpool: Remembering the 2011-12 EPL Season (Game 14/38)
Liverpool: Remembering the 2011-12 EPL Season (Game 1/38)
Liverpool: Remembering the 2011-12 EPL Season (Game 2/38)
Liverpool: Remembering the 2011-12 EPL Season (Game 3/38)
Liverpool: Remembering the 2011-12 EPL Season (Game 4/38)
Liverpool: Remembering the 2011-12 EPL Season (Game 5/38)
Liverpool: Remembering the 2011-12 EPL Season (Game 6/38)
Liverpool: Remembering the 2011-12 EPL Season (Game 7/38)
Liverpool: Remembering the 2011-12 EPL Season (Game 8/38)
Liverpool: Remembering the 2011-12 EPL Season (Game 9/38)
Liverpool: Remembering the 2011-12 EPL Season (Game 10/38)
Liverpool: Remembering the 2011-12 EPL Season (Game 11/38)
Liverpool: Remembering the 2011-12 EPL Season (Game 12/38)