NFL Picks Week 15: Predictions for Every Game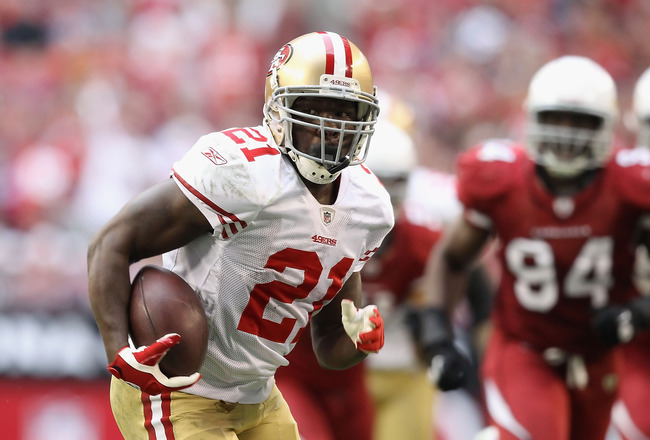 Christian Petersen/Getty Images
Every Monday night in this great space, I pick the winners and losers of every NFL game for the next week, giving you the keys to the game for each team and predicting a winner. It's game time, again.
Week 15 brings plenty of intrigue—New England Patriots against the Denver Broncos, Pittsburgh Steelers at the San Francisco 49ers—but it also weighs heavily for teams hoping to either lock up a playoff appearance or continue building their resumes.
Week 15 starts Thursday, and with our first Saturday game of the year, we have a full weekend of football. Who's ready?
Jacksonville Jaguars at Atlanta Falcons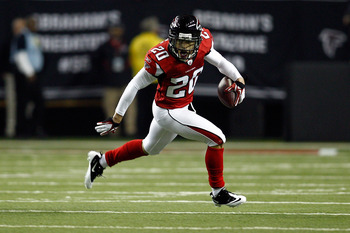 Chris Graythen/Getty Images
When Jacksonville Has the Ball
Maurice Jones-Drew continues to set the tone for the Jacksonville offense. His play this season has been nothing short of amazing. Jones-Drew will have his chances this week, but after watching Sean Weatherspoon run down Cam Newton time and time again last week, the Jaguars need to find a way to run away from No. 56.
The Atlanta defense has played better as the season wore on, but it is still soft on the inside at tackle. The Jaguars will want to move the ball up the middle, and with Jones-Drew, they'll be able to work the football down the field.
If Eugene Monroe can handle John Abraham, rookie Blaine Gabbert will find his C-list wide receivers blanketed by Brent Grimes and Dunta Robinson.
When Atlanta Has the Ball
The Atlanta Falcons have a well-rounded offense built on solid passing from Matt Ryan to Roddy White, Julio Jones and Tony Gonzalez. Facing a Jacksonville secondary with four players on IR, Ryan will have plenty of room to connect with his favorite targets.
The Jacksonville front seven is talented enough to cause fits for the Falcons, especially on the interior, so expect to see Ryan hurried. He'll also need to carry more of the load this week, as I expect the front seven to do a fine job slowing down Michael Turner and the running game.
Jacksonville needs the performance of a lifetime from their banged-up secondary if they hope to contain the Atlanta offense.
Prediction: Atlanta 31, Jacksonville 17
Dallas Cowboys at Tampa Bay Buccaneers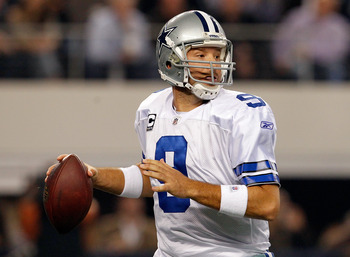 Tom Pennington/Getty Images
When Dallas Has the Ball
The Dallas offense hasn't struggled to score points this season. Tony Romo has played well against much better defenses than Dallas will see this weekend.
Losing DeMarco Murray to injury hurts, but Felix Jones has the talent to move the ball as a featured back. He's faster than Murray in the open field and may be a bigger home run threat for the Cowboys on swing passes, too. The Cowboys will play it conservative, choosing to pound the football against a Tampa Bay defense that is young and will make mistakes against a better offensive line.
Tampa needs to force Dallas to play from behind, where they can try to capitalize on mistakes by Romo.
When Tampa Has the Ball
Josh Freeman has officially fallen from grace this season. A one-time Pro Bowl-caliber quarterback, few at the position are playing worse than Freeman this season. If you thought he was bad against the Jacksonville Jaguars, wait until he's worried about DeMarcus Ware and Jay Ratfliff.
Tampa faces a very good Dallas defense, and will struggle to find favorable matchups this week. LeGarrette Blount should be a factor this week, but his production has been inconsistent from week to week and cannot be counted on in this game.
Keep an eye on left tackle Donald Penn against pass-rusher Ware. This will be the most entertaining aspect of the game.
Prediction: Dallas 40, Tampa 17
Cincinnati Bengals at St. Louis Rams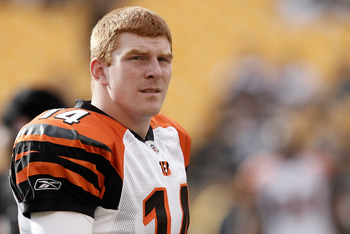 Jared Wickerham/Getty Images
When Cincinnati Has the Ball
Andy Dalton to A.J. Green has been a successful combination for the Cincinnati Bengals all year. It will be the key to a win this week against a St. Louis Ram secondary missing three cornerbacks to injury.
The Ram defense is beat up, but even at full strength they would struggle to match up against Green, Jermaine Gresham and the speedy skill players for the Bengals. Cincinnati has the size and speed to dominate the secondary this week.
The Bengals must key on Chris Long and Robert Quinn coming off the edges. If they can get quality play from Andrew Whitworth and Andre Smith, this should be an easy win.
When St. Louis Has the Ball
The Rams will hope for a healthier Sam Bradford next week after he's played gingerly on the ankle in Week 14. Bradford has not been great this season as the talent around him falls apart, but he still gives St. Louis their best chance to win.
Steven Jackson has another 1,000-yard rushing season, but it hasn't produced wins in St. Louis. Against a Bengal front four that has played lights out all season, Jackson will find himself contained for much of the game.
Prediction: Cincinnati 35, St. Louis 10
Carolina Panthers at Houston Texans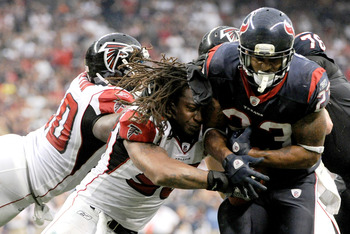 Thomas B. Shea/Getty Images
When Carolina Has the Ball
Cam Newton has found the rookie wall after running into it face first. A hot start by Newton this season has made his play the last few weeks seem worse than it is, but it's worth noting that Newton is struggling.
The Panthers offense will have matchup problems against a Houston Texan defense that has the speed and discipline to shut down the deep passing and rushing of Newton. As the Carolina offense tries to play catch-up, watch as Connor Barwin and Brooks Reed are unleashed on the Panther offense.
The Texans have every matchup in their favor this week. Johnathan Joseph will shutdown Steve Smith, and the front seven is more than capable of spying Newton and controlling the run game.
When Houston Has the Ball
T.J. Yates hasn't played like a rookie in his time on the field this season. Yates is 2-0 and has the Houston offense rolling, with running backs Arian Foster and Ben Tate providing the production needed to keep the offense afloat without Matt Schaub and Andre Johnson.
Foster and Tate will find running lanes all day against the Panther defense missing four starters in their front seven. Expect big days from both of Houston's backs.
Duane Brown hasn't allowed a sack all season at left tackle. He'll be responsible for shutting down Charles Johnson this week.
Prediction: Houston 28, Carolina 13
Green Bay Packers at Kansas City Chiefs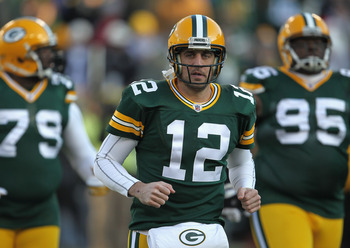 Jonathan Daniel/Getty Images
When Green Bay Has the Ball
Greg Jennings will be out with a torn MCL, but don't expect the Green Bay Packer offense to slow down this week. Or next week.
The Packers will do major damage against the Kansas City Chiefs, who will be playing under interim head coach Romeo Crennel for the first time. Crennel, who normally serves as defensive coordinator, will be in over his head trying to stop the epic passing game the Packers field each week.
If Kansas City is to have even small successes this week, it will come courtesy of the pass rush. Keep an eye on left tackle Marshall Newhouse against Tamba Hali.
When Kansas City Has the Ball
There's not much hope for the Chiefs this week. Tyler Palko looks like one of the worst quarterbacks to ever play in the NFL, and without a solid running game to rely on, the team is forced to throw the ball up and hope for the best.
Even the best in Kansas City has been bad lately. This game won't be pretty, and it's a good thing Todd Haley was already fired, as there is no way he would have survived this epic beatdown.
Prediction: Green Bay 41, Kansas City 7
Detroit Lions at Oakland Raiders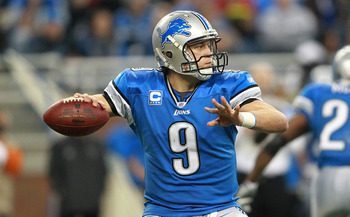 Leon Halip/Getty Images
When Detroit Has the Ball
The Detroit Lions offense has found new life with Kevin Smith at running back. As Smith produces, defenses are forced to respect the run, which opens up the deep game for Matthew Stafford and Calvin Johnson.
Detroit has to play composed football, on both sides of the ball, against one of the most penalized teams in the NFL over the last decade. The Raiders may play dirty on defense, but the Lion players must remain composed and play within themselves.
Protecting Stafford could be tough this week against an Oakland pass rush that has had success this season. If Jeff Backus struggles against Kamerion Wimbley, Stafford could have a long day.
When Oakland Has the Ball
The Lions will welcome back defensive tackle Ndamukong Suh this week after he spent the last two weeks on suspension. Suh will be fired up and ready to roll over an interior offensive line in Oakland that has been prone to allowing big plays.
Oakland must play mistake-free football, which means few penalties and no interceptions from Carson Palmer. That may be asking too much of the turnover-heavy Palmer, but for the Raiders to win and stay alive in the AFC West, he has to play better.
Prediction: Detroit 27, Oakland 24
New York Jets at Philadelphia Eagles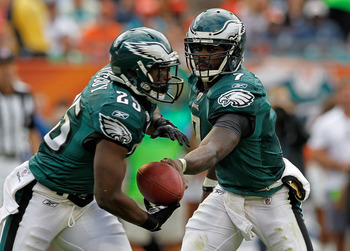 Mike Ehrmann/Getty Images
When New York Has the Ball
Mark Sanchez and Shonn Greene are playing the best football we have seen from them this season, and it comes at the right time. The Jets desperately need better play from Greene and more consistency from Sanchez as they attempt to run the table and gain entrance to the postseason.
The strength of the Philadelphia defense is their pass rush and their cornerbacks. Finding a way to slow down Trent Cole, Jason Babin and Cullen Jenkins will be enough to give Brian Schottenheimer nightmares this week. If that's not enough, the Jets have to find a way to keep the erratic Mark Sanchez from folding under the pressure of the pass rush and throwing the ball up against the Eagles' talented cornerbacks.
Philadelphia must keep the pressure turned up on Sanchez and let their collective team speed dominate the physical Jets.
When Philadelphia Has the Ball
The game plan for the Eagles' offense is the same as their defense-speed kills. The play of Michael Vick, LeSean McCoy and DeSean Jackson can be enough to put the Eagles well ahead of the Jets, but they need their big three to play the way they did in Week 14 and not the way they did in Weeks 1-13.
Vick can be dangerous, we know this, but he'll have opportunities this week against a New York defense that lacks the speed to control a fast quarterback. Especially with safety Jim Leonhard out this week, Vick will have room to run.
What Vick should do is avoid cornerback Darrelle Revis, who should be matched up against Jeremy Maclin this week. That means attacking Antonio Cromartie.
Prediction: Philadelphia 31, New York 28
Cleveland Browns at Arizona Cardinals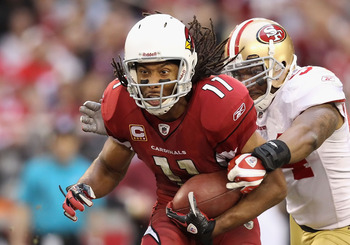 Christian Petersen/Getty Images
When Cleveland Has the Ball
The Browns haven't given any indication as of Monday night if quarterback Colt McCoy will be back from a concussion suffered last Thursday, but early predictions say no. That means Seneca Wallace will get the call against the Cardinals.
Wallace brings a different skill set to the table, and his ability as a runner can be a difference-maker in the offense. The Cardinals have the speed on defense to keep up with speedy quarterbacks, especially if they can contain Peyton Hillis early and take away the threat of play-action passing.
Arizona's defense is coming together nicely, but rookie Patrick Peterson is still someone the Cleveland offense will target. If Wallace is to have time to work, the Browns will have to find answers for Darnell Dockett and Sam Acho.
When Arizona Has the Ball
Whether the Cardinals roll out John Skelton or Kevin Kolb this week, they'll find a favorable matchup against the Browns' defense.
The Browns can feel good about Joe Haden matching up with wide receiver Larry Fitzgerald, but finding the players to stop Beanie Wells and Early Doucet? Cleveland should be able to rush the passer against one of the worst offensive lines in the NFL, but they will struggle to keep up with the Arizona offense, even if they limit their output.

Prediction: Arizona 17, Cleveland 10
New England Patriots at Denver Broncos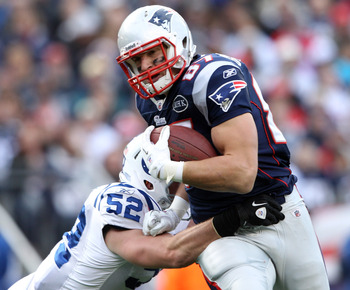 Elsa/Getty Images
When New England Has the Ball
Stopping the New England Patriots offense is no small feat. In fact, no one has been able to do it all year. Denver will be no different.
The strength of the Denver defense is pass-rusher Von Miller and their opportunistic play. Tom Brady won't make the mistakes to hand the Broncos defense the ball, and the combination of the impressive Patriot offensive linemen and tight ends will constantly chip Miller to keep him away from Brady.
Stopping the Patriots will be a major issue for Denver this week, as the defense has been the real heroes these past seven weeks.
When Denver Has the Ball
Tim Tebow continues to improve each week, but how will he fare against a defense built to allow yards but not points?
The Chicago Bears did a good job of shutting down Tebow in the first three quarters, but they inexplicably went to a soft coverage in the final drives of the game and allowed Tebow and the Broncos receivers to pick up too many easy yards. Bill Belichick won't make the same mistake, and should keep the pressure on Tebow and the wideouts the entire game.
I'm looking forward to seeing what Belichick cooks up for the Tebow-led offense. This is one of the more intriguing storylines of the week.
Prediction: New England 34, Denver 13
Seattle Seahawks at Chicago Bears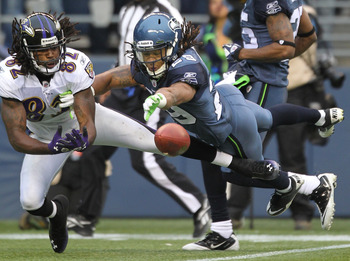 Otto Greule Jr/Getty Images
When Seattle Has the Ball
The Seattle offense struggled on Monday night, but you have to be impressed with the play of Marshawn Lynch at running back for the Seahawks. Lynch is a violent runner and will find rushing lanes against the Chicago Bears defense.
Tarvaris Jackson is a better passer than Tim Tebow, which should scare the Chicago secondary after watching their coverage fall apart last week. The Seahawks have team speed to attack a slower Chicago secondary, especially after being pounded on by Lynch on early downs.
Chicago is known for their play up front, and the Bears will provide a solid test for the Seattle offensive line. If Seattle can avoid being put in situations where they have to throw to win, the Seahawks will have a chance this week.
When Chicago Has the Ball
Marion Barber III had a meltdown on national television last week, running out of bounds to stop the clock when the team needed him to stay in-bounds and then fumbling in overtime. Barber will be the key to the offense again this week, if only by default as the Bears have no one else to rely on.
Chicago's offense has been terrible without Jay Cutler and Matt Forte. Unless Cutler will miraculously play this week, the Bears offense cannot be counted on for much production.
Seattle's defense and special teams are nasty. They won't make mistakes to give Chicago easy points.
Prediction: Seattle 17, Chicago 13
Tennessee Titans at Indianapolis Colts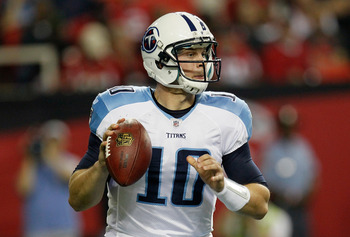 Kevin C. Cox/Getty Images
When Tennessee Has the Ball
As of Monday, it sounds like quarterback Matt Hasselbeck will be out this weekend, giving rookie Jake Locker his first NFL start. Locker looked great in relief of Hasselbeck, giving the offense a spark with his running ability and strong arm.
Seeing the Indianapolis Colts in his first career start is almost like an exhibition game for Locker. The Indianapolis defense has been horrible this season, and will give the rookie a nice, easy game to acclimate himself to the speed of the NFL.
The Colts will plan to attack the rookie, but the Titans offensive tackles are among the best pairings in the NFL. The Indianapolis pass rush won't find rush lanes this week.
When Indianapolis Has the Ball
The offense in Indianapolis gets worse and worse. Even with Dallas Clark back in action, it's sad to watch the Colts offense this season.
Tennessee's defense plays well despite having few "name" players, but that won't matter facing the Curtis Painters and Dan Orlovskys the Colts can roll out at quarterback. If you can pick up the Tennessee defense for your fantasy football playoffs this week, do it.
Prediction: Tennessee 30, Indianapolis 0
Washington Redskins at New York Giants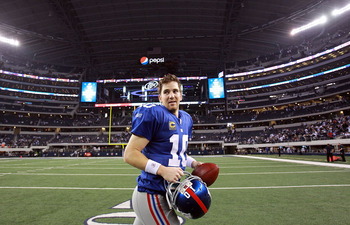 Ronald Martinez/Getty Images
When Washington Has the Ball
The Washington offense is missing many key players this week, but no more important than left tackle Trent Williams. Williams is serving a four-game suspension for failing the NFL's drug testing policy, a huge loss for the Redskins as Williams was playing Pro Bowl football at left tackle this season.
Without Williams to stop the New York Giants pass rush, Rex Grossman will be running for his life as Jason Pierre-Paul and Justin Tuck assault the Washington offensive line. Looking at the collective rosters, there is no way the Redskins do more than momentarily slow down the New York pass rush.
When New York Has the Ball
Ahmad Bradshaw and Brandon Jacobs did a great job as the one-two punch the Giants want as their rushing attack last week, but Eli Manning was the real story of the game. Manning is playing the best football of his life, and becoming an elite quarterback in the process.
Stopping Brian Orakpo and Ryan Kerrigan will be nothing easy for the Giants offensive line this week. We saw what DeMarcus Ware was able to do last week against this line, but with a powerful running game going the Giants are able to neutralize the pass rush.
Bradshaw and Jacobs are the keys to the game this week.
Prediction: New York 27, Washington 14
Miami Dolphins at Buffalo Bills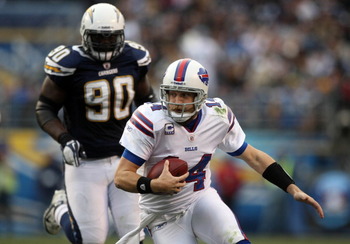 Donald Miralle/Getty Images
When Miami Has the Ball
Quarterback Matt Moore's status is unknown after he showed "concussion-like symptoms" in Week 14. Moore may or may not be able to go this week, and his health has a major impact on the game.
Moore has played very well after being pressed into duty once Chad Henne was lost for the season. Moore's mobility and arm strength are a welcome addition to the Miami offense, and he has been able to get production from the talented but underperforming Miami receivers. If Moore can't go, the Dolphins offense will struggle to get going against an underrated Buffalo defense.
The Bills have to find a way to rush the passer this week, which is something they haven't done well all season. Marcell Dareus matched up against Mike Pouncey will be my favorite battle of the game if Pouncey is able to go this week after suffering an injury of his own last week.
When Buffalo Has the Ball
The Buffalo offense has fallen into a funk lately. This could be the week the come out of it if they can find running room against a Dolphins front seven that is playing much improved over the last five weeks.
Buffalo has no answer for pass-rusher Cameron Wake off the edge. Wake will run free against the struggling Buffalo tackles. Another problem for Chan Gailey's team will be attacking Miami's cornerbacks, Sean Smith and Vontae Davis. Stevie Johnson will be a good option against one corner, but whomever the second corner covers will be eliminated from the game.
I expect this one to be close, and depending on whether Moore and Pouncey play, Buffalo has a shot at getting a win this week.
Prediction: Miami 24, Buffalo 21
New Orleans Saints at Minnesota Vikings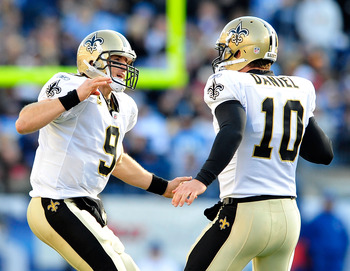 Grant Halverson/Getty Images
When New Orleans Has the Ball
Drew Brees to Jimmy Graham has been an unstoppable connection this season. The Minnesota Vikings defense has the speed at linebacker to throw Graham off his game, but can Chad Greenway do what no one has done all year and take away Graham in the passing game?
The Saints traditionally do whatever they want on offense, but expect them to work way from Greenway in the run game and watch as they slide their protection to help left tackle Jermon Bushrod against All-World defensive end Jared Allen.
The Minnesota secondary will be in way over their heads, something many NFL secondaries can attest to after facing the New Orleans Saints.
When Minnesota Has the Ball
The Vikings hope to have Adrian Peterson and Christian Ponder healthy this week. Ponder has been a bright spot on a bad season and has been an encouraging presence during his rookie season.
Ponder will be on the move often in this game, both by design and as he tries to stay away from the Saints pass rush. Minnesota would love to establish a power run game with Peterson and Toby Gerhart, but the rotation along the defensive line in New Orleans will be tasked with stopping the run all day.
Prediction: New Orleans 42, Minnesota 17
Baltimore Ravens at San Diego Chargers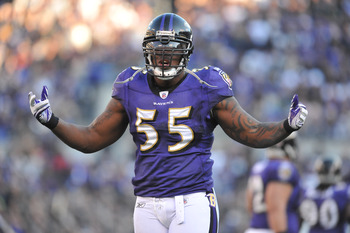 Larry French/Getty Images
When Baltimore Has the Ball
Ray Rice has taken the Baltimore Ravens and put the team on his back this season. Were it not for Aaron Rodgers play in Green Bay, Rice would be worthy of MVP talk this season.
The San Diego run defense is among the 10 worst in the NFL, which gives Baltimore an easy game plan heading into this Week 15 showdown. That plan will be to run Rice and Ricky Williams behind a powerful offensive line against one of the weaker front sevens in the game.
The Chargers will move safety Eric Weddle up this week to shadow Rice, hoping to take away his cut backs and eliminate him as a receiver, but this will allow Torrey Smith to get behind the coverage and make plays in the passing game.
When San Diego Has the Ball
Don't let the San Diego Chargers Week 14 win over the Buffalo Bills fool you—this is not a very good offense at its roots.
Philip Rivers has had an awful year. He is playing better with a healthy Antonio Gates, Vincent Jackson and Malcom Floyd all together in the lineup, but there are still far too many turnovers from Rivers. Playing mistake-free football will be San Diego's only shot at a win this week.
Terrell Suggs is having his best season, which is saying a lot about one of the league's best all-around defenders. The Ravens do a great job moving Suggs around to find the best matchups. This week he'll likely line up across from Jeromy Clary, a player known for his incompetence. Suggs, Haloti Ngata and Lardarius Webb all figure to have major roles and great production this week.
Prediction: Baltimore 31, San Diego 27
Game of the Week: Pittsburgh Steelers at San Francisco 49ers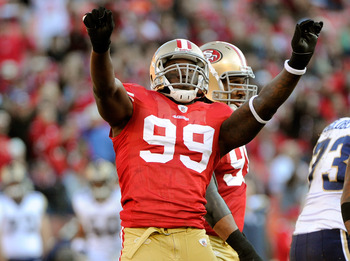 Thearon W. Henderson/Getty Images
When Pittsburgh Has the Ball
Ben Roethlisberger is limping on a high ankle sprain. His status for Monday night is unknown as of writing and will dramatically alter the prediction below. As Roethlisberger's status changes, check back for updates.
Without Big Ben in the game, Pittsburgh will likely trust Charlie Batch over Dennis Dixon against the NFL's best defense. The 49ers don't allow many points, and are experts at shutting down the run. If Ben can't go, the 49ers will key heavily on Rashard Mendenhall and let Carlos Rogers handle Mike Wallace in zero coverage.
Pittsburgh's offensive line has allowed 35 sacks this season and will be in trouble against the aggressive and speedy pass rush of the 49ers. Keep an eye on ends Justin Smith and Ray McDonald, as well as situational pass-rusher Aldon Smith in this one.
When San Francisco Has the Ball
Alex Smith and the offensive line have wilted under pressure in two of the 49ers' three loses. There's good news for the 49ers, as James Harrison will miss the game due to suspension and is expected to miss another game due to injury. This severely limits the Pittsburgh pass rush.
The 49ers will, as always, look to Frank Gore to power the offense. Gore will find holes against the Steelers if their linebacker corps are as depleted as the injury report shows early this week. Gore will need a steady dose of runs to wear down the Pittsburgh linebackers and allow Alex Smith to dink-and-dunk behind the coverage.
If Pittsburgh can rush Smith, the Steelers win the game. If LaMarr Woodley and Harrison are out, don't be surprised to see a heavy number of corner and safety blitzes.
Prediction: San Francisco 21, Pittsburgh 20
Keep Reading