NFL: 25 Most Pressing Questions Heading into Week 6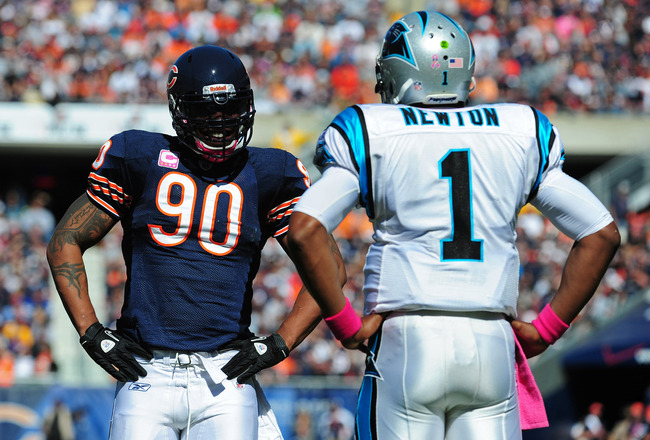 Scott Cunningham/Getty Images
Week 5 of the NFL season did not disappoint, featuring some mind-boggling results.
Last Sunday's games showcased a gigantic upset by a team traveling from West Coast to East Coast in MetLife Stadium and a blowout win in San Francisco by a team that has historically struggled to score points.
And two teams displayed huge role reversals in situations that were unfamiliar territory to them.
The Minnesota Vikings built a lead in the first half. But this time, they actually kept it and won their first game of the season by trouncing the awful-on-the-road Arizona Cardinals. RB Adrian Peterson made his fantasy football owners happy with three touchdowns in the first quarter, Torrey Smith style.
The Atlanta Falcons and QB Matt Ryan actually got off to a good start for once, jumping out to a 14-0 lead. But 25 unanswered points followed, as they were awful in the second half and have, historically, been a great second-half team at the Georgia Dome during the Mike Smith/Matt Ryan era.
So, how we do make sense of the craziness?
By looking forward to the next week, of course!
You've got questions? We've got answers, as well as videos for proof. Join us we kick into gear and hit on the key storylines heading into Week 6.
Who Is the Best Quarterback in the NFC East?
Whitney Curtis/Getty Images
Rex Grossman has a QB rating of 78.7, and his team is currently in first place in the NFC East.
Grossman is solid completing passes to receivers running short and intermediate routes—but he is inconsistent, lacks mobility and has the tendency to throw into coverage.
NFL history shows he will regress, as he has been a turnover machine. So how does he stack up against the other NFC East quarterbacks?
Romo seems to have an on/off switch in the fourth quarter, and the Cowboys will either live or die as a direct result of his play. Thus far, they're 2-3, so they've done more of the latter. Dallas will go as far as Romo takes them.
As a general rule, quarterbacks who have played under center in close to 100 games in the NFL should be able to read defenses and avoid throwing into tight coverage. But Romo still hasn't learned this yet.
He's in a contract year, and this could be his last hurrah in JerryWorld.
I have this feeling that Manning has had his magical run and it's downhill from here for him during the rest of his career . He flat out doesn't win games anymore and fails to take responsibility for his miscues. The Giants should probably start looking elsewhere.
He doesn't respond to blitzes well. He'll throw for 300-plus yards often, but he struggles with turnovers. He's not a clutch player that makes me feel comfortable with the football late in games, even though he did lead a comeback against an awful Arizona Cardinals team in Week 5.
Vick's aggressive style of play is dangerous for his health as well as for his team (turnovers). While the Eagles do rack up a ton of yards, Vick tries to extend the play too often and will make bad reads or throw into coverage. He and the offense have stalled on many drives this season.
There is a reason the Eagles rank No. 3 in passing yards (445) yet their record does not reflect that statistic—Vick's inconsistent play and Andy Reid's awful preparation/scheming has been why the 1-4 Eagles have not been able to cash in for the yards they have continued to gain week in and week out.
Answer
Michael Vick is still the best quarterback in the NFC East, but that hasn't translated over to the win column yet. And maybe it won't.
I believe by the end of the season, Romo may give Vick (if he is even healthy come December operating behind a terrible offensive line) a run for his money, with Grossman regressing and coming back down to earth.
Does a Large Payroll Equal Success for a Sports Organization?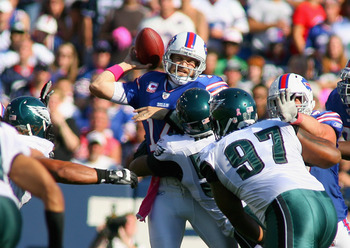 Rick Stewart/Getty Images
The Bills, Bucs, 49ers and Redskins currently have a combined record of 14-5. Yet the three teams are a combined $81 million under salary cap.
For the baseball connoisseurs out there, we watched the three teams with the highest payrolls (Yankees, Phillies, Red Sox) get trounced out of the MLB postseason after the first round just a week ago.
The four teams that remain in the race for the World Series pennant are ranked No. 10, 11, 13 and 17, respectively. And it's no different in football with the small-market, young teams now making noise.
Answer
No, money doesn't matter nearly as much anymore in the postseason—it's all about the matchups and game-planning/scheming on a week-by-week basis.
Are the Detroit Lions as Good as Their Record Suggests?
The Detroit Lions have not lost a football game since Dec. 5, 2010. The 5-0 team is off to its best start since 1956, and Lions fans are pumped up.
And they have reason to be, as the speed the unit has on offense and defense can give any team trouble.
Jim Schwartz has done a great job with this team, and he has been one of the best coaches with regard to second-half adjustments this season. Leslie Frazier should give him a call for advice.
The Lions' offensive unit fields the best receiver in the NFL (Calvin Johnson) and a plethora of receiving targets for QB Matt Stafford to throw to. They have big-play potential but can also move the chains slowly when they need to change gears.
The defensive front is one of the top units in the NFL, and the opportunistic secondary is loaded with speed.
Answer
You are what your record says you are. The Lions will continue to play good football all season and will give the Packers a run for their money in the NFC North.
(Watch the video of "Megatron" and his 73-yard touchdown catch.)
Is Cam Newton Preventing the Carolina Panthers from Winning Games?
Cam Newton and Michael Vick have both racked up yards with ease this season, but their teams have a combined 2-8 record and are in last place in their respective divisions.
Carolina, for example, has completely revamped their style of play to make room for the No.1 pick in the 2011 draft.
They were previously a run-heavy team as they attempted to control time of possession and help out an aging, mediocre defense. The team is now hurting to get stops late in games as a result.
So will the Panthers continue to lose games because of Newton's play?
Running backs DeAngelo Williams and Jonathan Stewart received just 15 carries combined in Sunday's loss to New Orleans. That is an issue.
Answer
The Panthers have installed a brand-new coaching staff, so kinks are expected this year. I still think that Newton is a big-game quarterback and that he will win games for this team in the future.
He already has provided a spark to move the franchise in the right direction.
(Watch the video of Newton rushing for a touchdown.)
Will the Indianapolis Colts and Miami Dolphins Win a Game This Season?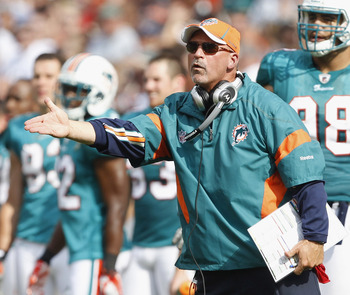 Matt Sullivan/Getty Images
Sorry, Andrew Luck, but both the Colts and Dolphins seem to be very interested in your services.
As a result, both teams are winless going into Week 6. The Colts, however, have been involved in some close games and could easily have won the last two decisions.
So the question is: "Which team wants Luck more?"
He would be the perfect fit in the Colts' up-tempo, no-huddle passing attack. Receivers run timing routes and are great at yards after the catch. I'm not sure that he would want to go to the Dolphins, as the organization from top-to-bottom is in turmoil right now.
Answer
Both teams will sneak out a win or two, but neither will win three games. It will be a cat-and-mouse game to try to land the No. 1 pick but also save each head coaches' job.
Can John Fox Actually Conjure Up Reasons Not to Start Tim Tebow at QB in Week 7?
It's hard to ignore how averse John Fox has been to starting Tim Tebow behind center.
Tebow wasn't his draft choice, and Fox has done his best to convey that to the organization as well as the team by giving him little playing time.
But in Week 5, Kyle Orton was so bad—completing just six of 13 passes for 34 yards—his hands were tied. Fox was basically forced into rolling with Tebow in the third quarter, down 26-10.
Tebow instantly sparked the offense, leading a comeback and nearly pulling off a victory in dramatic fashion during a Hail Mary attempt in the closing seconds of the game.
The Broncos are on a bye this week, and Fox must make the right decision and start Tebow in Week 7.
Kyle Orton's career in Denver as a starting quarterback should be over, and the fans who are filling the stadium want to see Tebow, who also happens to give the team the best possibility to win games.
Though Tebow's numbers weren't spectacular, he gave the team a spark they have not witnessed all season. He completed four of 10 passes for 79 yards and a touchdown, and he ran six times for 38 yards and a touchdown.
Answer
No, he will watch the above video of Tim Tebow's heroics on the final play of Sunday's game and make the right decision.
Do the Cincinnati Bengals Field the Most Underrated Defense in the NFL?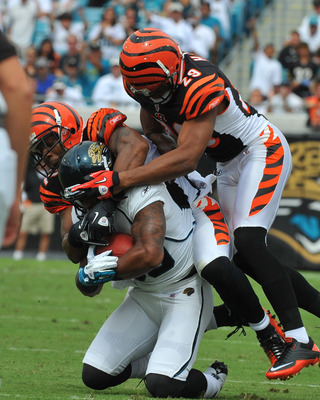 Al Messerschmidt/Getty Images
Here's something you may not know: The Cincinnati Bengals rank No. 1 in total defense and are giving up just 279.6 yards per game.
And they are somehow a game above .500! Did anyone else predict that? (I know I didn't.)
Even with the loss of CB Johnathan Joseph in free agency, the team fields an excellent secondary that excels in coverage and ranks No. 3 in passing yards allowed per game (191).
Defensive coordinator Mike Zimmer (who may get his chance as a head coach in the future) is known for his exotic blitz looks. He takes opposing quarterbacks out of a rhythm. He has done a great job this season, and his unit is the reason the team is somehow 3-2 on the year.
Answer
Yes, they are a great sleeper defense. The Bengals do a great job of bringing and disguising coverage to confuse opposing quarterbacks.
They may not be an exceptional pass-rushing team, but the interior of their defensive front is strong against the run.
Is Andy Reid the Worst Head Coach in the NFL?
The Eagles snatched up the majority of the high-profile free agents in the offseason.
It was clear Andy Reid was being given one last chance to win a title for the franchise in his 13th year as the team's head coach.
Reid put all of his chips in the middle, making some high-risk moves. But many of those moves have hurt the Eagles team.
The idea to move Juan Castillo from offensive line coach to defensive coordinator has backfired big time.
The Eagles paid huge money for Nnamdi Asomugha that could have been spent elsewhere. The cornerback is giving up over 20 yards per reception against him this season.
It's clear they should have just started over with someone new if they wanted a new identity. Reid made no adjustments from the team's mistakes early in the season, and it has really hurt the Eagles, who have been out-coached every week.
"There's nobody to blame but me," Reid said in Sunday's postgame press conference. "I take full responsibility for it. It's my football team."
Answer
Because of the talent on this team, the Eagles' 1-4 record tells me they are the most poorly-coached team in the NFL at this current point in time.
Don't believe me? Listen to the angry Eagles fans sound off in the above video!
How Did the Houston Texans Lose in Week 5? Is the Franchise Actually Cursed?
The Texans have had a history of blowing football games late.
They seem to find new ways every season to accomplish the feat.
Why do Matt Schaub and LeBron James both play so bad in the fourth quarter?
In Sunday's loss to the Raiders, the Texans out-gained their opponent in yards 473-278 and racked up 10 more first downs. They converted on third downs 40 percent of the time, while Oakland could only muster a 20-percent conversion rate.
But a loss is a loss, and the Texans are no longer the shoo-in to win the AFC South for the first time in franchise history.
Answer
They are not cursed, and head coach Gary Kubiak and Matt Schaub are to blame.
There is a reason they are both on the hot seat this season. I still believe they will win the AFC South, but the race will be much closer than projected.
(One thing is for sure: The Raiders were pumped-up and won the game for former owner, Al Davis. Watch the video above for the emotional post-game celebration in the locker room.)
Has Mike Martz's Play Calling Rendered the Chicago Bears Offense Predictable?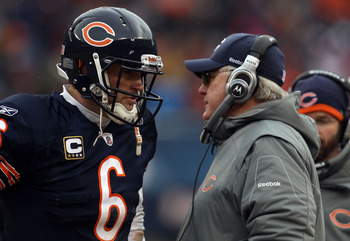 Jonathan Daniel/Getty Images
It's been a decade since Mike Martz led the "Greatest Show on Turf" to the NFC Championship game.
Martz has not won much since, and has really struggled to find an identity for this Bears offense since he went there—making a lot of changes on the fly.
Maybe there is a reason the team ranks No. 23 in total offense, racking up just 318 yards per game.
In watching the unit, it looks as if Martz is over-thinking himself. He has been targeting 9-10 different receivers every game but still has been predictable in his schemes.
Martz has been reluctant to open up a vertical passing game, and the Bears cannot stretch opposing defenses as a result.
Seeing statistics like targeting Matt Forte in the passing game 14 times in the loss to the Saints is mind-boggling.
Answer
Yes, Martz's offense has become stale, and he has now reverted to a "run, run, pass" game plan. It's rather predictable, and it doesn't fit the players they have on offense.
Are the Green Bay Packers the Deepest Offensive Unit in the NFL?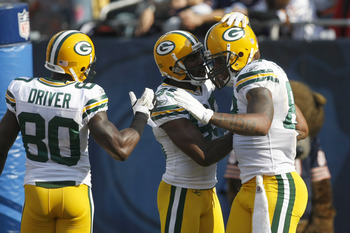 Scott Boehm/Getty Images
In the Packers' most recent victory against the Falcons, Aaron Rodgers completed 39 passes to 12 different receivers.
That statistic is mind-boggling and shows how tough Green Bay is for opposing defensive coordinators to scheme against.
They spread teams out and let Rodgers go to work.
The Packers' offensive unit is loaded with speedy, athletic receivers who can get separation and burst for yards after the catch.
And quietly, they have a good backfield that features a three-headed monster of running backs that complement each other: James Starks, Ryan Grant and John Kuhn.
Answer
While the Patriots and Saints give them competition, the Packers field the deepest offensive team in the NFL.
They are loaded with weapons to target that can rotate in and beat opposing teams.
Are the San Francisco 49ers Legitimate Contenders in the NFC?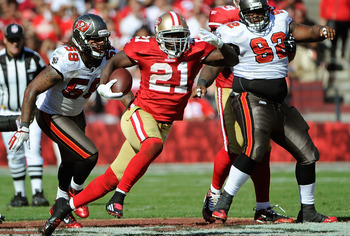 Thearon W. Henderson/Getty Images
After their blowout win against the Bucs on Sunday, Niners fans are elated for the first time in many years.
And in the lackluster NFC West, San Francisco could be on pace to win 11 games this season with ease.
But are they contenders or just beneficiaries of a weak schedule?
They will be tested next week travelling to Ford Field to take on the undefeated Detroit Lions. And they will have to do so without WR Josh Morgan, who broke his ankle when the Niners were leading by 38 points on Sunday.
As a result, they'll look to WR Michael Crabtree to step up, but he has not shown he can be that type of go-to receiver in the NFL.
Answer
It's too early to judge, but Jim Harbaugh has definitely given this team a new identity on offense, and the defensive front is quietly one of the top units in the NFL. They should definitely win the NFC West with ease.
Have the New York Jets Lost Their Identity on Offense?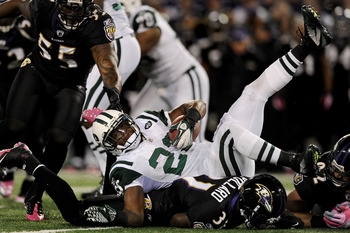 Patrick Smith/Getty Images
Remember when the Jets swore by their "ground-and-pound" mantra and used it to dominate the trenches against their opponents?
The team played smash-mouth football—and they did it well, using an effective game plan to reach back-to-back AFC Championship games.
But the team lost OG Alan Faneca a year ago. And then they lost OT Damien Woody, who elected to retire. The offensive line has never been the same, as they are attempting to plug gaps with young players such as OT Vladimir Ducasse, who is easily one of the worst offensive linemen in the NFL.
The Jets were previously a run-heavy team that used to average upwards of 150 rushing yards per game.
Now, they average 35 passes thrown per game, and rank second-to-last in the NFL running the football (76 yards per game).
RB Shonn Greene has still yet to prove he can step up and be the workhorse Rex Ryan touts him to be.
Answer
Yes, the Jets are moving away from their run-heavy game plan and have released Mark Sanchez's handcuffs.
But the team has produced a lot of three-and-out drives and is struggling to move the football as a result.
Have Leslie Frazier and Todd Haley Moved One Step Back from the Hot Seat?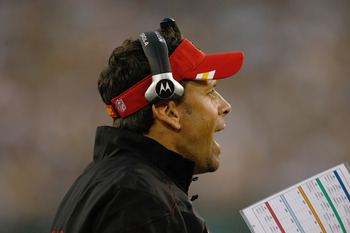 Scott Boehm/Getty Images
Both the Vikings and Chiefs showed a lot of heart in dramatic victories on Sunday.
Each of the coaches were on the hot seat, as Frazier was shaping up to be the worst second-half coach in NFL history and Haley was doing everything wrong.
But the Vikings blew out the Cardinals and the Chiefs rallied back from a large deficit to beat the Colts.
Haley has supposedly been working with QB Matt Cassel, and he looked effective for the first time all season.
And Frazier listened to his critics, handing the football to RB Adrian Peterson 29 times. This is a good sign going forward, because it keeps the football in the All-Pro running back's hands. More importantly, it keeps it out of McNabb's hands, so there will be less incomplete passes thrown directly at receivers' feet!
Answer
Both teams beat lackluster opponents. Let's see what happens in the next couple of weeks and then pass judgment. I still believe Frazier will be fired in the offseason.
Has Philip Rivers Regressed Since His Amazing 2008-2010 Seasons?
Here's something you may not know—QB Philip Rivers has finished with a rating of 100 or better in each of his last three seasons.
But this year, he's tossed seven interceptions to just six touchdowns. He hasn't been his usual self.
In his defense, just like the last few seasons, the Chargers receivers are banged-up (Gates, Jackson, Floyd) and some have played through injury. This isn't making Rivers' job any easier. And still, it's not November yet, so the Chargers aren't even supposed be playing good football yet (haha).
But he still has enough offensive weapons to target, and let's be frank—his accuracy and poise are not what they were last season.
Rivers has had a history of wearing his heart on his sleeve, and it's clear he's not the same mentally this season, either. His lack of confidence could be due to a distrust in the coaching staff.
Answer
Yes, he has. He's throwing more interceptions, finding ways to kill drives (taking sacks or missing throws) and has moved a couple of steps back from where he was last season.
(Watch a video of him fumbling a snap during a routine drop-back above.)
Will Jason Garrett Get the Dallas Cowboys Back on Track After the Bye Week?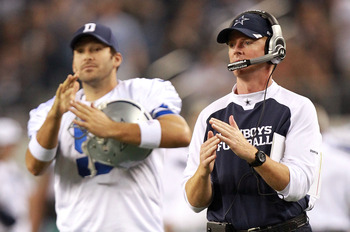 Ronald Martinez/Getty Images
In Week 4, the Cowboys were leading the Lions at home in the third quarter, 27-3.
Yet somehow, they found a way to lose that game, just as they did in the fourth quarter of Week 1's game against the Jets.
The Cowboys went into the bye week with a lot of questions about the team, most of them surrounding Tony Romo, Jason Garrett and the team's awful play in the secondary.
Now the team must endure a huge gut-check and travel to New England on Sunday.
Dallas must find a way to get Felix Jones more touches in the second half of games to keep the football out of the turnover-prone Romo's hands, especially with a lead.
This is an adjustment we will likely see the team make. They must be more balanced on offense.
Answer
The Cowboys are a team loaded with talent that did suffer a lot of injuries to key players.
I think they will turn it around and we will see them competing for a postseason berth in December.
Are the Atlanta Falcons the Most Inconsistent Team in the NFL?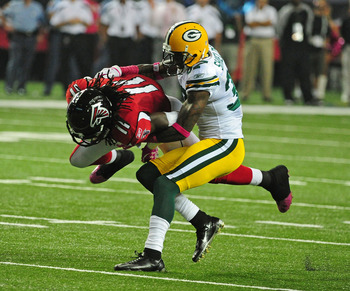 Scott Cunningham/Getty Images
I rate the Falcons as a team that can blow a lead at any given point in a game, no matter the margin.
The offensive unit has historically struggled to consistently move the chains and is too predicated on busting a big play.
Outside of TE Tony Gonzalez, who is aging and may not be as effective late in the season, the team has no possession receiver to target on third down and in the red zone. WR Harry Douglas is not that guy.
And the team's tackling in the second and third levels in the defense is downright awful.
They traded up to acquire WR Julio Jones in the offseason to bring in more vertical speed, which they didn't need. But as a result, the defensive unit and and offensive line is suffering.
Answer
Yes, they are. A lot of this falls on offensive coordinator Mike Mularkey, too, as he always fails to give RB Michael Turner the ball in the second half.
The offense is pass-heavy and predictable. Teams that play against two deep safeties can sit back in coverage and let the game come to them.
Do the New England Patriots Field the Most Balanced Offense in the NFL?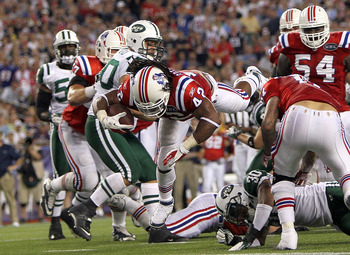 Jim Rogash/Getty Images
There is a reason the New England Patriots rank No.1 in total offense (495 yards per game).
Well, two, in fact—Bill Belichick and Tom Brady.
And If there's one thing the team has lacked over the last few years, it's a strong power-run game, but that has changed this season.
On Sunday, RB BenJarvus Green-Ellis rushed for 136 yards and two touchdowns against the AFC East rival Jets.
Tom Brady can pass for 300 yards, hitting Welker and his tight ends with ease on any given night. But with a power run game to punch defensive units in the mouth as they wear down, they are dangerous. This is a strategy that is tough to beat.
If opposing teams want to stack the box, Brady will pick them apart in man coverage. If teams elect to play nickel, Green-Ellis and RB Stevan Ridley will shred them for 5-7 yards with ease and open up the play-action passing game.
Answer
The Saints are giving them a run for their money. But with Tom Brady behind center, the Patriots are currently the most balanced offense in the NFL.
When Is Jack Del Rio Finally Going to Get Fired?
When watching the Jaguars play, after every few snaps, I can't help but think, "When are the Jaguars going to finally admit failure and fire Jack Del Rio?"
The team is playing awful football right now, and things aren't going to get better for them anytime soon.
With the Steelers, Ravens, and Texans on deck, the Jaguars could be 1-7 going into the bye week.
There are whispers of players not buying into Del Rio's system. I personally think he should have been fired last season, as he is a lame-duck head coach, and his time with the organization is wearing thin.
Del Rio is a great defensive mind but he has no idea how to be the total package and run an NFL team—especially the offense. It's clear the experiment has failed and it's time to move on.
Answer
I predict Del Rio will be fired in Week 9 during the team's bye week.
(Watch the video above of the team's funny blunder; attempting to lateral the football on the last play during Sunday's loss to the Bengals. It's funny.)
Are the Defending Super Bowl Champion Packers Still the Team to Beat in the NFL?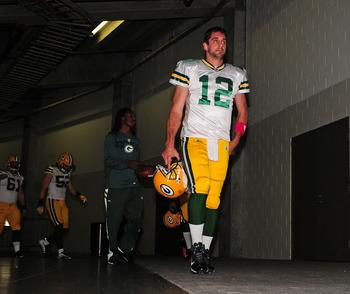 Scott Cunningham/Getty Images
The Green Bay Packers shocked the world last season by winning the Super Bowl as a six-seed.
Even a tough schedule with plenty of road games wasn't going to stop this team from reaching its destiny.
I predicted a Super Bowl hangover for this team in September, similar to the one the Saints endured just the season before. Clearly, I was wrong.
The Packers have had a tough schedule, but somehow have found a way to outscore their opponents by a margin of 62 points this season.
They are finding ways to win, as they played an awful first half on the road in Atlanta on Sunday Night Football yet found a way to emerge as victors.
Answer
With their big-play weapons on offense and veterans on defense, the Packers are still clearly the best team in the NFL.
They will defend their title to the end this season, I think.
Why Do the New York Giants Historically Let Down at Home in Big Games?
On Sunday, the Giants had a great opportunity to move to 4-1 (first place in NFC East) facing the lackluster Seahawks.
Unfortunately, Doug Baldwin and the duo of Tarvaris Jackson and Charlie Whitehurst were their kryptonite (watch the above video to see how).
Wait, what? Am I reading that correctly?
During a game in which QB Eli Manning passed for a career-high 420 yards, the Giants could not beat the Seahawks, who had struggled all season and were travelling from West Coast to East Coast for a 1 p.m. EST game.
While this game wasn't equal to the 2010 loss to the Philadelphia Eagles, in which the Giants blew a 21-point lead in the fourth quarter and killed all postseason hopes, it had that type of feel.
Answer
The Giants have shown the tendency to play down to the level of their opponents in big games.
The blame falls on head coach Tom Coughlin, who has been on the hot seat since 2010. If they lose another game like this, his time may be up in New York. Giants fans are losing their patience.
How Are the St. Louis Rams Winless Playing in the Weak NFC West?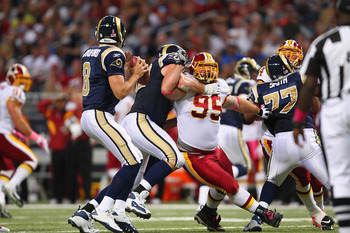 Dilip Vishwanat/Getty Images
Failing to win a game playing in the NFC West is a tough feat to accomplish, yet the Rams have been up to the task.
And this week isn't going to get any better for them as they travel to Lambeau Field for a matchup with the best team in the NFL.
But why have the Rams been such a disappointment this season?
There are two reasons—awful coaching and being hit badly by the injury bug.
While I do feel for them after the plethora of injuries they have suffered, the Rams continue to make the same mistakes they did last season.
They drop passes, commit penalties and turn the football over. That's not a winning formula.
Answer
The Steve Spagnuolo head coaching experiment has been an epic fail thus far, and neither Sam Bradford nor any of the young receivers have progressed since entering the NFL as a result.
The Rams may need to go in another direction in the offseason, as "Spags" is more of a defensive mastermind, and it's not working out.
How Does the Oakland Raiders' Defensive Front Stack Up Against Rest of the NFL?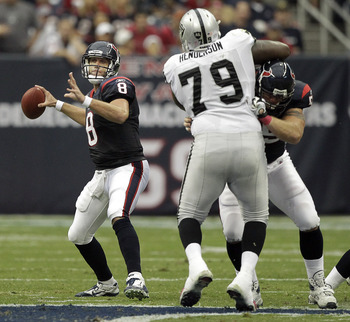 Bob Levey/Getty Images
This weekend the Raiders faced one of the top three offensive lines in the NFL—and they dominated in the trenches.
The Raiders utilized great cap control to limit RB Arian Foster's yardage in their 25-20 victory, hitting and wrapping him up early to prevent big gains on the ground.
Early in the season, we doubted the Raiders ability to stop the run when they gave up 223 yards against the Buffalo Bills.

There is a lot of talent up there, especially in the interior of the unit. This team generates a lot of pressure on opposing quarterbacks, helping the team's defensive backs, who struggle in coverage. If they can become more consistent defending the run, they can become of the top three units in the NFL.
Answer
They are one of the top five fronts in the NFL. I see a lot of upside for their future.
Who Are WR Doug Baldwin and RB Jackie Battle?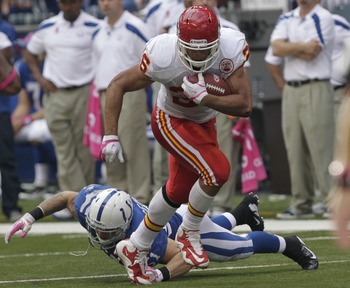 John Sommers II/Getty Images
Two under-the-radar players that led their teams to huge road victories in Week 5.
Baldwin was the Giants' worst nightmare on Sunday, catching eight balls for 136 yards (one touchdown).
He was the difference in this game, especially when QB Tarvaris Jackson went down due to injury and Charlie Whitehurst entered the game.
Whitehurst and Baldwin had chemistry from playing on the practice squad together, and the two linked up a few times for big gains.
Battle also lead his team to victory with 19 carries for 119 yards against the Indianapolis Colts.
If you're a fantasy football player, pick up these players on waivers if you can.
Answer
Two players to watch in the coming weeks for two injury-riddled teams.
Was Week 1's Game Between the Packers and Saints an NFC Championship Preview?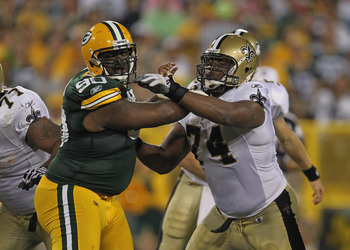 Jonathan Daniel/Getty Images
The first game of the NFL season between the Packers and Saints was breathtaking and came down to the final play.
We saw two high-powered offenses led by prolific quarterbacks battle it out on an eerie Thursday night.

The Packers and the Lions are the only undefeated teams remaining in football, but the Saints have veteran leadership on both sides of the ball, which the Lions lack. They also have a coaching staff with tons of experience.
The Saints and Packers rank No. 2 and No. 4 in total offense, respectively. And the Packers are the No.1 offense in points scored per game.
Both of these offenses are very hard to scheme against because of how they spread teams out and can give opposing defensive coordinators hell.
Answer
While the Lions will put up a good fight this season, both the Packers and Saints have the experience (coaches and players alike) and huge home-field advantages (looking ahead) that play to their strengths.
The Packers and Saints are the class of the NFC right now, with the Lions nipping at their heels. There is a good chance the two teams may meet in the NFC Championship game.
Keep Reading