NFL Week 3 Power Rankings: Philadelphia Eagles Tumble, New York Giants Soar
September 28, 2011
Scott Boehm/Getty Images
Week 3 provided some shockers and some crippling injuries. Here are the updated power rankings. Previous rankings are in parentheses.
1. Green Bay Packers (2)
The class of the NFC is now the class of the NFL. There's much better balance here than in Foxborough, and a significantly easier schedule going forward should keep them on top for the foreseeable future.
2. New England Patriots (1)
It's now obvious that this defense has issues. I can't drop them much further because they hung around even with Tom Brady melting down, but he needs to fire on all cylinders for them to make the postseason run that they're capable of.
3. Baltimore Ravens (4)
The Ravens came out firing early and hard. Joe Flacco made excellent use of his newfound deep threat, and he and Torrey Smith put the Rams in a quick 21-0 hole. This is a balanced and talented team with a very easy schedule. Expect at least 12 wins.
4. New Orleans Saints (6)
The Saints may be a one-trick pony, but they're so good at this trick that they've jumped out as a heavy favorite to win the NFC South. The somewhat soft schedule and weak state of the division also help their cause.
5. Detroit Lions (7)
Previous incarnations of the Lions would have thrown in the towel if they faced a 20-0 halftime deficit. But this team rallied and eventually persevered in overtime, and for the first time since the Barry Sanders era, the Detroit Lions are good enough to win 10 or more games.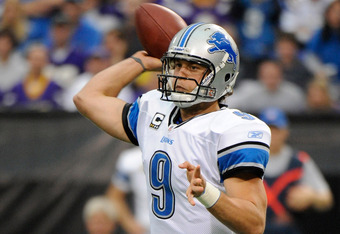 Hannah Foslien/Getty Images
6. New York Jets (3)
Maybe it isn't Mark Sanchez that I need to worry about after all. Or maybe Darren McFadden is just a man possessed. Either way, the sky isn't falling yet, but with a rough schedule looming for the Jets, it just might soon. We'll see how they hold up.
7. Pittsburgh Steelers (5)
That's right, the Steelers are being punished for winning a road game. Not that I expected better—I predicted a 24-20 finish—but to win in such unconvincing fashion against such a weak opponent spells trouble. They're also probably going to be hiring random fat guys off the street to play on the O-line soon, because injuries have decimated them up front.
8. Buffalo Bills (14)
This is unbelievable. I feel like I'm back in the Tecmo Super Bowl days. The Lions and Bills just keep on winning, and Fred Jackson is starting to look like the second coming of Thurman Thomas. Sadly, there's no equivalent to Bruce Smith on the other side of the ball yet, but this team has a very real shot to play in January. If you say you saw it coming, you're a liar.
9. Houston Texans (9)
The shootout with the Saints confirmed my suspicions about the Texans defense not being so good. It's one thing to lock down the Peyton Manning-less Colts and the Dolphins, but another thing entirely to go into Drew Brees' house and try to outduel him. That said, there's still a lot of talent here.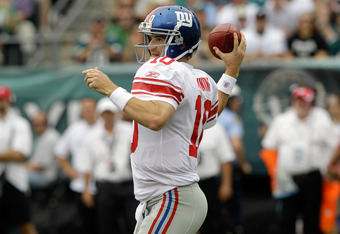 Rob Carr/Getty Images
10. Chicago Bears (10)
Yeah, a 1-2 team is still in my top 10. The Bears lost two rough games, and things get considerably easier from this point forward. They have a slate of very winnable games leading all the way up to Thanksgiving, and their outstanding defense isn't showing its age yet. However, the same old O-line problems are still there.
11. New York Giants (18)
That's more like the brand of Giants football that I've come to expect. I understand that they were playing the Eagles, who are notorious for bending the very fabric of reality every time they step on the field, so this may be a bit of an overreaction. But a strong road win is a strong road win, and this team can breathe a little easier in October.
12. Oakland Raiders (21)
The Raiders clearly have some defensive issues, but Jason Campbell and Darren McFadden are playing very well right now. They're right in the middle of the hardest part of their schedule, and they have a 2-1 record to show for it (and they were a few mistakes away from being 3-0). A home stretch filled with cupcakes starts in mid-October. This team could very well take the AFC West.
13. Dallas Cowboys (11)
I previously suggested that the loss of Tony Romo would not mean the end of the world for the Cowboys. If last night is any indication, Romo's toys are more important to the team's success. Romo himself was banged up, of course, but Jason Witten and Dez Bryant were also gimpy, and Miles Austin was missing. Thus, the Cowboys needed six field goals to squeak by. Not a good sign.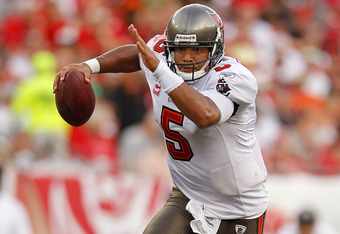 Mike Ehrmann/Getty Images
14. Tampa Bay Buccaneers (16)
The Bucs finally got both of their marquee guys involved on offense, but Josh Freeman is not firing on all cylinders by any stretch of the imagination right now. His completion percentage is up significantly, but his more important peripherals—like yards per attempt and TD-INT ratio—are way down. This team may have to win some more close games until Freeman finds his footing again.
15. Atlanta Falcons (13)
Year four of the Matt Ryan experiment still isn't going as planned, and I think the trouble starts with the O-line. The Falcons have faced one top-tier pass rush in three games, yet Ryan has been sacked 13 times. For reference, he was sacked 23 total times last season. If they want to turn him loose, they have to do a better job of keeping him upright.
16. Philadelphia Eagles (8)
A man admits when he's wrong. And I admit that Mike Kafka was channeling Rex Grossman out there after Michael Vick broke his hand. And with the defense still struggling—if you let Eli Manning throw four touchdowns without picking him off once, you're struggling—it's looking like the "Dream Team" will be lucky to salvage an 8-8 from this season.
17. San Diego Chargers (12)
Win a game, lose five spots in the rankings. This sort of thing happens when you don't convincingly put away a legitimate contender for the No. 1 pick in next year's draft. Philip Rivers continues to struggle, and the Chargers have come out of the gate exceptionally weak, even by their standards. If they have to make a last-minute run to win the division, I wouldn't count on it happening—their final three games are at home against the Ravens, and road trips to Detroit and Oakland. I don't like those odds.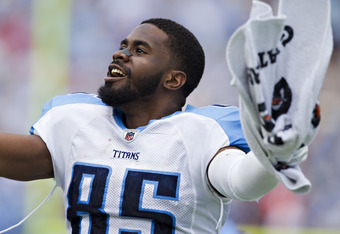 Wesley Hitt/Getty Images
18. Tennessee Titans (15)
Win a game, lose three spots in the rankings. This sort of thing happens when you lose your best (and possibly only) big-play receiver, your big-money running back continues to suck against another of the worst run defenses in the NFL and you struggle to put away the lowly Broncos on your own field. Kind scheduling should put the Titans in the .500 range in the long run, but that's about it.
19. Washington Redskins (22)
It would appear that the Redskins have a legitimately good pass defense, but it's hard to get a true reading when they were mostly facing the Cowboys' No. 3 and No. 4 receivers. They still have some problems stopping the run, and the Rexy Express may have taken its first step toward yet another fiery crash, but they will benefit from a soft schedule. A home game against New England and road trips to face Buffalo and the Giants should be the only foreseeable speed bumps.
20. San Francisco 49ers (25)
The tall midget grew an inch or two on Sunday. They played a sloppy game, committing 12 penalties, but they also forced three turnovers and didn't give up any big plays. I can't put them any higher than 20th at this point because their offense is anemic in all phases of the game, and it starts up front just as it does with most weak offenses. The bottom line is you can't win if you can't score, and you have to move the ball in order to score. The 49ers can't move the ball.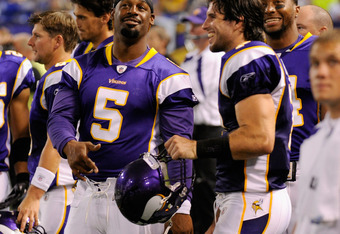 Hannah Foslien/Getty Images
21. Minnesota Vikings (19)
Another week, another blown halftime lead for the Vikes. More stupid penalties down the stretch nullified another solid game from Adrian Peterson and a solid defensive effort in which the Vikings sacked Matthew Stafford five times. If the Vikings played smarter, they could easily be 3-0 right now. Instead, they're looking up from the NFC North basement. If this pattern continues in Kansas City next week, expect Leslie Frazier to receive his walking papers first thing Monday morning.
22. Cincinnati Bengals (17)
The Bengals are coming off back-to-back winnable games, and their effort (or lack thereof) netted them two losses. If you're at least an average team, you should be able to beat the Broncos and 49ers, but evidently the Bengals don't move the ball any better than the 49ers do, and their defense is nowhere near as good. Even a soft schedule won't save this team from its 7-9 fate.
23. Miami Dolphins (20)
The Dolphins finally played a game that they had a chance to win, and... they didn't win. This may end up being one of the best 4-12 teams in history. I realize that isn't saying much at all, but if the Dolphins had the same schedule as, say, the Steelers, I believe they would easily win nine or 10 games. It's a shame that the Schedule Demon is raining down pure hellfire on them this year.
24. Cleveland Browns (23)
Colt McCoy led a nice drive to give the Browns a win, but it's still business as usual in Cleveland. The offense is well below-average in running and passing, and the defense is average against the pass and maybe a little better against the run. All of this means that the Browns are not good enough to seriously compete, and not bad enough to get a good spot in the draft. Almost every team who ends up in this situation collapses, because they can't get the pieces they need in order to compete if they draft 12th every year. Don't hold your breath.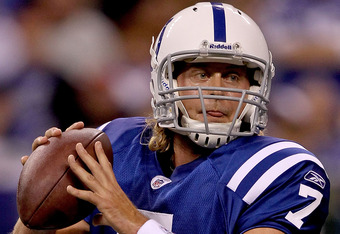 Matthew Stockman/Getty Images
25. Indianapolis Colts (24)
I'll keep this section brief—Curtis Painter. Enjoy, Colts fans.
26. Denver Broncos (27)
No, I didn't move the Broncos up because they suddenly figured out how to stop the run. That just happened because Chris Johnson sucks. I'm moving them up because they aren't as bad as the bottom six teams in the NFL. They may end up in the same 4-12 boat as Seattle, but Seattle has a creampuff-filled schedule. Aside from another matchup with Oakland and two with San Diego, Denver has to contend with Green Bay, Detroit, New England and Buffalo.
27. Jacksonville Jaguars (26)
The Blaine Gabbert Project is underway, and it doesn't look good. Gabbert struggled against a weak Carolina defense, and had a lot of trouble converting on third down. Defensively, the Jaguars accomplished something that the Packers did not—they contained Cam Newton. But, again, if you can't move the ball, you can't score, and thus you can't win. This team needs help. I hear David Garrard is available.
28. Arizona Cardinals (28)
It was silly for the Cardinals to be favored in Seattle on Sunday. No matter how bad the Seahawks get, Qwest Field is still one of the most ridiculous advantages in all of professional sports, and in all likelihood it will be the only way the Seahawks will win any games this year—probably all against NFC West teams. But I digress. If Kevin Kolb can't get it done against the Seahawks "defense", he won't get it done at all. Ken Whisenhunt, please throw in the towel and stop this embarrassing charade.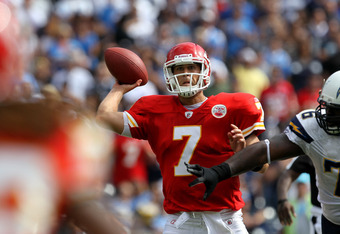 Stephen Dunn/Getty Images
29. Kansas City Chiefs (29)
One of two things happened on Sunday. The Chiefs finally showed some heart, or Norv Turner was feeling generous and almost gave them the game. I'm more inclined to believe it's the latter. Next stop: 3-13. All aboard!
30. Carolina Panthers
The Panthers finally broke into the win column, but don't expect another win to be added in the next three games—Carolina goes on the road to Chicago, hosts New Orleans. then heads to Atlanta. But Sunday's win was probably enough to remove them from the Suck for Luck Sweepstakes™.
31. Seattle Seahawks (32)
What an inspiring win over the Cardinals! Except for, you know, the part where Tarvaris Jackson stunk again, but it almost looked like he was establishing a sort of rhythm with Sidney Rice. If you're going to play against someone to establish a rhythm, Arizona is a fine starting point. But I wouldn't count on that. I don't buy into the smoke and mirrors of Qwest Field—the Seahawks are a bad, bad team. Unfortunately for them, unless they openly tank the rest of the way, Andrew Luck is going elsewhere next year.
32. St. Louis Rams
This is probably the one basement-dwelling team that doesn't want to win the Suck for Luck Sweepstakes™, but at this rate they've jumped out to an early lead. Injuries have ravaged an already-thin team, and I don't think they have a chance to win a game until Seattle comes to town on November 20th. Arizona will follow suit the week after that, and those may be the Rams' only two chances at victory. This team is in bad, bad shape, and they could jeopardize Sam Bradford's career if they aren't careful with him at this point.
Comments are welcome.